Brad Treliving is not the best or worst candidate for the Maple Leafs' GM role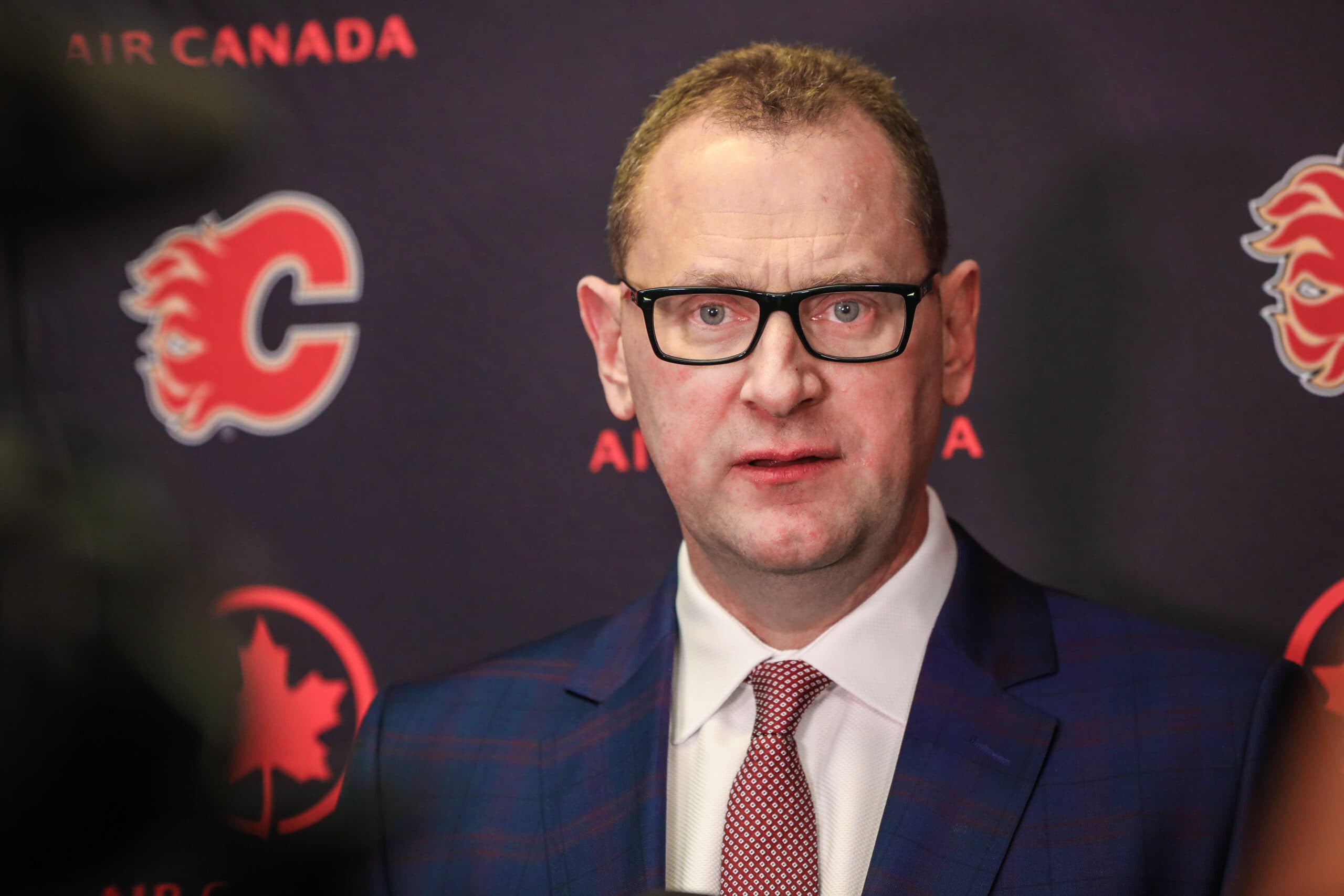 Photo credit:Sergei Belski-USA TODAY Sports
A wise man once said, "Get busy Treliving or get busy Tredying." It seems the Leafs might be interested in the former, as they've
reportedly begun their search for a GM at Treliving
. Treliving, due to the nature of his contract, wouldn't really be able to join the Leafs until July 1st as his contract with the Flames expires at that time, but best case scenario is he is able to come in sooner but is kept from the Leafs draft table as his knowledge of Calgary's draft plans is something the Flames would like kept from the Leafs. (I'd imagine the Leafs would have identical objections if/when Kyle Dubas lands in Pittsburgh.)
The first person connected to a vacancy makes them worth examining, but to some extent, Treliving is in many ways the convenient candidate. He does have connections to the MLSE board through his Dad's Boston Pizza empire, he is that rare blend of being an expired NHL GM who isn't quite Jim Benning, Peter Chiarelli, Dale Tallon awful, and, from MLSE's point of view, he's a good fit due to his willingness to appease a highly involved owner in Calgary. Respect for the chain of command won't be a selling point to fans, but it will be to a group rumoured to be put off by Kyle Dubas' push for greater autonomy.
So let's look at Brad Treliving, what the Leafs could be welcoming into their madhouse, and why people should be excited/scared/indifferent towards him.
Treliving started his NHL front office journey as a long time Assistant General Manager for the Arizona Coyotes, an organization that has always been free of controversy and the gold standard of how a team should be run (that was sarcasm, please tell me you knew that was sarcasm.) Treliving was the GM over the Coyotes' AHL affiliate and actually did a pretty solid job of that, all kidding aside about the Coyotes themselves. Treliving was then able to land the Calgary GM position, hired by Brian Burke, Toronto's favourite talent scout (this was sarcasm again and I'll stop.)
Treliving's time in Calgary was an absolute rollercoaster. The Flames made the playoffs 5 times out of his 9 years in Calgary, but only once did they make it in back to back seasons. There were two second round playoff appearances, but they never made it beyond that. He went through 5 permanent head coaches in that time, including Bill Peters, who was famously fired when his racism and bullying came to light. Treliving had the sense to acquire Dougie Hamilton but then followed that up with the nonsensical decision to trade him away.
One of the hallmark moves of Treliving's time in Calgary was the signing of Jacob Markstrom. Calgary wanted/needed a true number one goaltender after having inconsistent tandems for a number of years following Mikka Kiprusoff and up until last season, Markstrom provided that high level of netminding for the Flames. Markstrom came at a reasonable price and kept the Flames competitive even in years they maybe shouldn't have been. If building from the net out is a hallmark of Treliving as GM, this move is worth looking at as a positive that he could bring to a team like Toronto that has struggled for a number of years to have anything resembling consistency, let alone elite goaltending.
There's also something to be said for Treliving's draft record. He had a number of early hits, but his record has become a lot less exciting in recent years. Matthew Tkachuk might look like a no-brainer today, and he certainly was worthy of being a 6th overall pick in 2016 at the time as well, but players like Tyson Jost, Michael McLeod, Logan Brown, and Alex Nylander were all coveted by some as well and placed above Tkachuk on some draft rankings. Dodging those grenades and arguably getting the second best player in the draft is a win.
It's also worth noting that Treliving drafted Adam Fox in the third round of that draft. His unwillingness to report to Calgary fits in with the rollercoaster aspect of Treliving, but that was a successful pick, as were Andrew Mangipane, Matthew Philips, Dustin Wolf, and Adam Ruzicka, all taken in the late rounds of the draft. Rasmus Andersson, Oliver Kylington, and Matt Coronato round out a draft track record that peaked with the Tkachuk draft and has cooled a bit since.
When talking about Treliving the situation that will be the greatest topic of discussion is the summer of 2022. Losing Matthew Tkachuk and Johnny Gaudreau in the same summer is disastrous, but again, there are mixed ways of looking at how Treliving played it.
First off, context is key. The Flames won the Pacific in the regular season before getting bounced by the Oilers in the second round of the playoffs. Keeping Johnny Gaudreau around without a contract made sense as they were looking strong coming into the playoffs and the fault that can be found with Treliving would be in not having Gaudreau's deal sorted out prior to the 2021-22 season. As Leafs fans will remember from the Nylander contract, Lewis Gross negotiations aren't fun experiences. Still, there seemed to be an interest in staying in Calgary, so onward Treliving went right up until Gaudreau saw Columbus as the best fit for him and his family and left money on the table not only in Calgary but potentially New Jersey and Philadelphia as well. Giving that Gaudreau had only five teams he could be traded to in 2021-22, this might have been how it had to go for Calgary and some slack for Treliving needs to be cut.
Enter the trade demand of Matthew Tkachuk, who wanted out of Calgary. You'd hope something like this wouldn't come out of nowhere and with Tkachuk being somewhat limiting about where he wanted to go (despite being an RFA and not having a contract dictating what would happen), Treliving was stuck scrambling to trade his star player to a team that felt Tkachuk would stay long term with. The fact that Treliving landed a 1st round pick and two strong pending UFA assets in Weegar and Huberdeau, it looked like Treliving had made lemonade out of a very lemony situation. Then Treliving re-signed both Huberdeau and Weegar and opinions on the deal rightfully changed.
Huberdeau's contract is at a rate that at his best he might be able to live up to in his best year or two, but certainly didn't provide any optimism about in 2022-23. Weegar's deal is hurt by term, and makes it incredibly challenging to see him living up to it beyond the first three years of the eight year deal. Throw in a bit of an overpay on Nazem Kadri, and it looks like a GM who was scrambling to keep his team competitive was taken advantage of given the desperation of his situation, as hard as it is to criticize anyone for bringing in Kadri.
More than anything else it will be the Huberdeau contract that will raise concerns for both the Leafs fans and the organization when considering Treliving as a candidate. He's about to enter a very similar situation over the next few years not only with Auston Matthews, but with Marner, Tavares, and Nylander. Interestingly enough, it looks like he'd also be getting the opportunity to let TJ Brodie and Mark Giordano walk for the second time in his career.
The last thing that I'd raise as a potential point of concern when it comes to Brad Treliving is his coach selection. Darryl Sutter was rumoured to be a selection based on Flames ownership and that is in itself a concern. There also definitely seems to be a preference to drill sargents over players coaches, as Bill Peters and the fact that he stuck with Bob Hartley would demonstrate. That's not to say that the Leafs players shouldn't have a tough coach but it could signal a very different direction for the Leafs if they went this way.
When it comes to Treliving, I don't expect many people will be pointing to him as their favourite candidate, but I also expect that if he were to get hired everyone can point to at least one or two names that were rumoured to be interviewed by the Leafs that they disliked more.
Treliving seems like more of a measuring stick than a leading candidate. The Leafs organization likely thinks they can be happy with him, but are probably trying to see if they can do better. They probably can.