Cats capitalize on costly mistakes to draw first blood against Leafs in Round 2: Muzzy's Muzings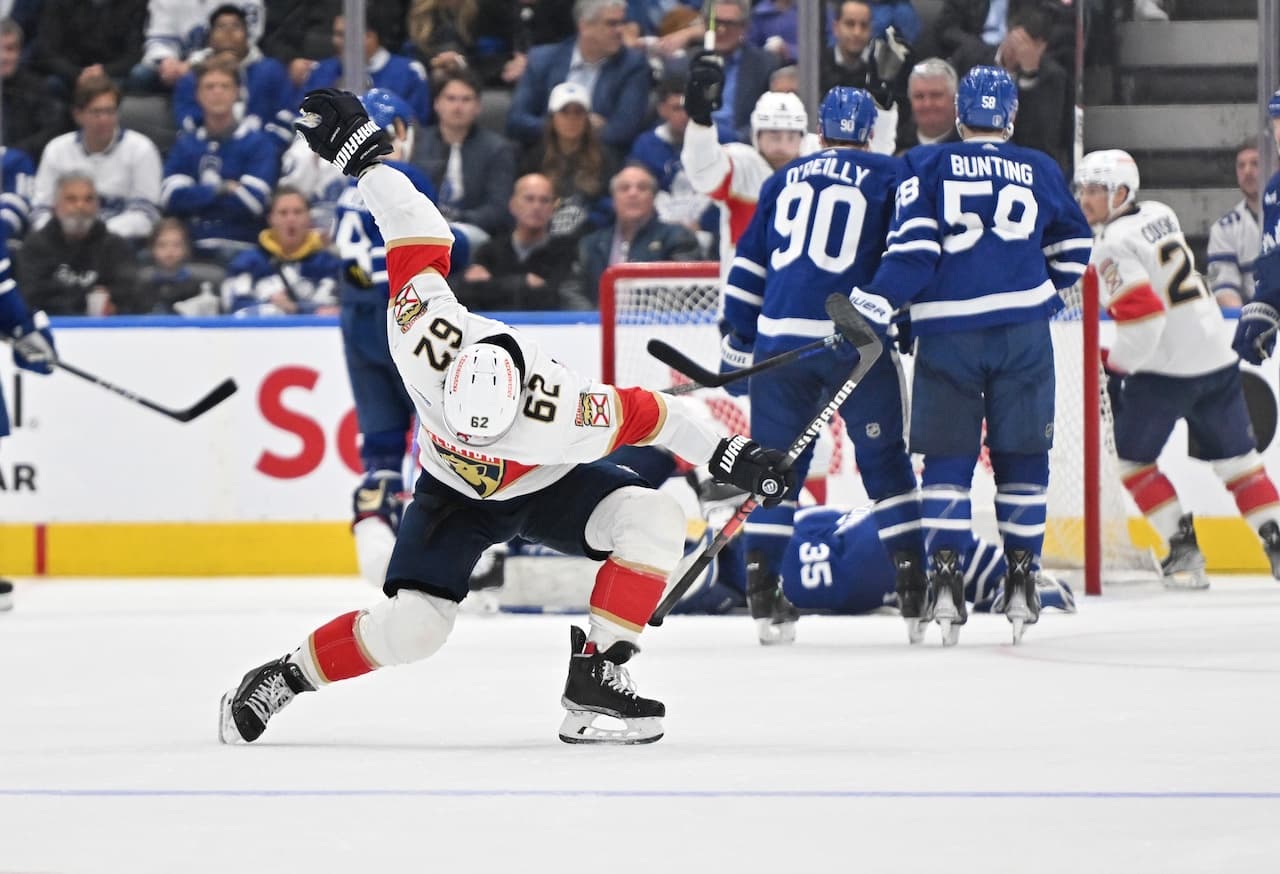 Photo credit:Dan Hamilton-USA TODAY Sports
Just like Round 1, the Leafs dropped the opener of Round 2.
Matthew Tkachuk notched three assists while Sergei Bobrovsky made 34 stops as the Panthers drew first blood in the best-of-7 series with a 4-2 victory on Tuesday night at Scotiabank Arena.
Carter Verhaeghe's late second period tally to snap a 2-2 tie stood as the game winner. With the win, Florida ended an eight-game losing streak in Game 1s.
The Panthers jumped out to a 2-0 lead 7:58 into the second period on Sam Bennett's fourth of the postseason. That was short lived however as Matthew Knies responded just 11 seconds later with his first NHL goal. Then, a few minutes later, Michael Bunting tied things up with his first of the playoffs.
Ilya Samsonov made 24 saves for the Leafs, who went 0-for-4 on the power play.
MUZZY'S MUZINGS:
GOT THE START THEY WANTED
Compared to the Tampa series, that start for the Leafs was night and day. Despite surrendering the first goal, I thought they did a lot of good things in the opening frame. At the very least, they didn't look nervous and tentative. In fact, it was quite the opposite; there were several flurries where they really took it to the Panthers. Furthermore, if it weren't for Sergei Bobrovsky and some unfortunate puck luck, Toronto probably comes out of that period even or in front. Having said all that, I thought they faded late in the period. Once again, puck management was an issue, and luckily, Ilya Samsonov was there to save their bacon on more than one occasion. Both teams had tons of energy. Fun start.
POOR PUCK MANAGEMENT
It plagued this team at points in the regular season and certainly in Round 1 against Tampa, but I thought the Panthers were very opportunistic in capitalizing on Toronto's mistakes. Moving forward, this will need to be cleaned up or the Panthers will likely continue to make them pay. Comparatively speaking, I was impressed with Florida's close-out in the third period. They kept it simple, and it paid off. Indisputably, this will be a huge point of emphasis for Toronto in practice on Wednesday.
KNIES LEARNING ON THE FLY
Personally, I never doubted what Matthew Knies could potentially bring to this roster. I mean, there's a reason why he was a Hobey Baker finalist this season. For me, it's his maturity that has impressed me the most. Mistakes are going to happen; he's a kid. That said, the 20-year-old always seems to pick himself right back up and keep playing. After missing an assignment on Florida's 2-0 goal, Knies responded 11 seconds later with his first NHL goal. Additionally, that sort of thing happened in the Tampa series too where he was able to rally after a tough play. This kid's something else, folks. He continues to marvel.
LET'S GET PHYSICAL!
As they did against the Lightning, Toronto was ready to answer the bell physically in Game 1. Furthermore, I think that kind of team commitment is infectious. Luke Schenn kicked off the party with a big-time hit on Matthew Tkachuk. After that, we saw the likes of Morgan Rielly, Jake McCabe and Ryan O'Reilly, among others, get into the act. Honestly, what a breath of fresh air it's been to see this team finally play with some jam in the Stanley Cup Playoffs. This is finally the team we all envisioned. They're the total package.
HIGHLIGHT OF THE NIGHT:
WHAT'S NEXT?
Down 1-0, the Leafs will try to even the series up on Thursday night in Game 2 at Scotiabank Arena.