No need to panic about Ilya Samsonov's slow start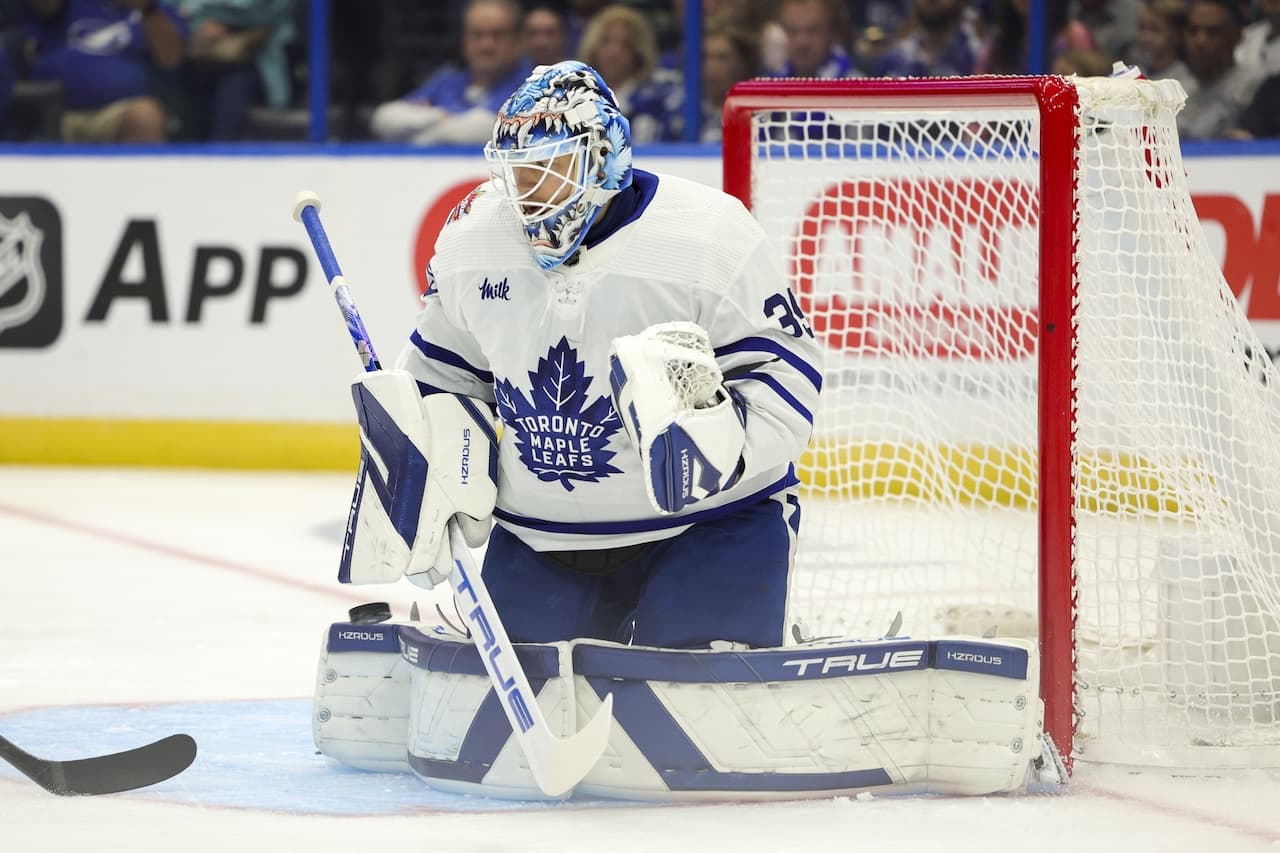 Photo credit:Nathan Ray Seebeck-USA TODAY Sports
It's perplexing how quickly Leafs Nation is turning on Ilya Samsonov.
For what it's worth, that includes the team's head coach.
Has Samsonov been good through his first four outings? Hell to the no.
That said, it's way too early to start doubting a guy who's coming off a breakout season where he tallied a 2.33 goals-against average and 0.919 save-percentage. Moral of the story: He'll be fine. On top of that, I wasn't crazy about Keefe's passive aggressive comments. There was no need to say anything, especially when you consider Samsonov's importance to this team —but I digress.
Meantime, this notion that Martin Jones is some of kind of saviour or something is just downright ridiculous. It's asinine. He's a solid insurance option in case something happens to the other two guys —that's it, that's all. Unless I have him confused with someone else —which is very unlikely.
Like come on, people.
Seriously, find me a goalie in the NHL who's not off to a pedestrian start. This is a league wide issue, not an Ilya Samsonov one. At any rate, he'll be fine. He'll figure it out. I'm very confident in that.
And I don't want people to think I'm some sort of Ilya Samsonov apologist or something. I just know better than to judge a goalie's performance this early into a season. I mean, the leftovers from Thanksgiving just finished and Halloween's still more than week a way. Give it some time.
On top of all that, the Leafs are fortunate enough to have Joseph Woll, who was outstanding in relief (29 saves) on Saturday night in Tampa. The kid's ice cold. He's as cool as a cucumber. Regardless of the way Samsonov has looked early on, there's no question Woll was going to push for playing time at some point. Any way you slice it, the 25-year-old undoubtedly has the opportunity to grab control of Toronto's crease, which by the day, is feeling more and more like a formality.
Furthermore, I liked that Keefe came out straight away and anointed Woll as Tuesday's starter in Washington. He's earned it, and as far as I'm concerned, it's time to run with him while Samsonov figures things out again.
Nothing to see here.