Country music is overrated: Leafs Tailgate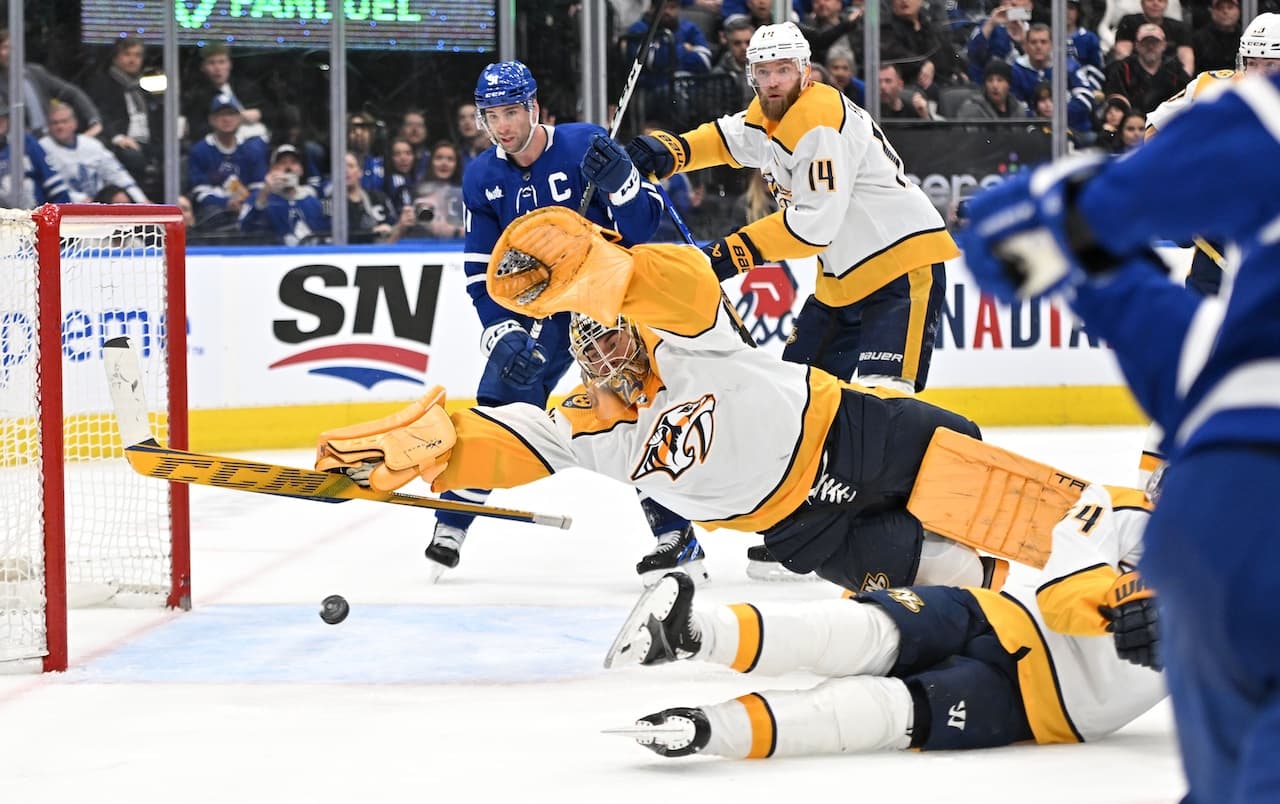 Photo credit:Dan Hamilton-USA TODAY Sports
Coming off a tough 4-3 loss in Carolina on Saturday night, the Leafs (43-20-9) will finish off their five-game road trip tonight in Nashville (36-27-9).
Through four outings, they're 2-2-0. They beat Ottawa and Florida and lost to the Islanders and Hurricanes.
In their first outing against the Preds on January 11th at Scotiabank Arena, the Leafs squeaked out a 2-1 victory. Mitch Marner scored the game winner late in that one on the power play.
Toronto actually got help from Boston on Saturday when they defeated Tampa in regulation. The Leafs remain five points up with two games in hand on the Lightning for second in the Atlantic Division. As for Nashville, every game's pretty much a must-win here on out if they have any aspirations of making the postseason. Currently, they find themselves five points back of Winnipeg, who occupy the second wild-card spot in the Western Conference. That said, the Preds do have three games in hand on them. Nashville also played yesterday; they were drubbed 7-2 on home ice by Seattle.
After tonight, the Leafs have nine games remaining on their regular season slate. By the way, Toronto's 7-3-1 this season in the second game of a back-to-back.
TIME: 6 PM ET (SNO)
STARTING GOALIES:
TOR Joseph Woll – LIKELY (2-1-0, 2.04, 0.938)
@
NSH Kevin Lankinen – LIKELY (8-6-1, 2.70, 0.917)
PROJECTED LINEUPS:
Jarnkrok-Matthews-Marner
Bunting-Tavares-Nylander
Aston-Reese-Kampf-Acciari
Kerfoot-Lafferty
McCabe-Brodie
Giordano-Holl
Rielly-Schenn
Timmins
Tomasino-Glass-Duchene
Sherwood-Novak-Evangelista
Trenin-Sissons-Smith
Afanasyev-Jankowski-Asplund
McDonagh-Fabbro
Barrie-Gross
Lauzon-Foote
THREE STORYLINES:
CAN THE LEAFS FINISH OFF THE ROAD TRIP STRONG?
They may have split the first four games of their road trip, but I think the Leafs have gotten much stronger as the trip's gone on. In fact, you can make the case that their best outing was last night's, even though they lost. Yeah, they made some costly mistakes and couldn't get that opportune save again, but all-in-all, I thought they really brought it. They really battled. Ditto for the game in Sunrise on Thursday night. Personally, I think the biggest key down the stretch is the team defence, and whether or not they can lock things down defensively again. At the very least, it's definitely something to monitor as we get closer and closer to the Stanley Cup Playoffs.
ANOTHER CALLE JARNKROK REVENGE GAME
In a previous life, Calle Jarnkrok was a Nashville Predator. In fact, he spent the better part of his first eight NHL seasons in Music City. Quite frankly, the 31-year-old has been a revelation in year No. 1 with Toronto. With 10 games left, he's already notched a career high in goals (18) and points (36). Additionally, the new-found trio of Jarnkrok-Matthews-Marner has looked incredible lately, especially last night at PNC Arena in Raleigh. Jarnkrok's got a deceptively good shot, something we witnessed against the Canes when he fired his 18th past a stunned Pyotr Kochetkov. Furthermore, I love his versatility. It goes without saying but Jarnkrok can prove to be a massive x-factor for his team come the Tampa series.
HERE COMES AUSTON MATTHEWS
It appears all Auston Matthews was doing this season was pacing himself for the postseason. Right?!! I mean, the guy was a monster last night. He scored twice and had 15 shots on goal. You read that right. Over the past week or so – maybe dating back to the Carolina game in Toronto – we've really started to see the 2021-22 Hart Trophy winner turn things on. Matthews, who's now four goals shy of his fifth career 40-goal campaign, has eight goals in his last nine outings and 10 in 13. Bad news for the Predators.
BETTING:
(As of Noon EDT)
PROP PLAY:
Auston Matthews Anytime Goal