Critiquing the Leafs lines before they hit the ice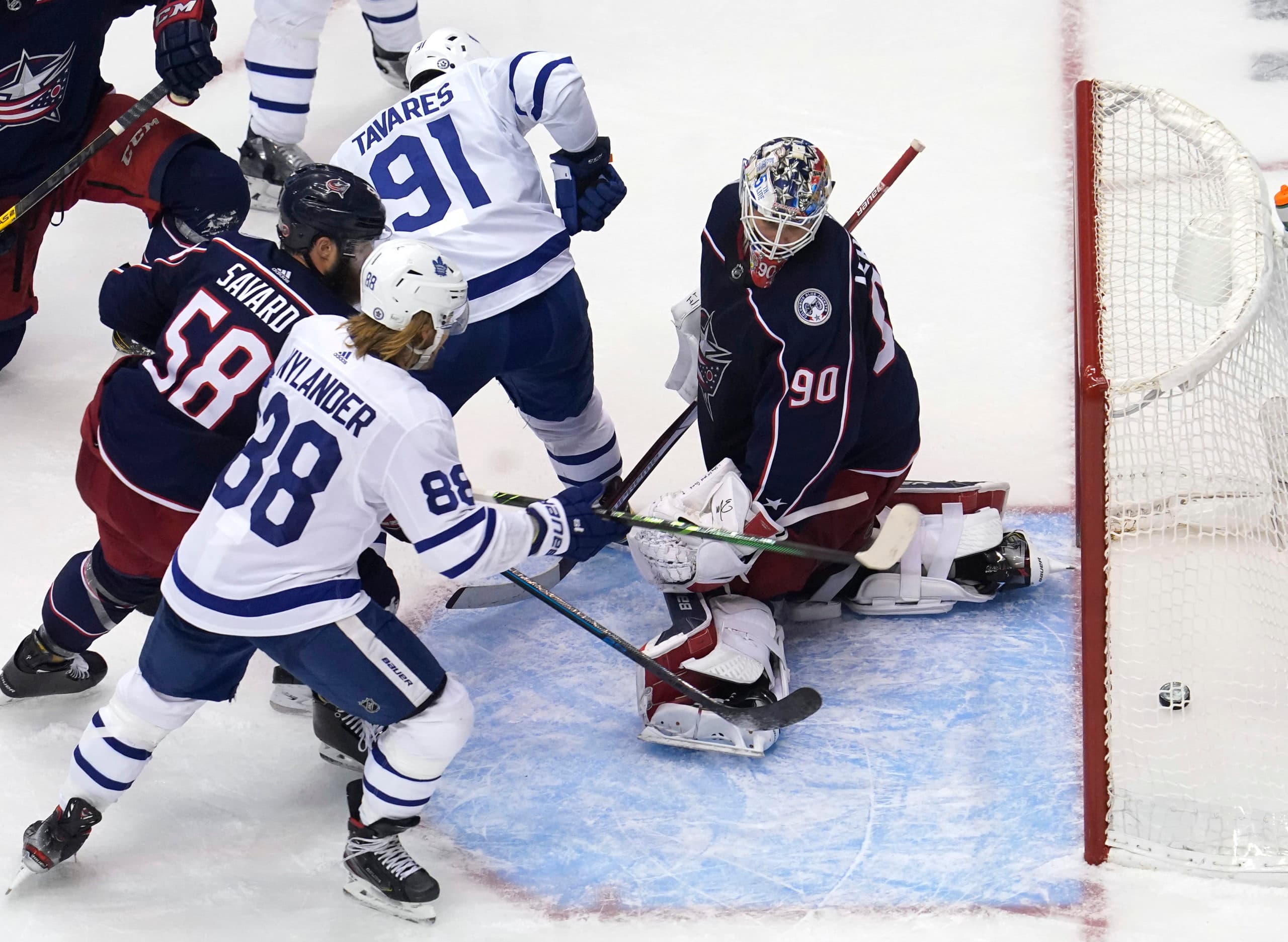 Photo credit:John E. Sokolowski-USA TODAY Sports
Bless Sheldon Keefe's soul. He's given us the unique opportunity to start reacting to the Leafs lines before they hit the ice tomorrow. Of course he didn't give us his defense pairings, so he's left us a little bit wanting, but we've got the big stuff to dissect early.
So we'll go line by line through these, but first line left wing Joe Thornton deserves some special recognition. After weeks of trying to figure out if Thornton was going to be the fourth line center or if he was going to grab the 3C position from Alexander Kerfoot, we've now learned that Sheldon Keefe has been galaxy braining his lineup card the entire time, and we've really got some interesting combinations to look at.
The four players that James Mirtle lists as being on the outside looking in looks like the lock for the taxi squad forwards, and potentially the roster scratched player as well. Boyd would potentially the roster guy of that group, as the other three players are waiver exempt.
It's also worth noting the Leafs are considering a 11F/7D lineup, so that will raise some questions about the fourth line as well.
Now for critiquing the lines.
Thornton-Matthews-Marner
Assuming that Auston Matthews still has stuff to learn, I think he's got the ideal tutor in Joe Thornton riding shotgun. Also assuming that Mitch Marner is serious about shooting more, this line has been given the means to set him up, though I don't think it will interfere with Auston Matthews' pending Cy Young award.
Losing Hyman and his speedy puck retrieval in favour of a slower winger might not be ideal. And while Thornton is a defensively responsible forward, again his lack of footspeed compared to Hyman might present some challenges in the Leafs end, though this isn't a line designed for playing there at all.
Combine this grouping with the fact that they will see a lot of time with Rielly and Brodie, this looks like a line designed to cycle the puck until the opponent is exhausted and Matthews can snap the puck into the net. Whether that pans out, we'll see, but in theory this line looks like a ton of fun and will definitely look like a Dad taking his kids out for a skate.
Vesey-Tavares-Nylander
The same way the Matthews-Marner pairing remained intact, the same is true for Tavares and Nylander. The addition of Vesey is interesting, and some people are already saying this could be a placeholding role to see if Nick Robertson is ready to step up. If Vesey lasts the season, he'd definitely have an uphill battle with both Robertson and Amirov coming for his job next season.
Vesey spoke about needing to be more aggressive in his play, and it would be great to see. Admittedly I'm a little surprised that Hyman isn't playing with Nylander and Tavares because that makes a ton of sense, but given Tavares' ability to get the best out of questionable linemates in New York, this could be another attempt to see if he can help Jimmy Vesey reach the potential he was touted with.
Mikheyev-Kerfoot-Hyman
In this case Mikheyev and Kerfoot are the duo that remains intact, but rather than a newbie, they receive Zach Hyman on a line that seems to exist to accomplish three things.
Act as a shutdown line against top competition
Create an exhausting forecheck that tires out defenders
Provide the three best options for injury replacement if one of the top six forwards gets hurt or is underperforming.
One of my biggest concerns heading into camp was that Mikheyev was going to be in the top six, despite not looking particularly competent in that role during the summer return to play. His best hockey was played on Kerfoot's wing and having them both playing with linemates that bring out the best in them is great.
As for Hyman, I still think this is just a matter of seeing what the Leafs have in Vesey, Robertson, and possibly others with Tavares during training camp and the early part of the season before reverting to a tried and true approach.
Simmonds-Spezza-Barabanov
This is looking like a bit of a catch all line, but with the potential for some sheltered scoring ability. Right now these are the next most likely players to be NHL locks, with Barabanov being waivers exempt, and potentially platooning with the taxi squad. There's also the fact that the Leafs will likely only go with 11 forwards, and one of these guys will be hanging in the press box anyway.
Simmonds and Spezza could be a consistent pairing however. Both are likely to spend a lot of time in the lineup, and in reality Simmonds is pretty much a lineup card lock, while Spezza might see the odd scratch.
Barabanov is an exciting unknown. He's a capable forechecker, and offensively capable, and if he adapts quickly to the North American game, he could move up in the lineup. If he doesn't adapt too quickly, well, Robertson or Anderson will have his job in short order.
The other guys
Okay, so Robertson is essentially the guy we're focusing on here. It's entirely possible to see him slot in on any of the four lines depending on if he develops some chemistry in camp with the duos or makes his case for being better than the competition. The fact that he'll be starting off playing with either Engvall, Brooks, or Boyd as his center will make it an uphill battle, but it probably should be.
Ditto for Joey Anderson, who has been billed as the next Zach Hyman. Given the Leafs need for aggressive forecheckers, I can't help but think he'll be a player that surprises and/or earns a lot of supporters in the coming weeks.
Rather than breakdown the entire forward group, we'll just wrap it with Boyd as the final player worth keeping an eye on. He's looking like the odd man out and potentially waivers bound, but the Leafs signed him and signed him early in free agency, and there could be a specific role that Dubas and Keefe have in mind for him.
Given that we haven't had a single player on the ice in camp yet, it's safe to say we'll have to see how all of this pans out, and none of this is etched in stone. The abbreviated nature of the training camp likely means that Keefe is going to want to commit to these lines as much as he can, but if they aren't working we'll see them change up fast. The return to play over the summer saw little movement in line combinations, and for now we'll assume that's how Sheldon Keefe coaches.