Day After Thoughts: Welcome to the Leafs offseason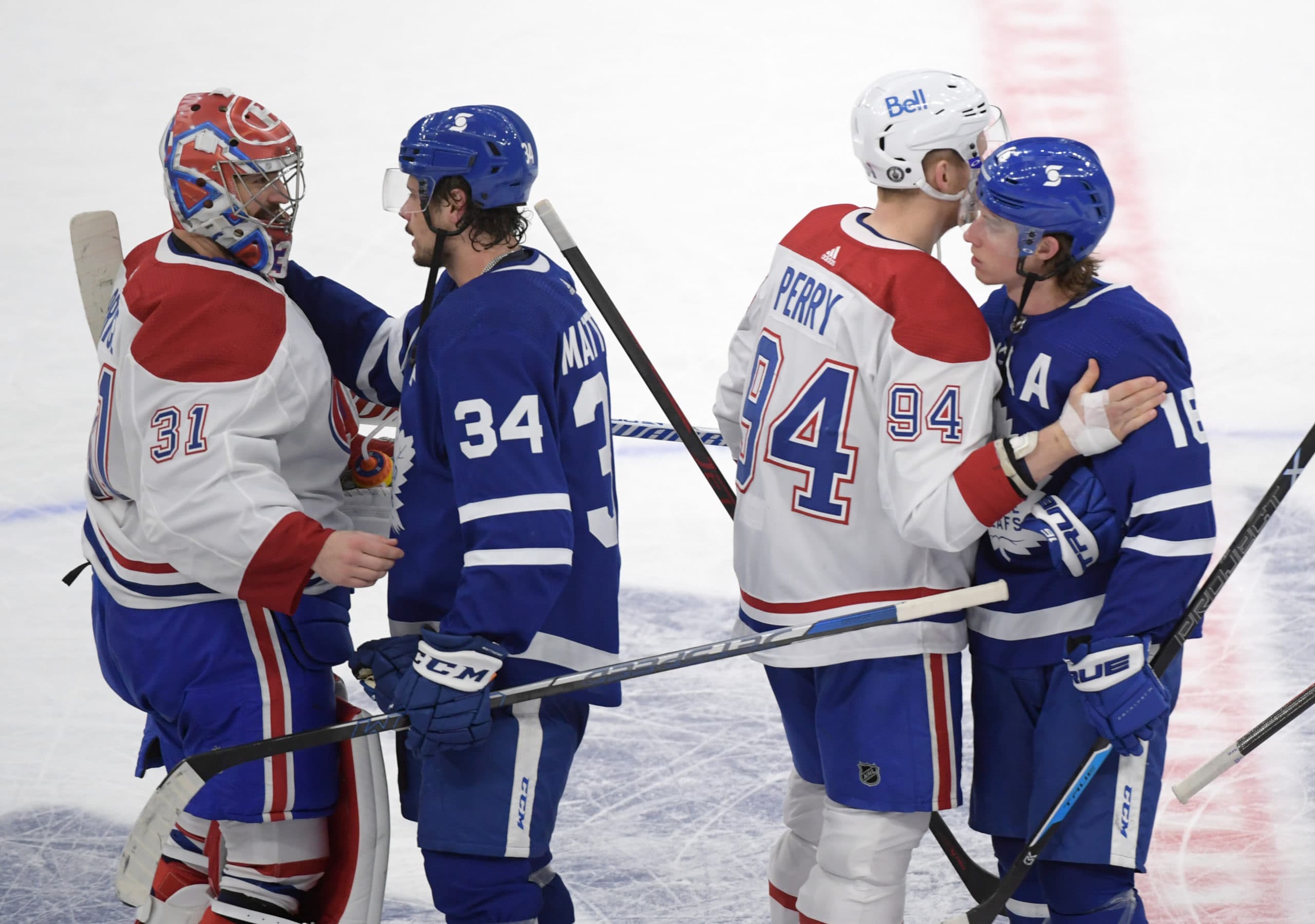 Photo credit:Dan Hamilton-USA TODAY Sports
If you are reading this, congratulations on not rage quitting the Leafs. They sure do make it tempting, and the following quotes are reminders of how bad things were destined to go…
This fucking team.
Anyways, is there any point to dissecting that brutal game? Are there any insights that we can take from it that will help with the next game in *checks calendar* October? No. It's over, it's done. The season is done, and we are back to our familiar pain, and garbage answers about how things went…
Trash answers. Arguably trash answers from two people who shouldn't be a part of the solution in Toronto, but we'll get to that in a bit.
There are plenty of cop out responses to this series. There were injuries. There was questionable reffing. "The Leafs are cursed." Whatever. The fact that this team has excited the first round consistently, hasn't won a playoff series since 2004, and is now officially up to a 54 year cup drought does raise a lot of questions about what is wrong with this organization that seems to carry forward from year to year. Is it too much pressure? That is one hell of a cop out as well. Is the media too hard on the Leafs? Well, I can tell you it's pretty easy to not read the Sun. I do it everyday. The Leafs need to find players that are ready to win here, and will play like they want to win, and to the credit of the Leafs, they seem to have found a few in the past few seasons.
We'll get some praise and appreciation out of the way early. I know it's hard to appreciate the GM at a time like this, but it's hard to hang a lot of this on Kyle Dubas. As the GM he can only go so far as to build one hell of a team on paper, and it's on the coach to get them the rest of the way. The Leafs were one hell of a team on paper, and with deficits from last year being in leadership and physicality he went out and added Joe Thornton, Wayne Simmonds, Zach Bogosian, and Nick Foligno over the course of the year. He brought in TJ Brodie in the offseason to provide a huge upgrade over Tyson Barrie, and got Alex Galchenyuk for pennies on the dollar. The man worked his ass off to get things right, but it just didn't work out that way.
It's safe to say that Jack Campbell remains above criticism at this point as well, and is one of the few sources of optimism heading into next season. Throughout the playoffs he was putting it all on the line for the Leafs, and has shown that the Leafs net is his.
Now for the criticism, and that is going to start with the coaching. Manny Malholtra's not so special teams coaching is a big part of the justified blame heading into the summer, but the blame shouldn't stop with him. Sheldon Keefe hasn't been as advertised. While the shared vision of Dubas and Keefe, and having a coach who was on the same page as the GM seemed like a great starting place for the Leafs, there was always a worry that Keefe wouldn't be capable of coaching at a NHL level. So far that seems to be the case, and Keefe seemingly disappears whenever an in game or in series adjustment is needed. Over a 56 or 82 game season, you can rely on the team that is better on paper winning the majority of the games, but in a seven game series if you fail to adjust what is going wrong quickly, you are done for, and Keefe has shown us that in two straight summers.
Now to consider the Leafs top line. Hyman, Matthews, and Marner were ghosts when it came to the score sheet over the past seven games. With Matthews you could see him attempting to generate chances, and Hyman is there for a mix of defensive responsibility, and forechecking to go along with complimenting the two stars, so maybe he gets a friendly pass as well, but that leaves us with a $10.893,000 winger, who looked scared to shoot, scared to have the puck on his stick, and was underwhelming even in the games where things were going right for the Leafs. After repeated first round exits something big has to change, and it's pretty clear that something is Mitch Marner. Spending nearly $11M on a winger is already a tad crazy, but not having the winger push your team over the top in the playoffs, and especially when he's been gifted the assignment of playing with one of the top centers in the league, yeah, being done with Marner seems like a given today. How many of you will still feel this when we get into the dog days of the offseason when in season stats outweigh playoff performance again, we'll see, but without giving myself a chance to let a cooler head prevail, Marner has to go. The regular season points just aren't that big a deal.
Of course Marner isn't the only one who should go. According to
PuckPedia
there are 18 players destined for unrestricted free agency in the Leafs organization this summer. Other than Galchenyuk and maybe Bogosian, it's hard to make a case for bringing any of them back (yes, I'm including Hyman in that list). New faces and cap space will serve the Leafs better as they try to figure themselves out than a winger who will be back with a more expensive contract, a more banged up body, and term taking him into his 30s. He's a hockey player, not fine wine, Hyman should probably be gone too. And for that matter so should Mikheyev and Kerfoot. Paying for penalty killers isn't a luxury the Leafs can afford when they need to give the team some direction.
I guess what I'm saying is, there's going to be a lot of anger and impatience around this team this summer, and it's completely warranted. Being good on paper, or pointing to regular season results has kept Toronto locked into mediocrity for too long and now the Leafs won't have the luxury of the North DIvision. No they'll be back in a division with Boston and Tampa. And now a very good Panthers team too. And the Montreal team that just made fools of them. And a young promising Ottawa team, a team GM'd by Steve Yzerman, and well, the Sabres. The Sabres will still suck, but shouldn't the bar be higher than just being better than the Sabres? Probably, and that's why I hope the Leafs front office puts in more effort this summer than what we saw from the Leafs team in the spring.