Dissecting the Leafs rumoured interest in Tyler Myers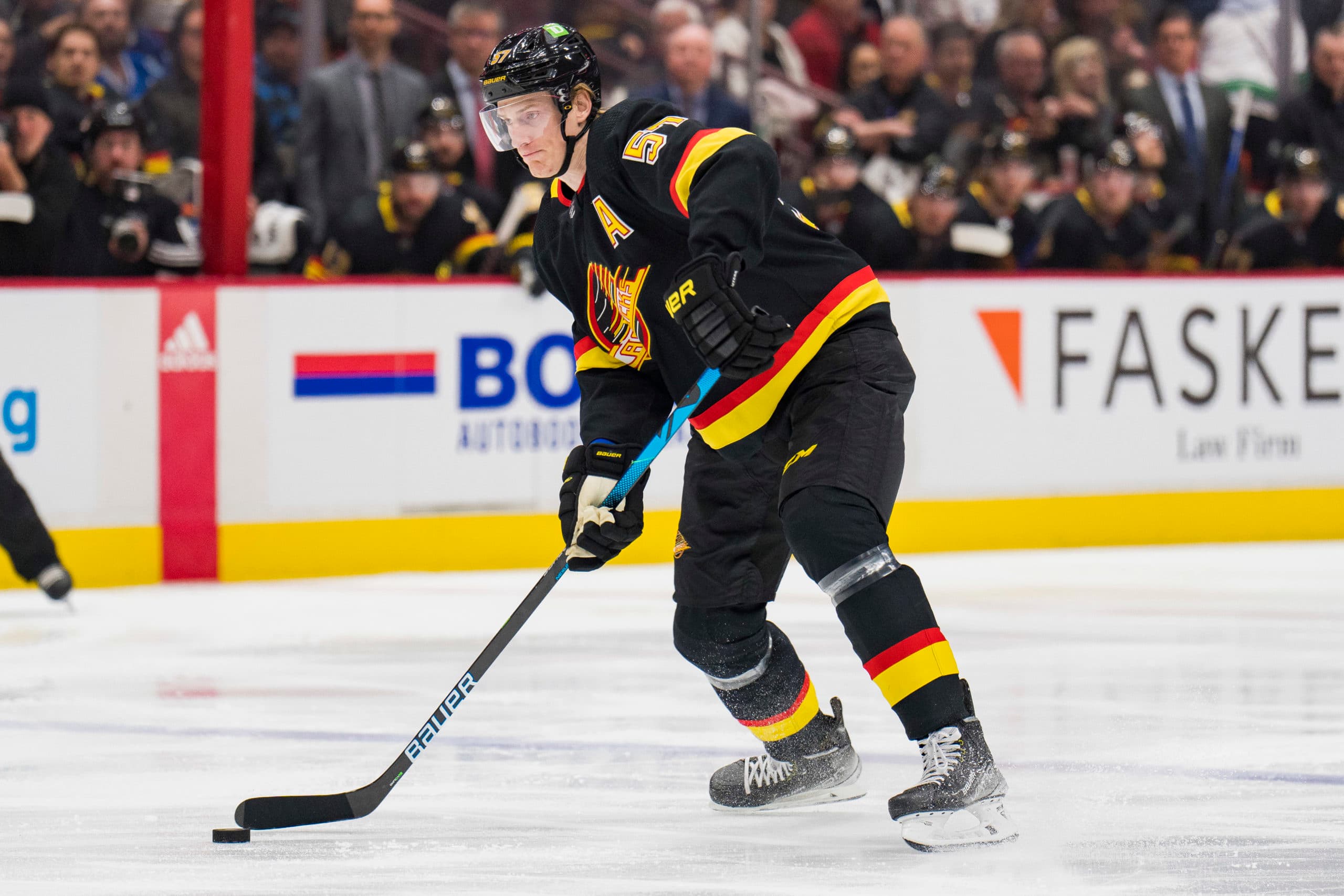 Photo credit:Bob Frid-USA TODAY Sports
Few things are more troublesome than hearing that the team you cheer for is kicking tires on Tyler Myers. Unfortunately for Leafs fans, that's exactly
what Bruce Garrioch reported this week
:
There's also been talk the Vancouver Canucks are willing to move defenceman Tyler Myers and the Leafs have been among the teams kicking tires there.
Now it's very easy to yell "HELLS NO" and run off screaming into the horizon, but we'll go a little bit further in our analysis than that, despite the fact that this clearly looks like a bad idea.
Let's start with the well established reasons of why this isn't a good idea. Tyler Myers has an AAV of $6M for not only this season, but next. There is also the issue of despite being listed as a defenseman, very little defense seems to happen when Tyler Myers is on the ice, and goaltenders tend to get shelled. His
Evolving Hockey
player card put him in the bottom 11th percentile of players in the league, and his RAPM charts very rarely show any blue. His rate stats are modestly better than that, and speak to the Canucks getting shelled with Myers on the ice, but not necessarily seeing puck go in a ridiculous amount as a result of that. I guess that's something…
Season
GP
TOI/GP
CA/60
CF%
GA/60
GF%
xGA/60
xG%
HDCA/60
HDCF%
PDO
20212022
82
18.31
58.63
49.15
2.16
53.85
2.60
49.39
11.39
47.61
1.013
20222023
14
18.34
59.34
45.14
2.10
47.06
3.13
42.23
12.85
46.60
1.006
via naturalstattrick.com
When you look at those percentages you can see the ice consistently being tilted against Myers and that's not a good sign, but it's also none of those against numbers would be the worst on the Leafs either. It's also worth noting that Myers has spent the past two seasons glued to Oliver Ekman-Larsson. I'm not expecting anyone to have a high opinion of either player on their own, but together they are certainly going to make each other look even worse.
So let's double around to why teams are still even talking about bringing Tyler Myers in. It probably starts with not being able to teach 6'8″. To some extent you can't teach 6'8″ but you should teach 6'8″ how to play with a mean streak. Myers may not have a mean streak, but he does make contact and for a team like the Leafs that is something that has been missing. It's hard to ignore the 145 hits and 148 blocked shots Myers had last season while averaging over 20 minutes a night and while we might all roll our eyes and are well aware that means his team isn't controlling the puck, it's still cat nip for coaches that believe they can build off of this.
It's also worth noting that Myers is a right shot, and it is a heavy one. None of that is enough to have interest in Myers at 2 years of $6M, or really even 2 years at $3M AAV, but it's why tires are being kicked.
Tyler Myers: This is a polarizing player for me. He's a big body, but opponents aren't intimidated by his size. He certainly cannot be described as a physically punishing defender. There were nights his pace of play was a massive concern. There were also games he struggled to make accurate outlets with the puck. Having said all of that, Myers did play his best hockey from the middle of the season on. He's a two-way defenceman who is what he is at this stage of his career, producing one goal and 18 points this season. He has a modified 10-team, no-trade clause that kicks in on July 1. The Canucks would likely have to retain some salary in a trade, but I would at least investigate interest and adjust from there. Players like Myers can be found for much less than his $6 million AAV, which runs through 2023-24.
For the Leafs to be kicking tires on Myers it means a few things. The first is they'd want a defenseman and are far more willing to spend money than spend assets to acquire one. That makes some sense as any assets the Leafs should spend would be better utilized on top tier forward and saved for a goaltender in the event of the Murray/Samsonov tandem imploding.
Still, $6M for two years is a hell of a commitment, and Myers at $3M seems to be a necessity. Even if the Canucks are retaining 50%, it doesn't seem like teams will need to pay much for Myers services as taking $3M off the Canucks salary cap next season is still a favour.
The interesting thing about the final year of Tyler Myers' contract is that the majority is paid in the form of a signing bonus. In the event a team acquires Tyler Myers at 50% retained, after the July 1st signing bonus is paid there would only be $500k of salary paid throughout the season by Myers new team (as the remainder would be still paid by the Canucks.) Even with Myers' 10 team trade list, there is a strong possibility that he can be moved to a team excited to pay $500k for a 20 minute a night defenseman. In short, the final year of Myers contract might not be the issue.
The Myers situation also potentially affords the Leafs the opportunity to move one or more the Holl, Engvall, or Kerfoot contracts the other way. Kerfoot has a 10 team no trade list, but it's possible his hometown Canucks aren't on it. Holl's inexplicable 10 team no trade list is less certain, and Engvall can be dumped anywhere at anytime (which might beg the question, why hasn't it happened yet?)
The Leafs might need to include some middling prospects to make it work, but I would have to imagine that if Toronto is truly "kicking tires" on Tyler Myers, it is a potential meeting of the minds on how these two teams can shuffle their garbage around in a fashion that meets the Toronto need of defensive depth for this season, and the Canucks need of not having $6M of Tyler Myers on their books for next season when they try to rebuild their roster.
None of it might be exciting or appealing, but arguably this is how Myers comes to be connected to the Leafs in a rumour.