Don't count out Nick Robertson too early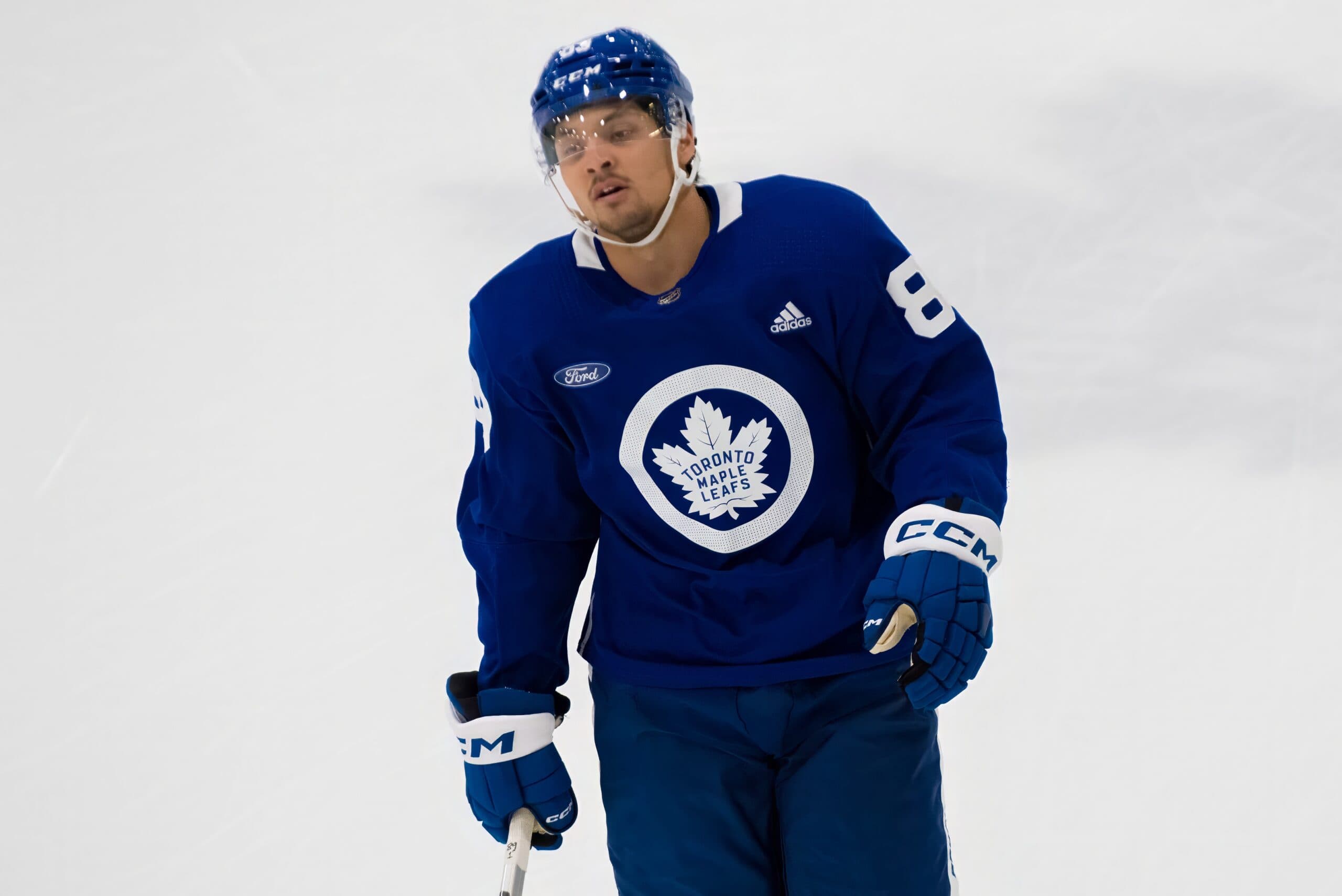 Photo credit:Steven Ellis/Daily Faceoff
When The Leafs Nation did our annual ranking of Maple Leafs prospects one of the trickiest players to place on the list was Nick Robertson. Robertson is unquestionably one of the most NHL ready and one of the most talented offensive prospects the organization has (if not the most talented offensively.) Still, injuries and the ability to thrive in the NHL in his limited appearances have raised a number of question marks and after a long hiatus to recover from his most recent injury it was going to be an uphill climb to crack the Leafs roster. There have been a lot of now or never labels put on Robertson, and I think I personally am guilty of that, but the "now" shouldn't mean in the Leafs lineup out of training camp but rather he's found his spot on the roster by the end of the season. That's enough of a challenge for Robertson so let's dial back the immediate expectations and look at his camp so far.
First off, there's going to be a desire to compare him to his prospect peers and in that case he doesn't compare favourably to the likes of Matthew Knies, Fraser Minten, and Easton Cowan. Those three have all had standout camps as opposed to the ups and downs that Robertson has faced. Still it's important to appreciate why those comparisons are unfair. For one all three of them have been playing a lot more recently that Robertson. This camp was always going to be about Robertson getting pace back and not only matching the level of being a top AHL player but having to quickly push to make his case for why he belonged on an NHL roster. Not a easy feat. The expectations for Minten and Cowan are also different. This isn't so much about finding a place that they fit in the Leafs roster but the Leafs gauging their ability levels for the future and sending them back to junior with a development plan that leads to us discussing their ability to make the Leafs next season. Robertson is in a different boat. He's needing to demonstrate that he can do what is needed of him to fit in to the Leafs system. Minten and Cowan can push offence to their hearts delight while Robertson needs to show he is responsible enough for the lineup while still getting as many offensive looks as possible. Definitely a tougher ask and one that Matthew Knies has been living up to nicely.
The next thing to consider with Robertson is that there isn't a particular fit for him in the Leafs roster, especially with the top nine looking to be very much set. Noah Gregor came in and closed the door for a lot of Nick Robertson, Pontus Holmberg, etc. talk this fall and that seems to have eliminated the fourth line for the realm of possibility as well. Robertson is vying for either being a 13th forward option (one the Leafs rarely use given their cap situation and more frequent 11F/7D deployment) and even in that situation he is at a disadvantage due to not requiring waivers and the easy in which he can be sent to the Marlies. The fact that he does not require waivers might be the opportunity for him sooner rather than later as other options like Bobby McMann and Dylan Gambrell will require a bit more work around counting games and days on the roster.
And then there is the matter of the results. Unfortunately for Robertson they haven't been there in the preseason yet. He's played in three games and has one goal to show for it. He's been averaging around 11 minutes a night at 5v5 and has been playing some very high event hockey (as everyone does in the preseason) but with favourable on-ice differentials. No one should be making their roster decision based on preseason numbers but Robertson not scoring when that is the hallmark of his game is going to make it harder to make his case for a roster spot even if he is doing more of the little things right. He's showcased that there is promise in his game still and that's probably the best thing for him.
The last thing to consider is whether or not Nick Robertson is hindered by his situation with the Leafs. Last season Sheldon Keefe didn't put Nick Robertson in positions for Robertson to succeed but rather moved him around the lineup as the additional piece for him to fit in. That isn't out of the norm for deployment of a depth player but given that it's an 82 game season it would have been nice to see if finding the right fit for a top prospect could be prioritized.
Robertson's situation also mirrors of what was seen with Matthew Phillips in Calgary under Brad Treliving. Phillips (now with Washington) is an undersized CHL scoring standout who had his health issues but generally performed well enough at the AHL level that he warranted an extended look in the NHL. That opportunity never really came and while some of that could be attributed to Phillips not fitting in a Darryl Sutter system particularly well, Brad Treliving didn't force the issue by putting Phillips on the roster. I'd wager that neither Treliving nor Keefe are curious about Robertson unless injuries require they look at bringing in an additional scorer or someone for their second powerplay unit.
The situation makes me feel for Nick Robertson. He's being pushed in a few different directions. He needs to demonstrate he's recovered from his injury, he needs to show that he can add value whether he has the puck or not, and he needs to still find a way to score with regularity. That's a tall order for a relatively short camp. It's because of this I'm firmly believe that anyone who is writing off Robertson if he gets cut is writing him off prematurely. If he can stay healthy there is a good chance that he can be pushing for a spot on the Leafs in the next couple of months and he might not give up that spot so easily this go around.