Exploring the idea of a Jake Muzzin trade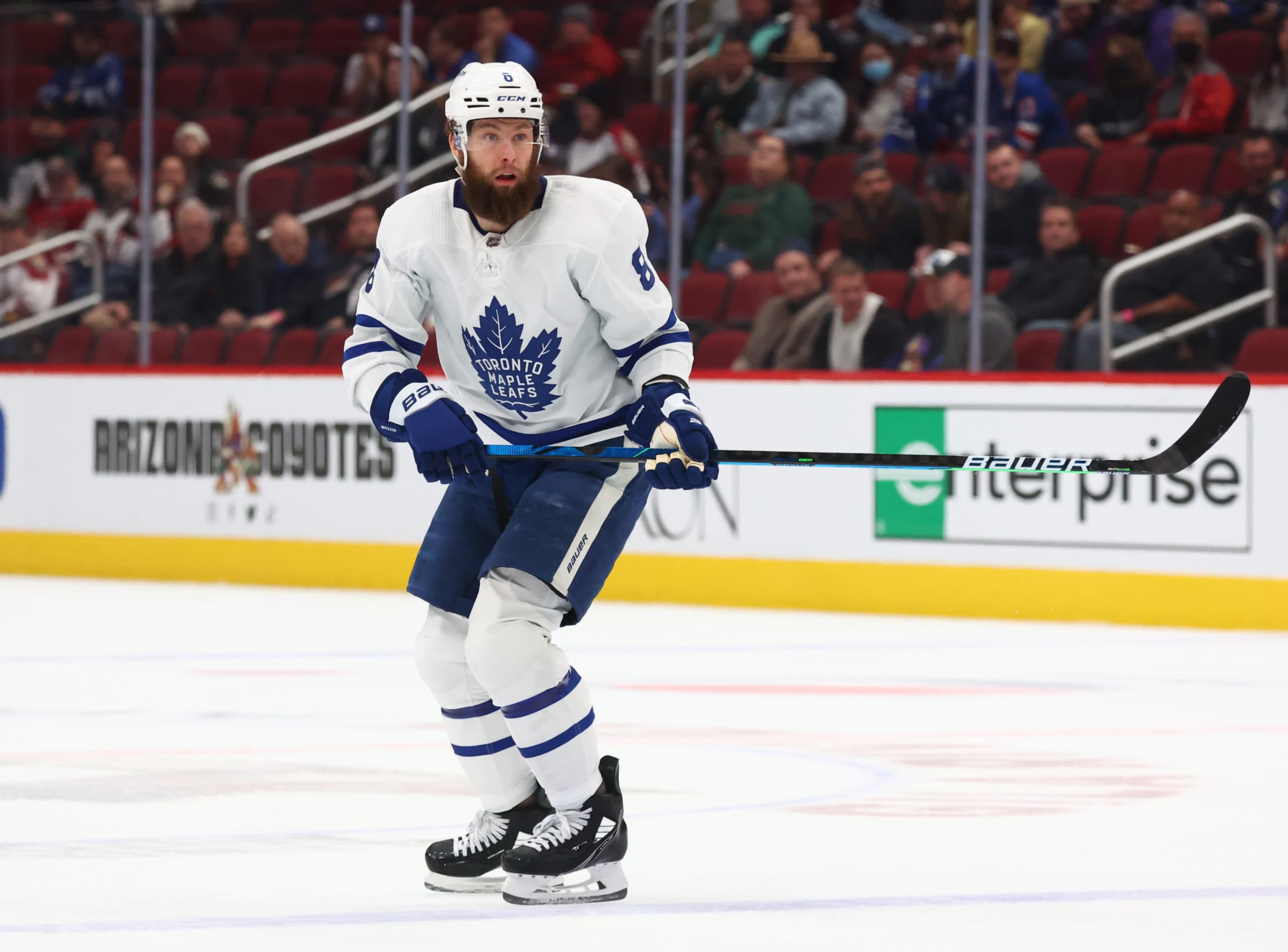 Photo credit:Mark J. Rebilas-USA TODAY Sports
No matter what your feelings on the current state of Jake Muzzin as an NHL defenseman, it's hard not to look at his $5.625M cap hit and wonder if the Leafs would be better off with Muzzin being relocated. From an actual dollar cost over the next couple of seasons, Muzzin is a bit more affordable. He's owed $4M each of his remaining two seasons, and when you consider that he's going to be paid his $2M signing bonus as part of that on July 1st, that means he's only owed $6M over the next two years at that point. For a number of teams, that level of savings has some real appeal. Looking at Muzzin's contract projections on
Evolving Hockey
, he projects as a two year contract player with a $4.062M cap hit, so while his pay is in line with what he should be getting, and potentially a bargain post bonus, his cap number is still a bit of a bite.
Note: originally this article was written believing that Jake Muzzin had a 10 team no trade list, but for this season he still has a full no trade clause, which is an even bigger challenge that what I've listed below. Thanks to Totally Offside for the correction. And yes, a no trade clause doesn't mean he can't be traded, but this supports the likelihood Muzzin will be around for another year. I've put the No Trade Clause related section in blue if you want to skim past it. 
So beyond Muzzin's cap hit, there is a second barrier to moving Muzzin, and that is his no trade clause, which prevents him from going to 10 teams. While there is no way of knowing who specifically is on Muzzin's list, there's a pretty reasonable way of extrapolating who will be on it, and it's going to be a combination of teams that are not likely to be competitive next season, teams that put him at a financial disadvantage due to taxing, and those that just typically don't draw in players that have control over their destination. The best guess at the first eight teams for Muzzin would probably be:
Arizona

Montreal

Ottawa

Detroit

Buffalo

Winnipeg

Seattle

Chicago
Most of these teams are some combination of rebuilding and uncompetitive, not being favoured locales, and having the additional cost of living challenges attached to them. It's hard to determine who the remaining two teams would be, but Columbus, New Jersey, Philadelphia, and Vancouver might also be strong possibilities. I'd include Anaheim as well, but given Muzzin's history in the southern California region might make them a team he's open to.
I've speculated enough on something that is a personal preference of Muzzin or could be a far more strategic list from his agent, but the point is that the teams that have the cap room to acquire Muzzin and/or are a team that would be excited to have a cap hit above what the actual salary owed is are likely on this list.
Teams like Nashville, Anaheim, Columbus, the Islanders, and Dallas may best fit the bill of potential landing spots for Muzzin, with an honourable mention to the Kings, if they are prone to nostalgia.
Of these teams, two particular situations stand out to me as worth most plausible. The Predators and the Kings, because both seem to have moves to meet the needs of their organization as well as the Leafs through trade. With the Predators, they recently assigned Phillippe Myers to the Marlies at the end of the 2021-22 season, and if they can't find a trade for him, they may consider buying him out. The Leafs were likely interested in Myers and were attempting to get a good look at him in Toronto last year. The deal saves the Preds a buyout and gets over $3M in cap hit off of Toronto's roster. Seemingly this meets the needs of both teams. If the trade happens after July 1st, Muzzin would only be owed $2M in salary for 2022-23 and $4M in 2023-24. That might be a better situation than the actual salary owed to Myers of $3.8M in 2022-23. Myers buyout is actually advantageous to the Preds though, as they'd gain cap space in year one and only take a $633k cap hit in the second year. It's just a matter of if they want to pay $1.2M to Myers to not play hockey for them.
The Kings re-acquiring Muzzin seems to at least be a popular narrative in Toronto. Likely less so in LA because he's expensive and they can probably use their cap space better than that. Where I will give lip service to the Kings idea is that the Leafs potentially need a goaltender and the Kings have $10.8M committed to Petersen and Quick next year. If the Kings want to shed the last year of Quick's $5.8M cap hit and feel it could be better spent on an older defenseman, then I guess it's a choice. For the Leafs, it buys Toronto another year to truly figure out their long term goaltending situation and control their costs in net better than negotiating with Campbell. There has been plenty of Quick to Toronto talk over the years as well and finally ends that. Whether either side sees this as the best way forward is anyone's guess as I wildly speculate here, but at least I'm not speculating that the Leafs will somehow acquire Matt Roy.
Opportunities like the Myers and Quick deals will certainly exist with other teams as well, and the idea of moving on from Muzzin needs to be a bit more about addressing another gap in the lineup rather than looking for cap savings. A deal with Anaheim could be about bringing in Adam Henrique as a possible center option. Making a trade with someone like Columbus could be about bringing in Gustav Nyquist as a top six forward option. A move of Muzzin should be about trying to get a little cheaper, losing a year of term, or addressing a position that is more pressing than left side defense.
The other factor that can be considered when looking at what is best for Muzzin is salary retention, and frankly, it seems like a questionable road to head down for the Leafs. With Muzzin's projected value based on Evolving Hockey contract data putting him in the $4M range, the Leafs would be potentially eating $1.6M of the cap hit to make him a league wide marketable asset. That commitment reduces the chances of the Leafs finding a similar value asset in replacement. Unless the return is truly worthwhile, this seems to be venturing into "trade for the sake of a trade" territory.
What it largely comes down to is Rielly, Brodie, Giordano, Sandin, and Liljegren make up the first five of the top six D for the Leafs. Are the Leafs better off keeping Muzzin and his higher cap hit, or are they better off freeing up some money and settling for Justin Holl as their 6th D? (I'm going to acknowledge they could simply move on from both or the less appealing option of keeping both.) With playing either Sandin, Rielly, or Giordano on the right side, the Leafs would be a force to reckon with by hanging onto Muzzin, assuming he plays at the level he was at towards the end of the season, not so much how he was performing at the beginning (which was largely based on the Muzzin-Holl pairing not living up to it's 2020-21 results.)
Now, that last part about how Muzzin played is important, because right now he's a good defenseman who had a rough patch, and might still be moveable. If he has another rough year, that could just mean that Muzzin is dead weight that the Leafs need to compensate someone to move on from. On the far more optimistic side of things, if Muzzin has a strong year, he's someone the Leafs will be able to trade next summer to an eager team knowing they only have to pay him $2M of actual salary if traded after his bonus payment. That's not a bad situation to be in.
There is also the worry about Muzzin's injury situation. This season Muzzin had 35 games missed. The previous season Muzzin missed just 3 but was notably playing hurt throughout the final games and the playoffs, the previous year Muzzin missed 17 out of 70 games. Bodies don't get better with age, and Muzzin has been hard on his, that too is a reason for wanting to cash out on him now.
The long road we've taken here is that Muzzin still likely has some hockey in him, and it could just be about the Leafs giving him someone other than Holl to play with to get the best out of Jake. Any trade at this point might be too heavily weighted in his down production last season and his injuries. Unloading Muzzin to bring in a lesser player isn't going to move the bar much for the Leafs. The only way a deal for Muzzin makes sense is if he is treated as an asset and/or allows the Leafs to address a more critical area of need for them than left defense. The Leafs can still explore interesting roster options if they move on from Holl, Kerfoot, and Mrazek without taking back significant salaries in the process.
POINTSBET IS LIVE IN ONTARIO!
PointsBet Canada has officially launched in Ontario! Get a $25 free bet just for signing up right here!