Finding a fit on the Leafs for Denis Malgin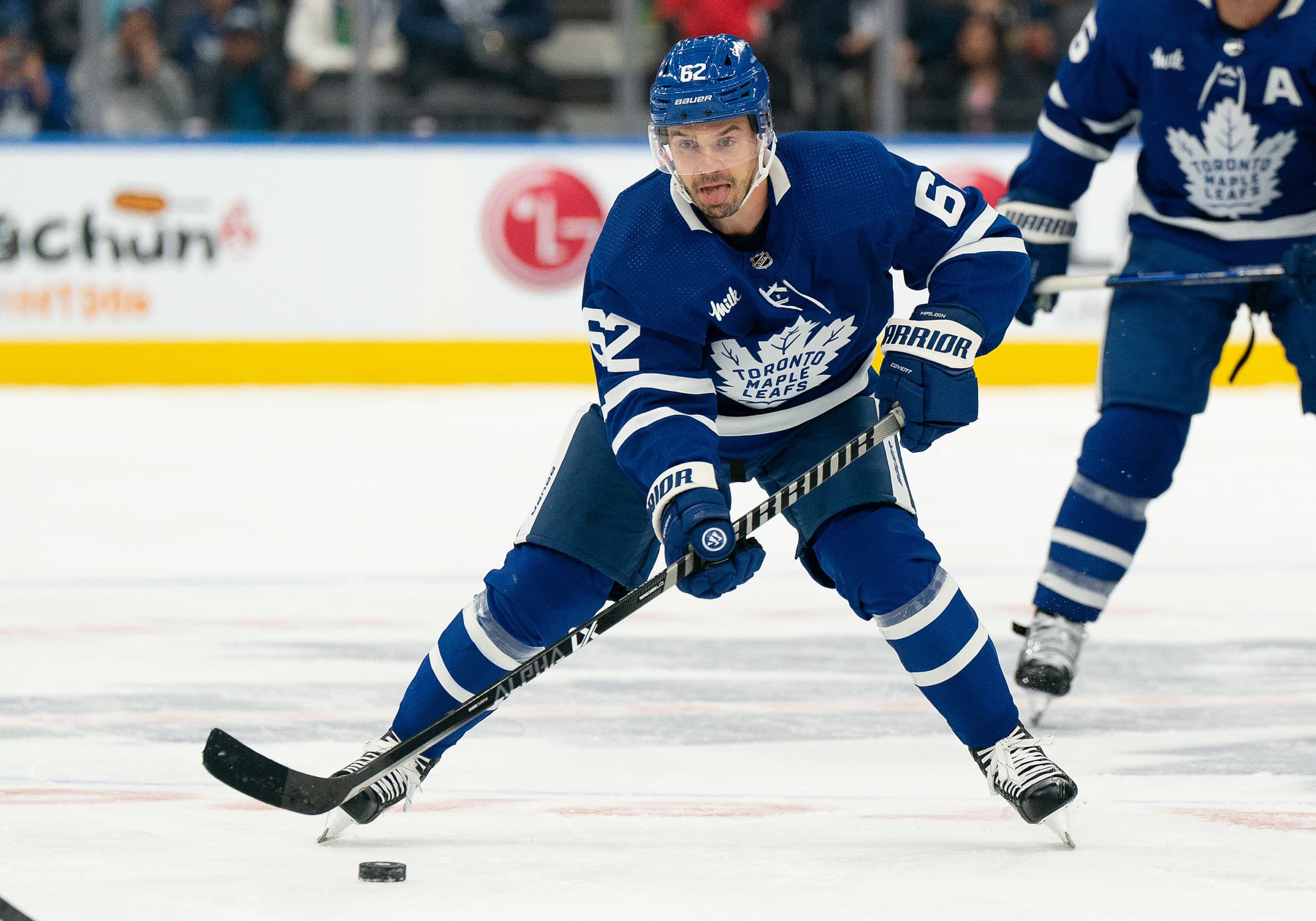 Photo credit:Nick Turchiaro-USA TODAY Sports
The Leafs have kept Denis Malgin out of the lineup for the past three games. This is somewhat of an interesting development given that Calle Jarnkrok has been out of the lineup and the path back into the Leafs lineup should have been an easy one for Malgin. Instead, the Leafs have opted to bring in Wayne Simmonds or to give Semyon Der-Arguchintsev his NHL debut, while continuing to try Nick Robertson as much as possible as well. Malgin is establishing himself as the odd man out, and it's not without reason.
Malgin's start to the season was strong. He was a high-energy presence in the bottom six and his 2 goals and 2 assists through the first 11 games of the season seemed like a reasonable bottom-six production, the 3 points in his first 7 games looked even better, but when you look now to no production in 7 games and 1 assist in 11 games that is not going to cut it as an undersized forward who should primarily bring some offensive energy to the defense-first group.
What has been interesting is that Malgin has been getting chances and perhaps it is with the increasing ice time that Malgin is struggling. As Malgin sees greater usage, his expected goal and Corsi for percentages began to plummet. He's still had some strong nights, but they are fewer and further between. Some of this might be due to utilization, as David Kampf and Zach Aston-Reese might not be the best options for Malgin to play drive offensive play.
What has also been interesting when it comes to Malgin is that he's been one of the more physical Leafs players. Only Zach Aston-Reese and Wayne Simmonds have a higher Hits/60 than Malgin out of the Leafs forwards on the roster, and Malgin hasn't been shy about taking hits either, as Aston-Reese and Kerfoot are the only Leafs roster forwards with higher Hits Taken/60 than Denis as well. Malgin certainly deserves credit for embracing the fourth line style of play, even if it's not particularly suited to him.
What is interesting when exploring Malgin's WOWYs is that he has generally thrived when given offensive players to work with. His struggles are primarily linked to bottom-six-centric players like Kampf and Aston-Reese.
So that leads to the question, what is the best usage for Denis Malgin.
We'll start with what looks like the wrong decision and that would be waiving Malgin to get him down to the Marlies. He doesn't do the Leafs any good there and he's going to be pissed off at the demotion, and in the event he's claimed, someone else around the league gains some depth that could still benefit from more favourable usage. The only benefit is if he gets claimed the Leafs pick up a standard player contract in the process that they might want to put to use.
The other option is the waive him for the purpose of terminating his contract. We've seen the Leafs do this with other international players that wanted the opportunity to rejoin a European team and play out their season. The benefit to the Leafs here is that they'd gain a standard player contract back in the process. And if he gets claimed, it's the same benefit as regular waivers, the Leafs still gain the SPC.
There's also accepting that he is doing what he's supposed to be doing and that's coming into the lineup when the Leafs need him there and fitting into the spot the Leafs need him at, not necessarily the one best suited for him. This is likely what we'll continue to see from the Leafs and with a bottom six full of Swiss Army Knives, Malgin is the Dollar Tree version (but also the only one that is actually Swiss.) From time to time he'll get to do work suited to his skill set, but if he's put on the fourth line he'll just have to do his best there. This seems like the most favourable option for the Leafs, especially as they may want to jettison more expensive bottom-six talent prior to the trade deadline, creating more opportunities for Malgin in the lineup, but also relying on his affordability factor.
The last option is for the Leafs to try to see if there is a better fit for Malgin in the lineup. He did well when playing with Tavares and Nylander, but an unwarranted promotion to the top six doesn't make a ton of sense either. He's done well with Engvall, Kerfoot, and Jarnkrok in limited usage as well, and as hilarious as it is to say, Malgin would bring a physical presence to a line with those players, as well as potentially give them a more capable playmaker to aid their limited offensive abilities.
With
TOI With
CF/60
CA/60
CF% With
GF% With
xGF% With
Michael Bunting
33.95
53.02
17.67
75.00
–
80.19
Alexander Kerfoot
26.12
45.95
18.38
71.43
–
89.15
Calle Jarnkrok
24.48
36.76
17.15
68.18
–
70.45
William Nylander
43.85
65.68
53.36
55.17
100.00
56.11
John Tavares
40.47
62.27
54.86
53.16
100.00
52.09
David Kampf
109.92
53.50
58.41
47.80
42.86
51.36
Zach Aston-Reese
104.87
53.21
61.79
46.27
37.50
48.95
via naturalstattrick.com, forward teammates with over 20 minutes TOI together
It is at this point it's probably worth appreciating that the Leafs are doing so well right now that I'm left to writing about the usage of their 13th/14th forward. While Malgin certainly serves an important depth purpose and might be more appreciated at the moment than lineup card incumbents like Engvall and Kerfoot, there is also some value in moving on from him in the sense that he's possibly the easiest path to regaining a contract spot and/or he frees up the ability to test other Marlies in the lineup.
All that said, Malgin is playing in the right role and his absence from the lineup isn't an issue. It would just be nice to see him get a few more favourable opportunities for him from time to time as well.