Finding the balance of "This is Fine" and all out panic when it comes to the Leafs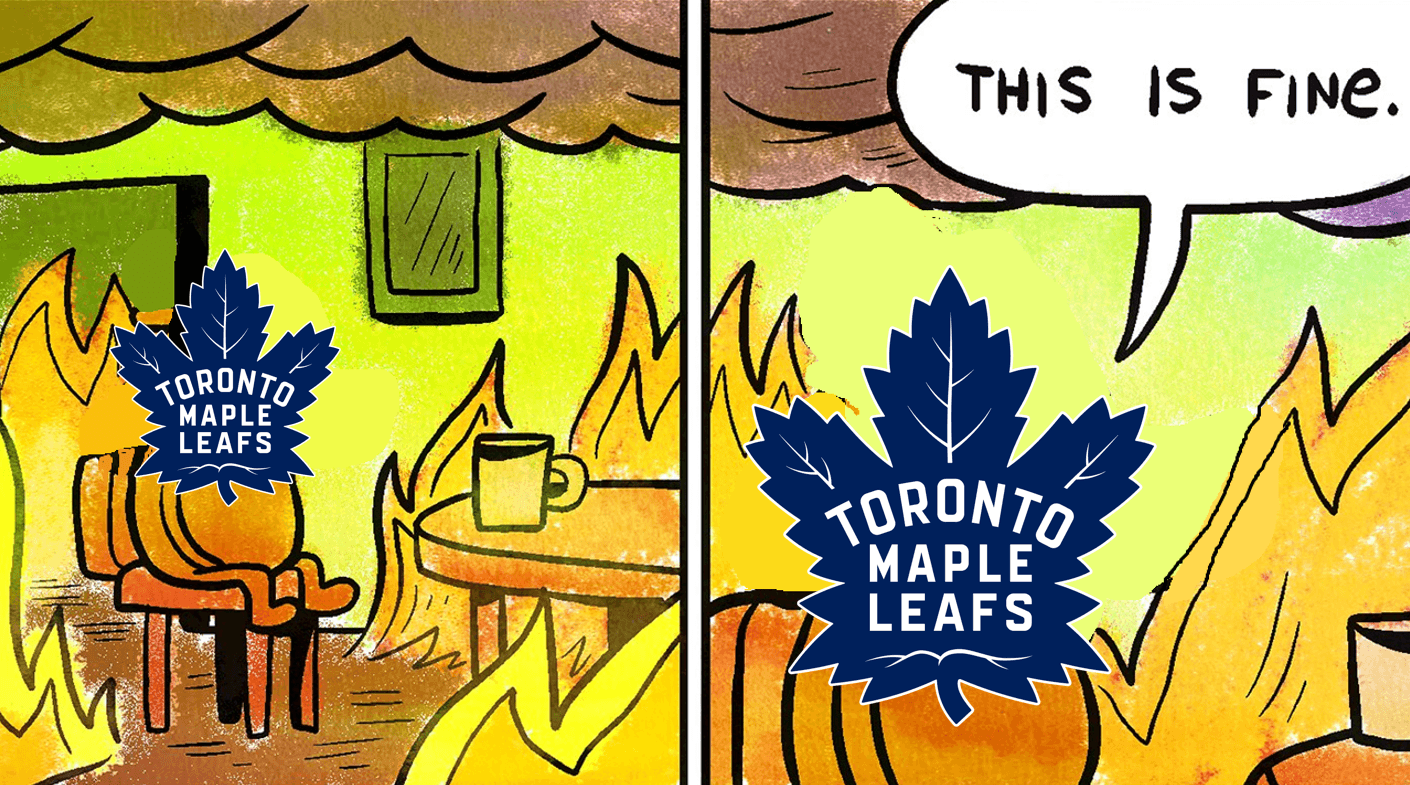 As a parent, there are a few phrases that induce panic like hearing your child say "don't worry." It feels like we've entered the "don't panic", "don't worry", and "this is fine" stage when talking about the Leafs. As I briefly check the front page of our site, we've got at least three articles speaking about this very theme when it comes to the Leafs. It's not a bad take to have since they are 4-3-1, presently sitting in a playoff spot, have plenty of high end talent, and yes they've been through this before.
I feel like the been through this before aspect is the angle that leads to a lot of panic. There isn't comfort in seeing a Leafs season play out in the same fashion. The second or third place finish in the Atlantic while being a top eight team in the league isn't something that anyone should be aspiring to. The goal was for the Leafs to take a step in a different direction. Jettisoning Campbell was supposed to make fans feel better about goaltending. Jarnkrok, Aston-Reese, and Aube-Kubel were going to make the Leafs bottom six harder to play against, and the defense, well… getting Giordano at a discount was supposed to lead to some stabilization back there as well. It hasn't and instead the Leafs are looking as they always have, a team that has enough talent to win the majority of their games but seemingly lacking in direction, structure, and playing predictably enough that our eyes are trained to know where the puck is going before it is passed.
Yeah, I can understand the panic, and think that a lot of that is sitting with Sheldon Keefe, as well as some growing frustration about Kyle Dubas tying his hands with the 50 players contracts to pull off some small adjustments.
It's easy to blame the coach, and that's largely why I'm doing it. When it isn't limited to just one player struggling with zone entries, or not just one player who isn't finishing their checks it looks systemic, and the systems fall on the coach. Whether the players are being lazy, have tuned him out, or if they are being not given an effective strategy, all of that falls on the coach with the players certainly having some share of the blame as well. Sheldon Keefe's seat should be feeling a little hotter because the bar for him with this roster is higher than a 4-3-1 start.
Now, getting back to the important middle ground on this and realizing that a full blown panic isn't warranted yet, nor is everything fine, Sheldon Keefe and the Leafs do deserve some time to work through this. A lot of the problems are very evident when casually watching the game, but fixing them in a manner that will be effective against their opposition is an entirely different beast.
While we often wonder about why the Leafs seem to struggle against the worst teams in the league it may not be as simple as "they don't try as hard", but instead it could be that lottery bound teams know they can't match Toronto on skill and instead clog the most important areas of the ice and make it difficult to play there. Teams have learned that the key to beating the Leafs is slowing them down as well, and while the Leafs might still end up dominating control of the game, their chances have become far less effective. They can bring in players like Aston-Reese, Aube-Kubel, and even Nick Ritchie last season, but they struggle because the Leafs style doesn't use them to open up areas of the ice. Someone like Matthew Knies may be doomed to fall into this same category as the Leafs struggle to understand the value of this skill set.
Far be it from me to tell you how to feel about the Maple Leafs. This team has done a number on most of us who have invested our time in them over the years and how you manage your ebbs and flows between hope and despair is how each of us remain unique in a sea of irrational Leafs followers. Like with most things, I would argue that the truth falls somewhere between panic and "don't worry" as the Maple Leafs record isn't a bad starting point for when they break out of their funk but some very real questions still remain about the how well their style of play will hold up in a seven game series.