Five low-cost unrestricted free agents who could help the Toronto Maple Leafs in 2023–24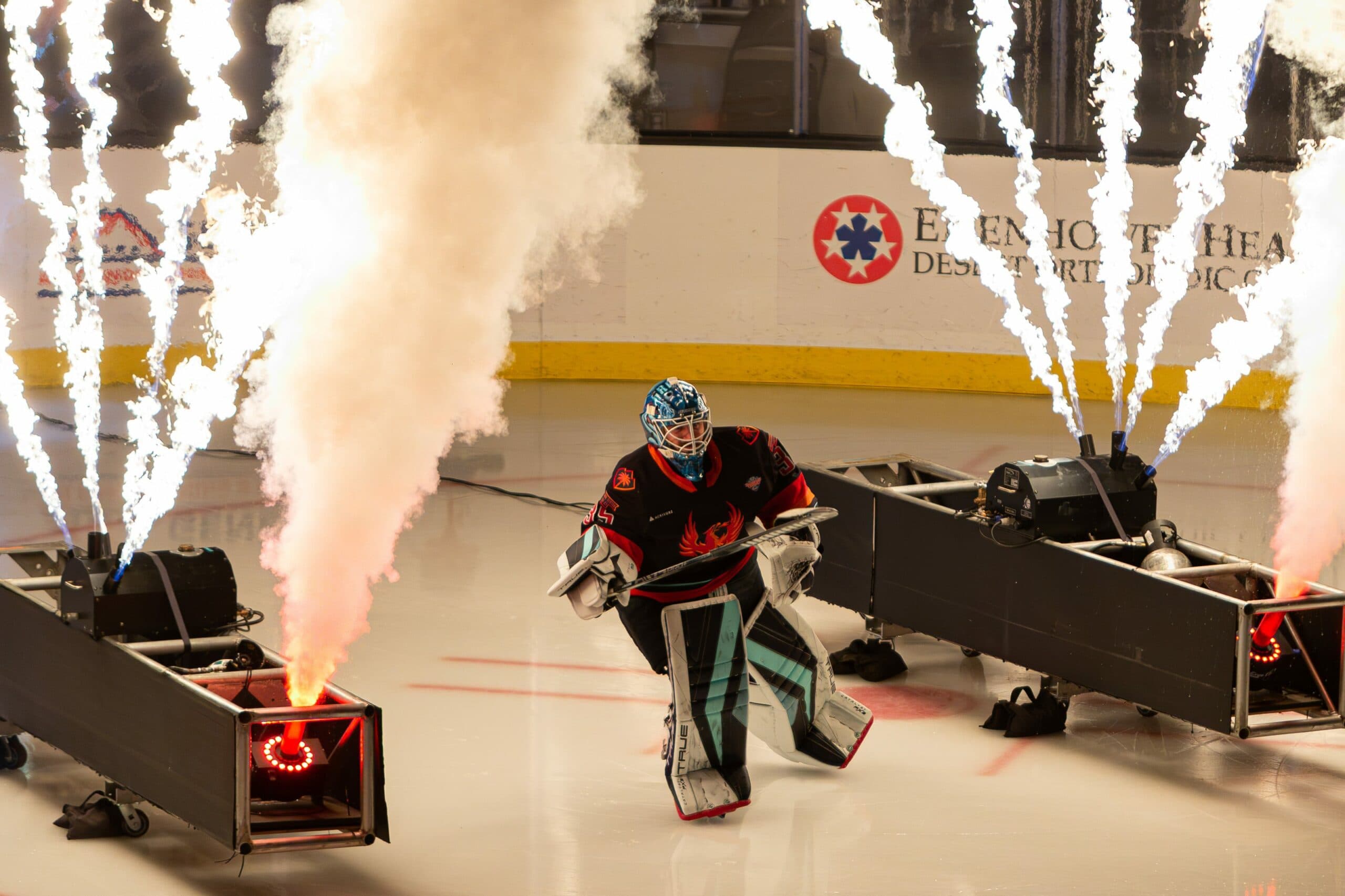 Photo credit:Brandon Magpantay/ Special to The Desert Sun / USA TODAY NETWORK
It's wild that in just over three weeks we'll be bombarded with a very different looking Leafs roster. It might be one featuring spots for a number of Marlies callups, but based on the history of Brad Treliving in Calgary, it's far more likely that we see roster spots filled with experienced players. I'm not sure you can say that keeping spots open vs. filling everything is advantageous, but I'm a firm believer in the halfway approach and looking at players that could potentially fight for NHL roster spots and make the most of the opportunity or be players you don't mind seeing on the Marlies. It's in that spirit I took a look at some of the lower cost bubble players, who might make for interesting options at the bottom of the Leafs roster.
William Lockwood
Lockwood was the first player I thought of when writing this and was the reason I thought I'd set out and scour free agent lists for other players that fit. William wasn't able to stick on the Canucks roster during his callups in the past two seasons and has just one assist to his name in 28 NHL games played. None of this is selling you on Lockwood at all.
The thing about Lockwood is that he hits. Over that same 28 game stretch, William has 92 hits and 23 blocked shots. He's creeping up on 25 years old as well, so he's still on the younger side of his career. At 5'11, Lockwood isn't a tower of power, but he makes up for that with speed. One of the biggest challenges is often being able to catch the player first and Lockwood does that.
As far as 4th liners go, Lockwood is perfectly capable of competing with the likes of Bobby McMann for playing time and he's not so good that you worry that you'll lose him on waivers after training camp either, which could make him a good in-season project player for the Maple Leafs player development squad.
Tyler Benson
Tyler Benson played just two games on the Oilers last season and given that roster has always called out for elevated bottom six players and having Jay Woodcroft being quite familiar with Benson from their Bakersfield days might speak volumes about Benson. It might also just be that Benson is not a fit for Woodcroft and this once highly touted prospect with an unfortunate injury history might finally be getting his deserved change of scenery. It's that low risk gamble that is appealing about Benson.
Benson isn't afraid to hit when asked, but has remained somewhat fragile throughout his career. Getting a full season out of him might be a challenge in either the NHL or AHL. When he has played in the AHL he has been a decent playmaker as well and there might still be some upside that could land him in a puck controlling role in the bottom six. If placed with other players capable of offense there might even be some additional benefits that could come from Benson, but I mean this in a can complement Sam Lafferty and Pontus Holmberg sense, not a play up on Tavares' line sense.
Matthew Phillips
Brad Treliving drafted an intriguing offensive weapon in the sixth round of the 2016 draft. That player is Matthew Phillips, a player who has come into his own in a big way over the past couple of years on Calgary's AHL teams. The downside to being an offense or nothing prospect over the past couple of years in Calgary is that Darryl Sutter was the head coach, and there really wasn't a path to the NHL for a player like Phillips on Sutter's watch.
That said, Treliving might still see something in this kid and want to be proved right on the 5'7 forward who is likely better suited to the wing. He might also be worth considering if the Leafs try to land the Calgary Wrangler's head coach, Mitch Love, as an assistant coach and this would give them an opportunity to continue a relationship that has worked for both of them.
As a potential depth scoring option, Phillips holds some level of intrigue, but given the changes in direction in Calgary it might be premature to believe he even reaches free agency.
Joey Daccord
With a GM with Arizona ties and new Advisor to the GM with deep Arizona ties it might not be a surprise if the Leafs once again look to Arizona for a potential answer. Joey Daccord was an Arizona State netminder that Shane Doan would have seen a ton of. How much weight that carries I don't know so let's pivot back over to why you look at Daccord beyond his past mailing addresses.
Daccord has been a dominant goaltender in the AHL for the Kraken's team in Coachella Valley. He's led them to the Calder Cup and put up a .930 save percentage in 21 games in the post season. That's following a .918 save percentage in 38 regular season games. His NHL history so far has been limited but not particularly good. I think the same can be said of a lot of 26 year old goaltenders.
The appeal of Daccord is that he is a great third string option to consider and one the Leafs can try to wrangle in by paying him at the high end of the buriable salary amount and potentially give him a bit of term so that Daccord can clear waivers.
The appeal of the Leafs for Daccord is that there is a path to NHL starts on the Leafs for him. How Samsonov can handle a starter's workload and how much hockey Woll can play remains to be seen, as is how good either of those goaltenders would be following up on their breakout seasons. Daccord could be the next in line option for Toronto and provide a safety net for the Leafs.
Even if Toronto goes in a different direction in net this summer, Daccord is one of the best #3 options out there.
Pius Suter
So a forward with a $3.25M cap hit last season might be an odd player to include on a bargain free agent list, but I'm tossing Suter on here anyway because he's certainly played his way into a cheaper deal, but his age and resume both offer enough hope that with the right linemates Suter could still wind up looking like a bargain or at least an upgrade on Alex Kerfoot.
Suter has been a strong defensive player on some underwhelming Detroit teams and with consistently putting up around 14-15 goals, he provides a respectable level of offense for a third line winger.
If the Leafs still have some appreciation for analytics in their roster building, I wouldn't be surprised if Suter is at the top of their free agency list.