Five potential landing spots for Alex Kerfoot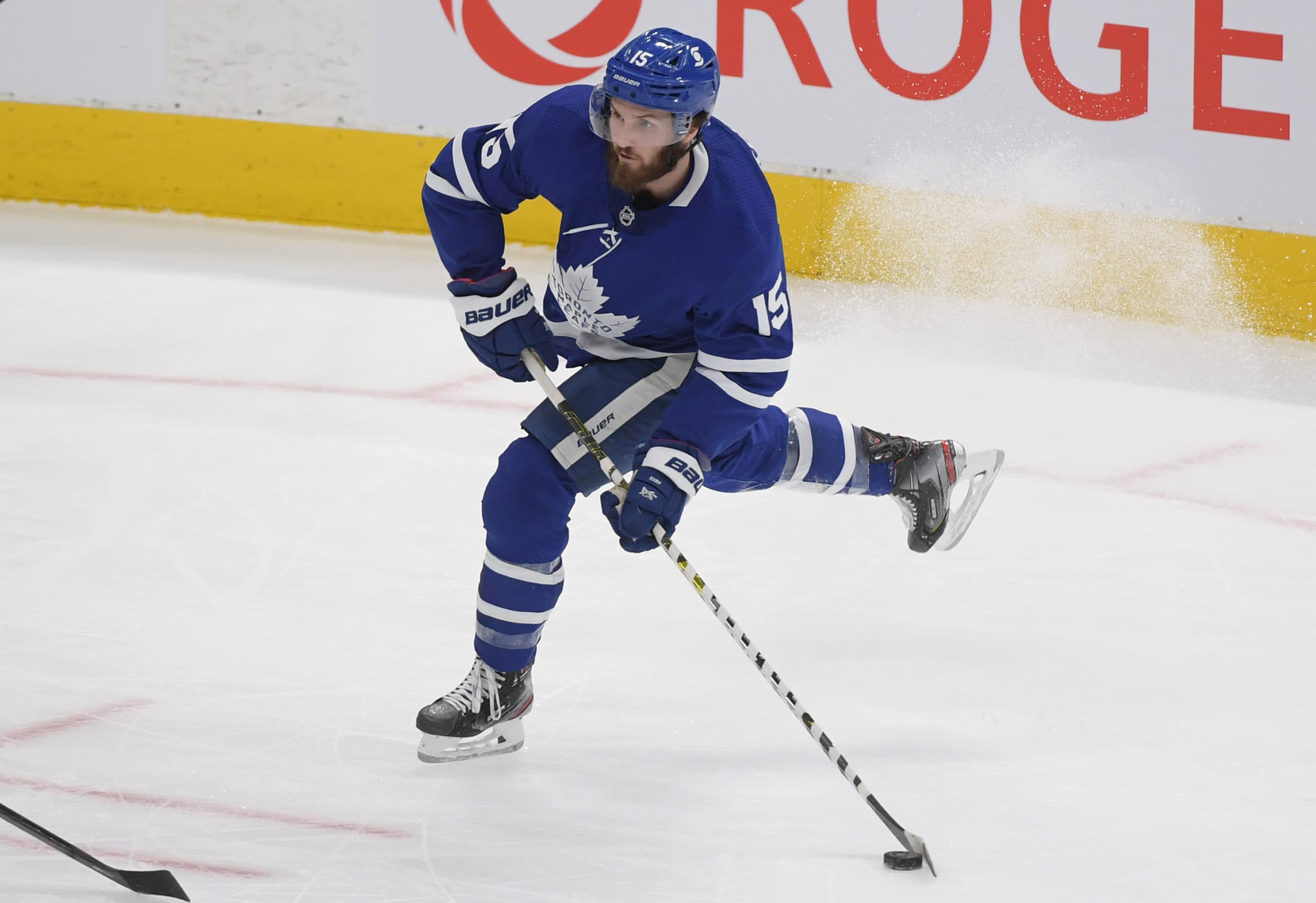 Photo credit:© Dan Hamilton-USA TODAY Sports
After yesterday's post about the possible of the Leafs possibly deciding to keep Alex Kerfoot I thought it would make sense to revisit the far more likely situation that Alex Kerfoot will be traded. Kerfoot even more than Holl seems to be the player the Leafs will move on from as Toronto is much more comfortable when it comes to forward depth than they are defensive depth, even though losing a 50 point player obviously stings.
While the return for Kerfoot will ultimately be underwhelming, he's still a 50 point player that can line up at center, penalty kill, play second unit powerplay, and will only cost $775k out of pocket. Another way to say it is that Kerfoot is a decent top nine forward with a $3.5M cap hit. Both statements are true it's just you say it the first way when you think the Leafs should be owed at least a second round pick for him and you say it the second way when you are exhausted from this saga and just want the cap relief. The truth probably lies somewhere in between that and I'm guessing that's why no one can ever predict what an NHL trade will look like.
Still, we can at least guess at possible trade partners, and that's what I'll do here. I'm assuming with his 10 team no trade list, teams that are unlikely to reappear in the playoffs next season like Winnipeg, Buffalo, Montreal, Arizona, Detroit, Anaheim, and Chicago are on it. Personally, I'd think that Kerfoot is a great fit for Winnipeg, but that doesn't matter. It's unlikely he'd see it that way. There are also a number of teams in a similar situation to the Leafs looking to shed salary, not add it. I'll boldly assume that teams like the Oilers, Panthers and Golden Knights aren't looking to add Kerfoot.
Here are the possible fits:
1. Carolina Hurricanes
With Max Pacioretty being shelved for six months that's a pretty significant stretch of the year to have a hole in the lineup. It's probably safe to assume the Hurricanes want to address that in some way and addressing it at only $775k out of pocket might make the most sense.
Even with Pacioretty on the LTIR the Canes aren't exactly hurting for a replacement and that could be the biggest factor in why we don't see this. Instead, the Canes could try to bank some cap space leading into the trade deadline for increased flexibility late in the year.
The complexity to all of this is that former Leaf, Jake Gardiner, is expected to be coming off the LTIR. If the Canes keep him, he uses a lot of the space created by Pacioretty going on LTIR. If the Canes buy him out, well…yeah, Alex Kerfoot is likely what the Canes can afford to do.
I'm not going to guess at what any of these teams will give up for Kerfoot, but it's worth noting that the Canes aren't limited when it comes to draft picks and they have one of the more appealing prospect pools in the league. Other than strengthening a conference rival the Canes make sense for a Kerfoot trade.
2. Seattle Kraken
The Kraken are an easy one to throw out there for a number of reasons. Hakstol is familiar with Kerfoot, the Kraken were supposedly strongly looking at Kerfoot heading into the expansion draft (before Kerfoot's career year), and despite not being a playoff team they close to home for Kerfoot and trying them out for a year before committing long term might have some appeal. The Kraken are also going to be a very different team this year with the arrival of Shane Wright, Matty Beniers, Oliver Bjorkstrand, and Andre Burakowsky. Kerfoot would add to an incredibly deep, but not elite forward group that doesn't have a bad blueline behind him and a goaltending trio that honestly can't be worse than they were last year.
Add to that the positive relationship that Dubas has with Ron Francis and Seattle seems like a potential fit as well.
As for what Toronto could get out of it, there's the chance they get their own 2023 2nd back and like the Canes there is a full cupboard of draft picks to offer. It's unlikely a new team like Seattle will be dealing any of their prospects at this point.
3. Nashville Predators
Predators seem like a bit of a process of elimination pick. Their forward group always seems like it is in the need of some upgrading and Kerfoot is a good safe bet in a forward lineup with a lot of question marks.
The Predators making their biggest splash this offseason by bringing in McDonagh was a commitment to adding to an area that was already a strength, and with some money still left, Kerfoot could be the best upgrade option.
Maybe it's just because Kerfoot seems so much like a Predators type player that they seem like a fit. A decent but forgettable option that you kinda like but are never excited about, but that's also a case that the Preds need Kerfoot less than any other team. I dunno.
The Preds would certainly have the assets to make a trade work if the assumption is the Leafs should be prioritizing futures and cap space over a cheap roster player as the return.
4. Minnesota Wild
The Wild have some cap space and that seems bizarre when you consider the Ryan Suter and Zach Parise buyouts but here we are. There are a lot of youthful options for the Wild including Marco Rossi that could still fill the needs the Wild have up front, but adding an established NHLer seems like it couldn't hurt as well.
There is also the issue that the Wild are thin at center and while Kerfoot doesn't exactly make the Wild stronger at center, he would add to a "by committee" philosophy that the Wild seem to have no choice but to commit to.
5. Colorado Avalanche
If Nazem Kadri can't be convinced that a deep discount to come back for an attempted repeat at the Stanley Cup is the best thing for him, the next best option might be to go with another player the Avs are incredibly familiar with and wouldn't struggle to reintroduce to their lineup.
The catch here is that if there is another team out there besides the Leafs that understands that Kerfoot is certainly better left on the wing, it's the Avs, but the Avs also are in mid-August with limited replacement options.
Of all of the teams listed, the Avs are the only ones with a depleted futures pool, lacking 2nd and 3rd round picks for the next couple of seasons, and not possessing a particularly exciting group of prospects. All of this seems to make them the more likely trade partner as they are quicker to pay to stay competitive.
In summary…
There are absolutely teams that should be interested in Kerfoot. And teams that the Leafs won't have to struggle with Kerfoot's no trade clause to pull it off.
If the target is to come away with a decent draft pick and the necessary cap space for roster flexibility this year, the Leafs should be find a partner, but as with any trade that involves opening up cap space, prepare to be slightly underwhelmed by the return. It's likely Dubas trying to wait out the lowball offers that he is likely receiving while players like Kadri and Stastny as still available and hoping that there isn't a flood of other salary dump trade offers to compete with around the league.