Five Pressing Leafs Topics: February Edition- Breaking down the ARI trade, Toronto's hidden problem, Keefe's breakouts and more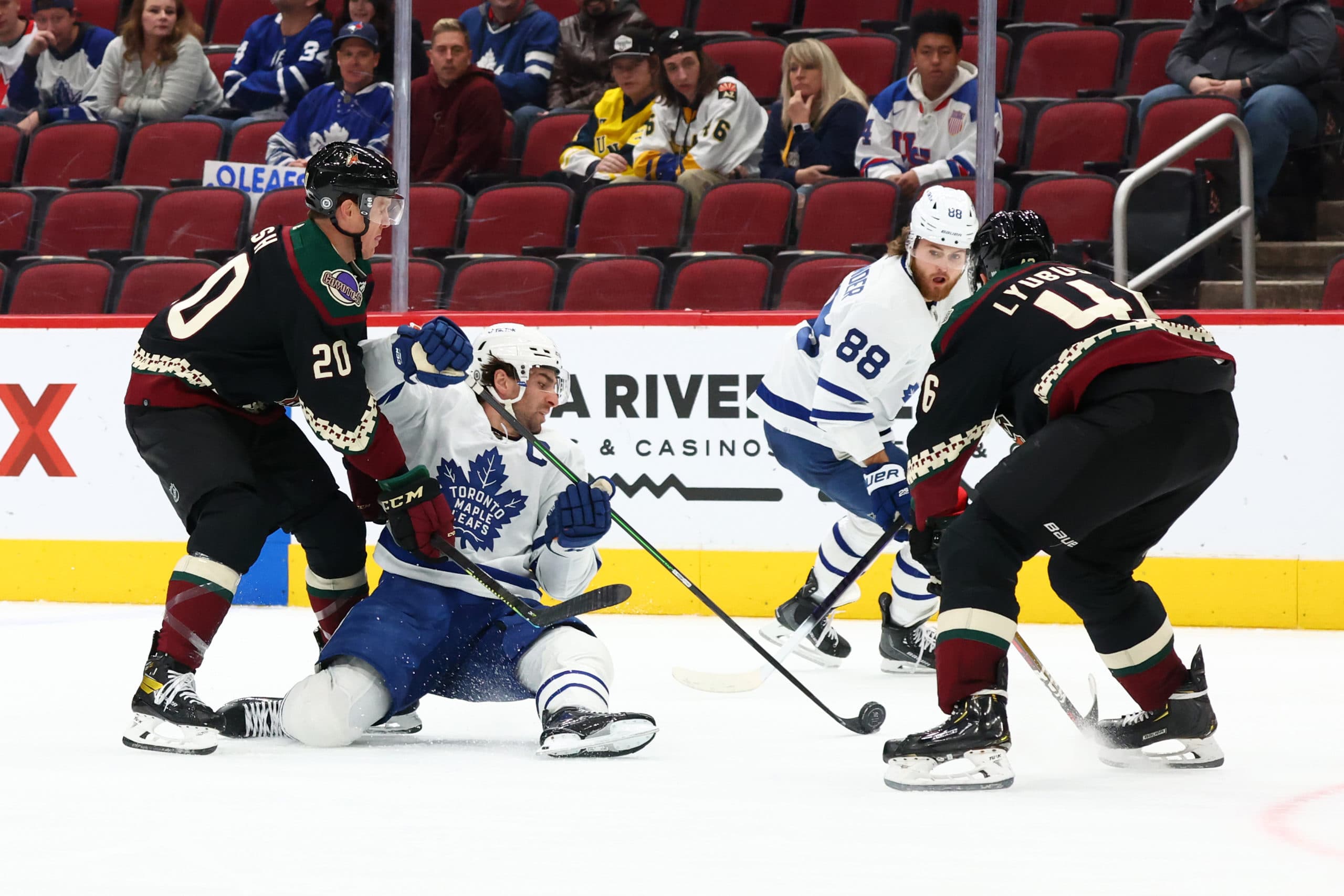 Photo credit:Mark J. Rebilas-USA TODAY Sports
The Leafs are 4-3 so far in the month of February and we are one month closer to the trade deadline.
…… And we got ourselves a trade! Without wasting any time, let's get to it.
Here are the topics that will be covered:
Thoughts on the TOR-ARI trade 
The hidden problem with the Leafs right now
Rasmus Sandin's giving the Leafs an edge every night 
The Leafs new breakouts 
A Michael Bunting Appreciation Section
Ilya Lyubushkin and Ryan Dzingel to the Leafs
Last night the Leafs made a trade.
Ilya Lyubushkin
Ilya Lyubushkin is a player I've been keeping an eye on for some time now. He's a defensively-oriented defenceman who plays a physical game. He blocks a ton of shots and loves to engage in battles in front of the net and along the boards. He's not a standout puck mover but he also doesn't commit many turnovers either. He's not a large player but he's quite strong and knows how to use his body to his advantage.
Defensively he adds a ton of value while contributing close to nothing offensively. At this point, it's a safe bet pairing Lyubushkin on the third pair with Rasmus Sandin. This gives Lyubushkin a competent puck mover to defer to in his own end and someone that can carry the load offensively. The 1.35 million dollar question will be whether he can slot next to Jake Muzzin in the top four. It's certainly worth a try. This season Lyubushkin played alongside Jacob Chychrun on a Coyotes team that has 12 wins in 49 games. He has posted impressive defensive metrics despite facing top competition with heavy defensive zone starts at 5v5.
Lyubushkin should also help an already strong Leafs penalty kill and will give Keefe an option to lean on when Toronto is defending leads. The biggest concern with Lyubushkin will be how much he can contribute when the Leafs have possession of the puck, particularly in the offensive zone. He doesn't have to make high-end plays, but he can't be a liability either. We have seen strong defensive defencemen like Roman Polak and Martin Marincin struggle to keep up with Toronto's high puck-possession demands in the past. With that said, we have also seen Bogosian do well with the Leafs in possession, so it's not impossible for Lyubushkin to fit in.  At this point, Lyubushkin's role on the Leafs isn't set in stone. After all, Travis Dermott, Timothy Liljegren, and Justin Holl have all proven that they are NHL defencemen who can play the right side. There are still decisions to be made and spots to be won.
Ryan Dzingel
It's tough to predict what Dzingel's future with the Leafs is going to be. He's a few years removed from posting 44 points in 57 games and has been mostly a depth winger for the past few seasons. He won't steal a top-nine forward job and I can't see Keefe scratching Simmonds or Spezza for him. He could replace Engvall in the lineup although Dzingel doesn't play center that often nor does he provide the transition skill that Engvall does. Either way, the Leafs will have to make a decision regarding their roster in order to get under the cap. Maybe they lose Dzingel through waivers, maybe another trade is on its way.
Nick Ritchie
For Nick Ritchie, this trade might be for the best. He looked out of place in the Leafs top-six, he was too slow for the checking third line, and Keefe couldn't trust to play a fourth-line combination that included him. The second year on his deal didn't look good from the day it was signed and it only took ~30 games for the management to want out of that contract. Once he cleared waivers, it was obvious that a trade was around the corner. Arizona has an opportunity to give him more minutes and could even look to sell him for positive assets closer to the deadline if Ritchie finds his old form.
Overall, this seems like a win for the Leafs. The future pick is minimal considering the Leafs are getting two NHL players, albeit rentals, and Arizona is bringing in a player who passed through waivers earlier this month.
The hidden problem with the Leafs right now
While a lot of the attention has been on the Leafs defense, there's been a hidden problem lurking beneath the team's results.
The Leafs are currently not getting enough from their second line of Alex Kerfoot, John Tavares, and William Nylander at 5v5. This might sound odd as each of these players are having great individual seasons. Kerfoot has 37 points at 5v5, which ranks in the top 30 in the NHL. Tavares is posting one of his best points per 60 rates at 5v5 in his career. William Nylander is scoring at a point-per-game rate and probably should have been an NHL all-star this year. So what's the problem?
As constructed, the Leafs have their third line designed to take on more defensive zone starts against tougher competition. The first line, which includes Auston Matthews, usually gets the other team's top players. This frees up the second and fourth line. Below is a table of Toronto's current forward line combinations and their results:
          5v5
Mins together
CF%
GF%
ZS%
Bunting-Matthews-Marner
226.43
61.68
66.67
58.52
Kerfoot-Tavares-Nylander
301.34
51.23
53.13
57.02
Mikheyev-Kampf-Kase
73.25
52.89
50
29.79
Spezza-Engvall-Simmonds
92.19
59.18
54.55
60.32
Based on deployment and their talent, the second line should be dominating their minutes. A close to 50/50 split in both shot attempts and expected goals isn't going to cut it. A high on-ice PDO (shooting percentage+save percentage) has kept this line productive in terms of goal differential but their luck has been trending down in the past three weeks (even with Nylander's two goals at 5v5 last night).
We have seen Tavares and Nylander work well together in the past regardless of who the left winger is. Internally, the Leafs either haven't given their other options a real chance to play in that spot or they tried it, and it wasn't a fit. Ritchie didn't work there, Mikheyev is more suited as a checking line forward, and Engvall doesn't seem to have gained Keefe's trust as a legit top-six option.
When looking at the current roster, Kerfoot seems like the best player to be in that spot. With that said, I don't think the Leafs should settle for this combination heading into the playoffs. Toronto is most likely going to have to face either Tampa Bay or Florida in the first round. Tampa currently has Steven Stamkos on their second line and Florida has one of the best middle-six forward groups in the league. The Leafs have struggled to score in two playoffs in a row, and they can't let that happen again.
I'd be looking to add a top-six forward at the deadline to play with Tavares and Nylander. Kerfoot can easily slide down the lineup as he's been effective in the bottom-six or could even be used as a trade piece. The Leafs still have their prospect pool, their 2022 first-round pick to put together a competitive trade package for a forward that can be a difference-maker. I wouldn't be surprised to see Kerfoot, Holl or Dermott included in a potential deal either.
Rasmus Sandin is giving the Leafs an edge every night
Rasmus Sandin is having quite the season. Every time he's on the ice, it seems like the Leafs are in their opponent's zone, and are generating dangerous scoring chances. He currently has 12 points and is rocking a 59.13 xGF% at 5v5 in 42 games. He's dominated his minutes on the third pairing regardless of who he's played with. Sandin's done well in top-four minutes on the left side and, despite posting poor numbers, I thought he
held his own
on the right-side beside Jake Muzzin against the Penguins.
It's the subtle plays that Sandin makes with and without the puck that leads to his strong possession numbers.
In particular, Sandin's ability to disrupt defensive structure is what I find so impressive. In the goal below, he holds onto the puck just long enough to move the Seattle penalty killers and to give Spezza space to operate. This leads to the Kase goal.
Here are some frames of when Sandin receives the puck vs when Spezza is receiving the pass. This demonstrates the space Sandin creates for his teammates. He doesn't get an assist on the goal, but he was a major reason as to why it happened.
Sandin's providing the Leafs with a solid PP2 quarterback and is positively tilting the game in Toronto's favour at 5v5. Thanks to his ability to make his teammates better, Sandin is quietly becoming one of Toronto's most dangerous players.
The Leafs are stretching the ice
When Keefe first took over as head coach, Toronto's breakouts usually consisted of shorter north-south passes, and longer cross-ice east-west passes in the defensive zone. It led to a slower build-up and allowed Toronto to leave the zone as a five-man unit. While it seemed to fit the team's skill-set, their opposition figured it out and was ready to trap the Leafs when they got to the neutral zone. At the start of 2022, the Leafs made a change to their breakouts.
When looking at the Leafs forward group, stretching the ice makes sense. The Leafs have a number of fast skaters that are breakaway-threats like William Nylander and Ilya Mikheyev. They also have players who love to hunt loose pucks like Michael Bunting, Alex Kerfoot, and Ondrej Kase. The Leafs are currently getting out of their zone much faster than before and are spending less time in their own end as a result.
Stretching the ice can also backfire though. If the defenceman turns the puck over to an opposing forechecker inside the zone, it can quickly be turned into a quality scoring chance against. After all, it takes longer for the forwards to help when they are skating back from the neutral zone.
Furthermore, it's more difficult to make a long pass than it is to make a short pass. As a result, stretch passes usually lead to fewer clean zone exits, which leads to fewer controlled zone entries. We know that entering the zone with possession leads to better results so constant stretch passes does come with a risk.
Overall, it's good to experiment at this point in the year. NHL teams learn their playoff opponents quickly especially when they are seeing them multiple times during the regular season. Keefe is known for making adjustments so the more the Leafs are equipped with, the better.
Some Michael Bunting Appreciation
There are multiple tweets a day about how good Michael Bunting has been and I still don't think there's enough appreciation for what he's doing this season. Bunting came into the season with only 26 games played in the NHL and he currently looks like a legit top-six forward. He signed a two-year deal for 950K/year. He instantly was given Zach Hyman's spot on the top line with Matthews and Marner and has never looked back. He doesn't provide the same value defensively or on the penalty kill as Hyman but he's outproduced Hyman's past seasons for a fraction of the price. All in all, it has been a huge success so far.
Here are a few fun facts about Bunting's season:
Bunting currently has 28 points at 5v5. He's tied in 19th in the NHL in 5v5 points. Jason Robertson is the only player who has more points at 5v5 while having a lower cap hit than Bunting. Robertson is currently signed to an entry-level contract. No player with a standard contract is outproducing Bunting at even strength.
Bunting has 13 goals at 5v5. That's the second-most on the Leafs.
Bunting has drawn 29 penalties this season. He is second in the league to only Connor Mcdavid.
Last season Sheldon Keefe was concerned with the Leafs ability to score and create "playoff-like" goals around the net. This season, Bunting has 59 high-danger shot attempts at 5v5 this year. That's tied for the 7th most in the league.
Thanks for reading.