For your consideration: Sheldon Keefe for the Jack Adams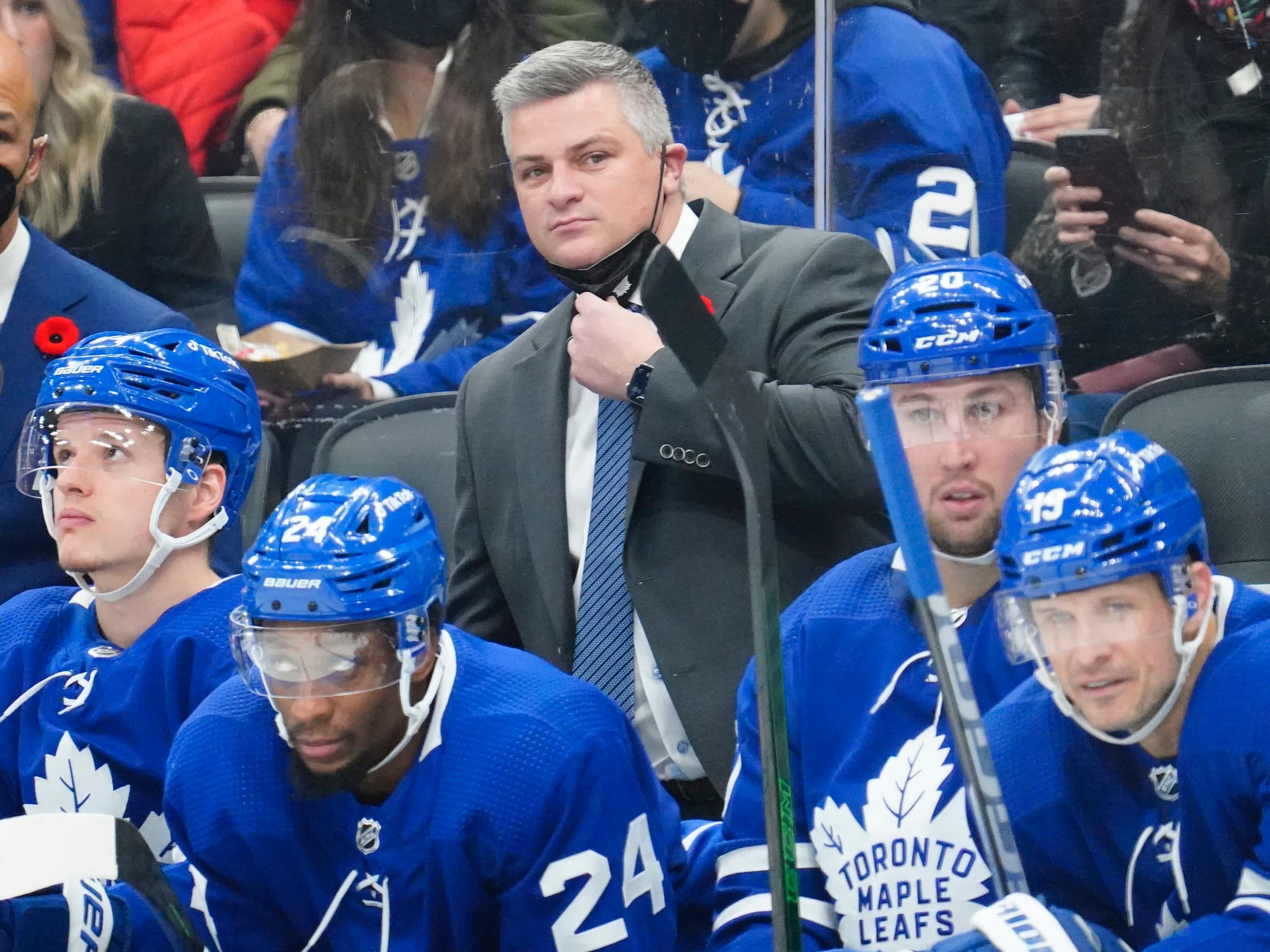 Photo credit:John E. Sokolowski-USA TODAY Sports
In many ways, I feel greasy about writing this. I generally try to care as little as possible about individual awards, and I'm still not sure what I truly think of Sheldon Keefe as a coach. I think as far as Leafs coaches have gone recently you have to consider him one of the best, there is a true benefit to having a head coach and general manager on the same wavelength, and of course, you can't argue with results, and the Leafs have certainly achieved under Keefe this season. While it seems odd to still be unsure about a coach with the season Keefe has had, I do in fact believe you have to hand it to him in this situation, and that's why I feel comfortable saying Keefe deserves strong consideration for the Jack Adams based on the following reasons.
It's been "smooth sailing" after the first seven games
It's a bit of an "If my Grandmother had wheels she would have been a bike" type argument, but if the Leafs had fared modestly better in those first seven games, we could be talking about Toronto for the President's Trophy right now, and the Leafs would be gearing up to play Washington in the first round instead of waiting on the Boston/Tampa situation to sort itself out.
After Toronto's slow start, they put up the best record in hockey the rest of the way, and while there are numerous teams that can cherry-pick points in the season where they can say they had the best record from that point onward, the Leafs do have one of those and it was fairly early in the season.
The Leafs special teams are special
Consider what the Leafs have done in this regard. They've corrected their powerplay to being actually powerful, and they've become a legitimate threat to score when they are shorthanded as well, moving their combined special teams results to second-best in the league behind Carolina, and their net special teams to best in the league. That was no easy task and while it might have been carried out by coaches on Keefe's staff, there's no assistant coach of the year award, and credit needs to be given instead to Keefe who put the right people in the right place to help the Leafs have success.
The Leafs won their way through struggling goaltending
During the three month period of the Leafs putting down sub .900 goaltending, the Leafs also managed to put forth a 21-11-3 record, while technically a slide, a record most teams would be happy to put up during their best times. Sheldon Keefe coaching the Leafs through that difficult period is probably what caused my cold heart to warm towards him as Keefe demonstrated he's not just a guy who was handed over a talented team and told not to screw it up, he's a coach that steered the Leafs into an even more aggressive run and gun style that helped them stay afloat while their goaltenders sorted themselves out. With the goaltenders still not being a source of strength for the Leafs, we'll probably need to see Keefe lean into this approach a bit more during the playoffs as well.
Sizing up the competition
When you look at the names most frequently thrown around as the contenders for the Adams, it seems to be Andrew Brunette in Florida, Darryl Sutter in Calgary, and Rod Brind'Amour in Carolina. All three are good choices, but let's poke some holes in their claims for the award.
Andrew Brunette did take over the team suddenly and unexpectedly, but at the time the Panthers were already on a 7-0-0 start to the season. Take those seven wins away from the Panthers and you can see that Sheldon Keefe actually has a better record.
As for Brind'Amour, he's got Keefe on the overall record as the Hurricanes will finish higher in the standings. He did win last season, so considering the fact you have to go back to 1988 to find a coach who won the award in consecutive years (Jacques Demers) it seems possible that voters are looking for someone new to recognize. While I don't think coaches should be punished for continuing to do what they do at a high level, it seems that there is a break-out factor that voters want to recognize.
Darryl Sutter has a bit of that breakout factor even if he's not exactly a fresh face. There's also a bit of a lifetime achievement award for him factor involved as he's never received the award, and for some that will be considered an oversight. Taking the Flames from being a non-playoff team to the top of their division is the kind of impactful move that normally stands out in the Adams race, and that could be what we see happen here.
One last thing… the Toronto factor
At some point, it would be nice to consider that Toronto isn't exactly an easy market to coach in. For better or worse it's a fishbowl, and there isn't any shortage of invested fans, media, and naysayers looking to blame someone for the faults of the Leafs, and the coach is an easy target. Admittedly, at times like after the playoffs last year and the start of this season I found myself questioning whether Keefe was the right guy for this team, and at the moment I think it's safe to say that he likely not only is the right guy, but he's performing as one of the league's best.
POINTSBET IS LIVE IN ONTARIO
PointsBet Canada has officially launched in Ontario! Get a $25 free bet just for 
signing up right here!