Frank Seravalli is reporting increased interest in 2023 first round picks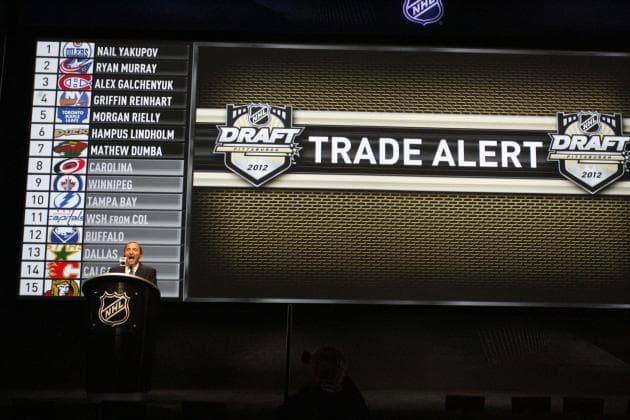 If there is one thing you can always count on, it's that NHL GMs will adopt a "grass is always greener on the other side" approach to asset management. This is partially how you wind up with competitive teams lining up to throw assets at Montreal so they can tuck Ben Chiarot into their 3rd pairing.
That's why with an abundance of 2022 draft picks being made available, teams are losing interest and focusing on 2023 picks instead:
… so far, teams have asked for and prefer 2023 draft picks as compensation over picks from the upcoming 2022 Draft. They are seen as more valuable – and that includes later-round picks, not just first-round picks.

Unscientifically, the 2023 Draft is perceived as being "deeper" than 2022. Whether that is actually true depends on the eye of the beholder.

So much of what will transpire over the next week will likely be circumstantial and dependent on what teams have to trade. This year, it just so happens also that some of the teams that may be most active (Florida, Colorado, Vegas, Carolina) have already traded away their top 2022 picks and only have 2023 currency to trade.
So the good news for the Leafs is that they also have a 2023 1st round pick to play with, and aren't lagging behind their competitors in that regard. There is also the benefit of the Leafs potentially being able to double-dip at the top of the trade deadline list this year (salary cap permitting) and capitalize off a premium being placed on future picks. If Toronto deals their 2023 pick, there is also the benefit of having plenty of time of trying to get back into the first round if they desire to.
Now, it wasn't that long ago that 2022 was looked at as the deep draft. That has passed and now it is being treated the same as any other year, but with maybe a few more enticing names in the top ten. Beyond two absolute game-changing talents in 2023, there isn't a particularly strong reason to feel confident about the depth either, at least not until the puck drops on the 2022-23 season. With the uncertainty about how the league will handle Russian prospects, the depth of either draft should be questioned a little.
There is also something to be said for going with a 2023 pick by betting against the team you are trading against. A 1st round pick from a team that has a goaltender on a heater this season might be more valuable if they can't sustain next year. Or maybe it's just a matter of looking at teams with older cores like Pittsburgh, Boston, or Washington and assuming they can't sustain forever.
The other interesting takeaway from Seravalli's article is the list of players who look like they will require a first to be acquired.
C/W Claude Giroux, Philadelphia
C Tomas Hertl, San Jose
LW Brandon Hagel, Chicago
RW Brock Boeser, Vancouver
LD Jakob Chychrun, Arizona
LD Hampus Lindholm, Anaheim
LD Ben Chiarot, Montreal
G Marc-Andre Fleury, Chicago

Borderline: LD Mark Giordano, Seattle
It's an interesting list considering that Hertl, Chychrun, and Fleury may or may not be available, there is only a handful for teams that Giroux is likely to entertain going to, and that means the players in consideration are truly Hagel, Boeser, and Lindholm. All players that it is justifiable to use a first on. Giordano being borderline likely becomes a first once salary retention is involved and more and more it seems like Giordano is the direction the Leafs are going.
When it comes to which pick is better a 2022 or 2023, I admit to not really caring all that much, but the benefit to the Leafs is that not only is there interest in 2023 picks, they might fetch a premium, is an opportunity to do more at a time when the Leafs look like they need to improve a lot.