Freddie Andersen starts Wednesday night. Let's unpack that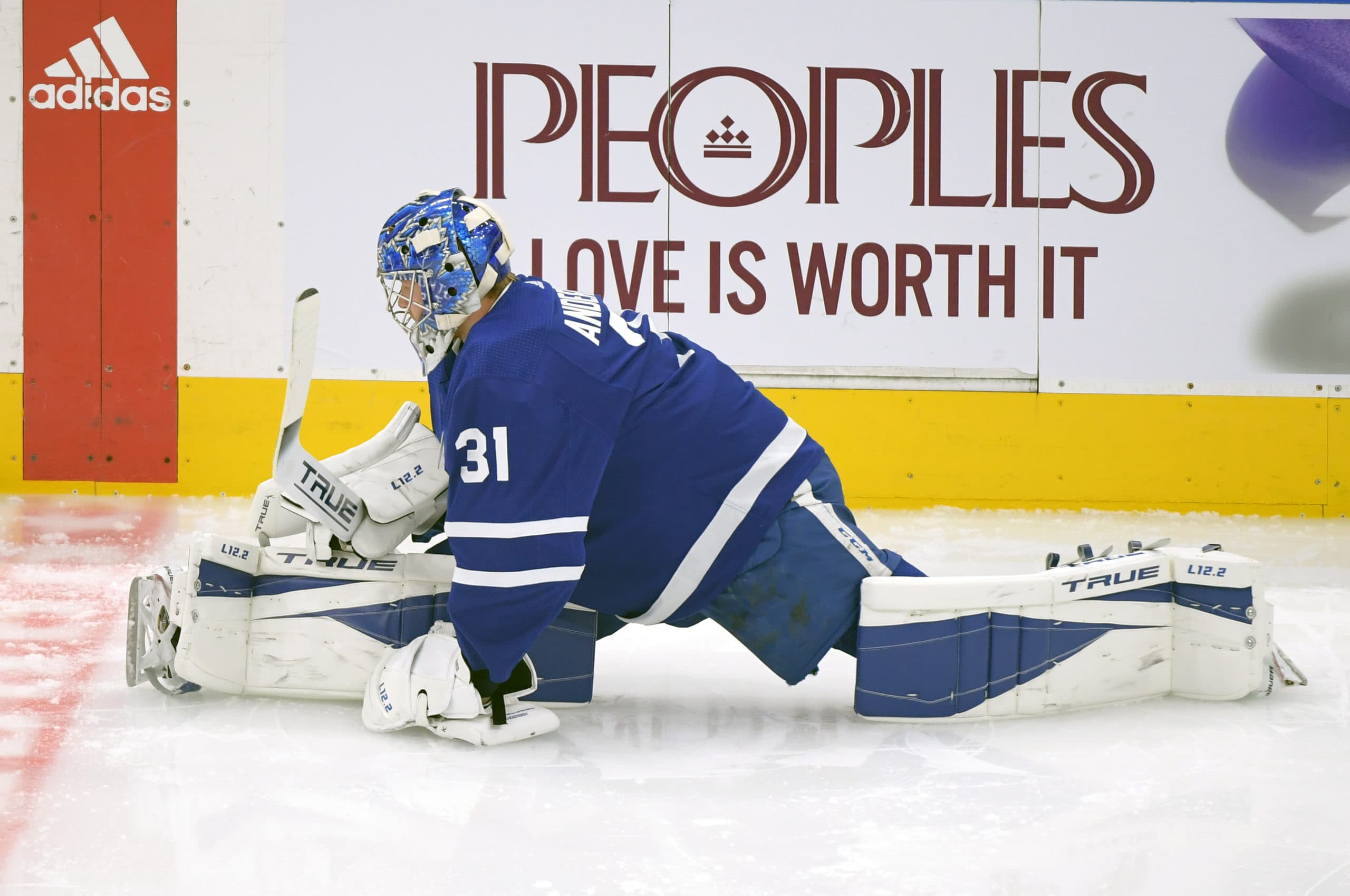 Photo credit:Dan Hamilton-USA TODAY Sports
After a somewhat (very) unsuccessful conditioning stint on the Marlies, the Leafs have let it be known they are taking Frederik Andersen off the LTIR and putting him in the Leafs net on Wednesday night against the Senators.
First it goes without saying that it's good that the Leafs are giving him some competition a notch below what he would have seen in the AHL, but with some improved teammates. He's got a fighting chance now.
Secondly, there is a very real chance that tomorrow night's game might be the last time we see Frederik Andersen in net for the Maple Leafs. If things go well, he might find his way into an appearance or two during the playoffs, but if things were to go sideways, like they've been doing of late for Andersen, this could be his last time playing for the Leafs and Toronto could choose to try their luck with David Rittich backing up Jack Campbell in the playoffs before letting Freddie walk during free agency this summer. It seems unlikely that things will go that bad, and more likely than not Andersen will be the backup for the Leafs come playoff time, but unless he's going in both games for the Leafs this week, this could be Andersen's last regular season game for the Leafs.
Now, there's the small matter of if Freddie Andersen looks good. There is going to be a tremendous appetite to manufacture a goaltending controversy and debate who the Leafs starter should be. While we can't confidently say that it will be Jack Campbell and move on the next Leafs narrative, it does seem unlikely the Leafs are considering going away from the goaltender who has been their best goaltender, their most consistent goaltender, their goaltender under contract for next season, and also the one who wasn't recently shelled in the AHL. Andersen is playing for the backup role at this point. At least that's what I will tell myself until the reality of the Leafs kicks in.
Interestingly enough, the teams that Andersen did the best against this year are the ones he's most likely to face in the playoffs. His play was best against the Canucks, and the playoffs waved goodbye to them long ago, but against the Oilers and Canadiens he had .914 and .912 save percentages over the season. Against the Jets he was a much more disappointing .882. For the record, Jack Campbell had a better save percentage against every North Division opponent compared to Andersen.
Ignoring the long term, and focusing on the short term, the activation of Freddie Andersen means the Leafs are dressing what will essentially be their playoff starting lineup in the next couple of games, save for the injured players they'll activate come playoff time because Andersen's activation prevents that now. Instead of load managing the roster, the Leafs have opted to give Andersen some work, and that's probably not a bad call because goaltending tends to be important, and even moreso come playoff time. I'd just hope that we see a lot more of the bottom six in the next couple days and we aren't seeing Matthews and company playing 20+ minutes a night.
The thing with Andersen is, we all know he's dropped off. Like really, really dropped off. That happens to goaltenders almost as abruptly as it does to running backs, and while the nature of sport requires the Leafs to move on from Andersen and not harm themselves by being overly loyal, it also doesn't mean that we need to kick Andersen when he's down. He gave the Leafs 3.5 really good years, with a couple of unfortunate Game 7s, and we should at least let him leave with his head held high. He's not Raycroft after all.
Here's hoping for a strong night from Andersen, but with an organizational commitment that Jack Campbell is the playoff starter unless he gives us a reason to doubt him. No matter how much you want to be right about knowing that "Andersen is washed", it's far better for the Leafs that Andersen still has some hockey left in him. Let's hope for that.