Friedman: Maple Leafs looking to shed salary before the trade deadline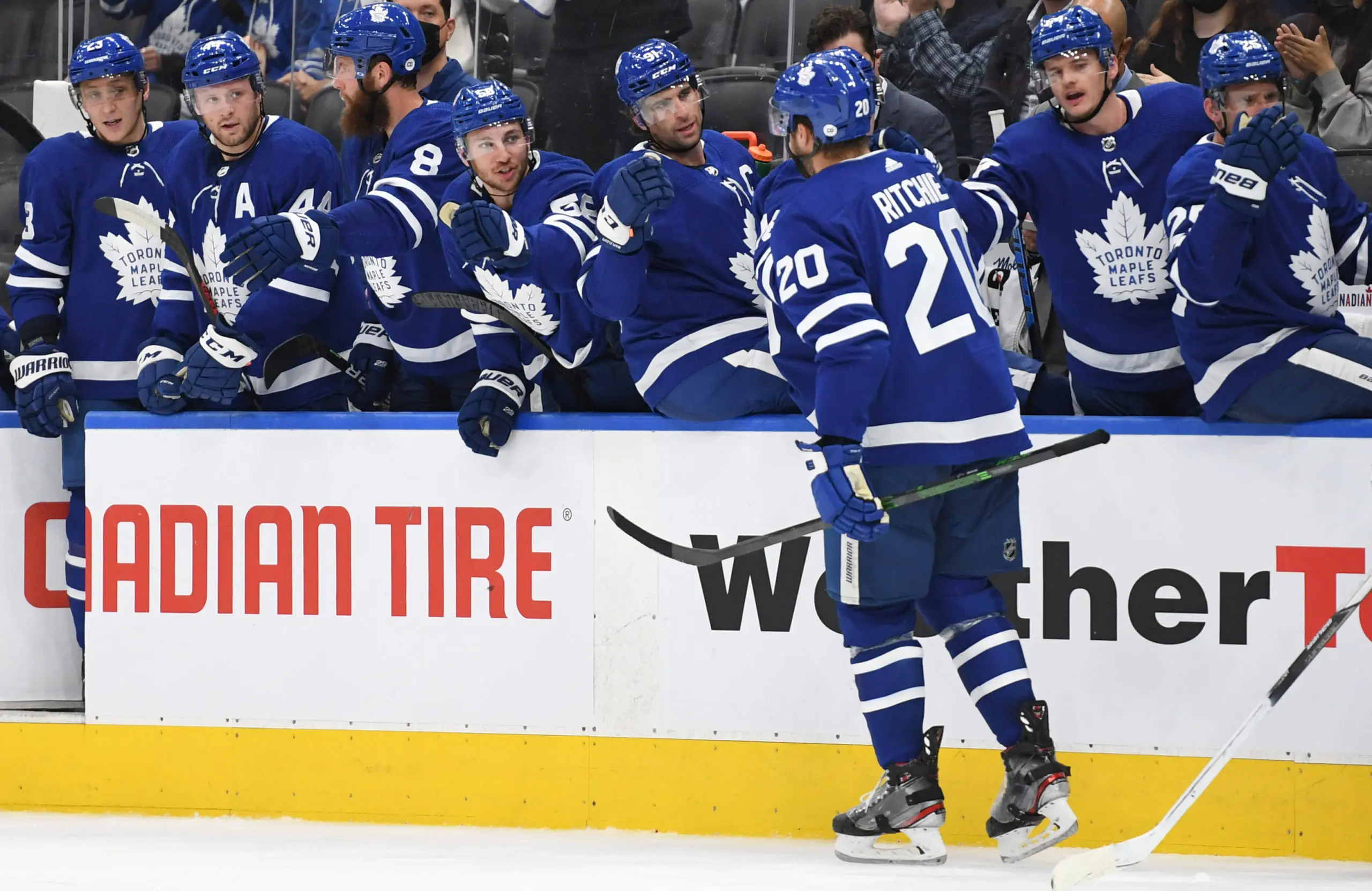 Photo credit:© Dan Hamilton-USA TODAY Sports
11. Toronto isn't against clearing space to prepare for a deadline add.
The first way of taking it is that Elliotte was sitting on 31 Thoughts, and needed to add another and thought that the Leafs are good for business, so he added a low risk statement that would wet some appetites for Leafs content. If that's the case, kudos, the bait has been taken because here I am doing a deep dive on something that is an absolute requirement for the Leafs if they are looking to add a significant piece at the trade deadline.
The second way to take it is much more earnestly, and that is that Elliotte is reporting on the Leafs more actively engaging in conversations around the league to clear out some salary, but likely in the early stages of it where they are trying to get close to reasonable value for who they are putting out there, instead of having decent players being treated as salary cap grenades.
Of course that leads to the question of who are the salaries that the Leafs could be looking to move in order to free up space for a decadent deadline. It's probably better to start with who is immune to this process, and that's going to be the usual crew of Matthews, Marner, Tavares, Nylander, Rielly, Brodie, Sandin, Liljegren, Campbell, Bunting, Kampf, Kase, Spezza, and Simmonds. Heck, I'd even say that Kyle Clifford makes the cut as there is nothing to be gained by shedding his salary.
That leaves the following for the Leafs to work with and while there are some who are very much unlikely to be on the move, they might be names to remember for the summer as well.
Jake Muzzin- $5.625M (2 years after this season)
Muzzin would definitely fall into the unlikely category to be on the move, as sending him out now only increases the Leafs need to address a potential top four defensive vacancy. While Muzzin has lost a step, and the years beyond this one are even more concerning than what we are seeing now, Muzzin is still capable of his role as long as it doesn't involve the heavy lifting he's been asked to do with Justin Holl as his partner, or trying to mentor someone like Timothy Liljegren. With a bona fide top four partner, Muzzin is forgivable as a middle pairing guy, but that's not particularly what you want with a $5.625M cap hit for the next two and a half years.
Muzzin moving during the summer would make a ton of sense for the Leafs, but for now moving him could hurt the Leafs, and it's probably in the Leafs best interest to see if they can get some good hockey out of Jake to up his value.
Muzzin's recent concussion doesn't have any estimated return dates associated with it yet, so depending on the severity, the LTIR might be how he could provide relief for the Leafs.
Petr Mrazek- $3.8M (2 years after this season)
When it comes to Mrazek there are probably an equal number of reasons to keep him as there are to try to trade him. The Leafs could certainly use the $3.8M cap space, but some of that would have to go towards a backup goaltender, as relying on Hutchinson/Woll/Kallgren as the Plan B to Campbell isn't particularly sound, especially when we are in uncharted territory of games played in a season for Campbell.
Also consider that Campbell's contract might be too rich for the Leafs, and having to replace two goaltenders this summer, with potentially limited cap space and limited options shouldn't have much appeal either. I would say that keeping a close eye on what Devan Dubnyk pulls off at the Olympics could be an interesting Plan C, but still that's grasping at straws rather than staying the course with Mrazek who will likely get better once the rust is off and he's used to playing behind the Leafs defense.
There's the other side of that though. Both now and over the summer the Leafs could use that $3.8M, and if you take Mrazek at what he's shown so far, he's not exactly been a fit for the Leafs. Cutting ties and shopping for cheaper relief might make sense and if you get a bit of term with that, you still have somewhat of a safety net for Campbell next season.
It's hard to imagine the Leafs getting a solid return on Mrazek at this point, and the best option might be to wait until after free agency this summer when the best goaltending options have disappeared and teams like the Oilers are looking for something other than praying for Mike Smith to rediscover his game at 40.
Alex Kerfoot- $3.5M (1 year after this season)
LOL, no. I mean, I guess you could look at this from a sell high perspective on Kerfoot if you don't believe he'll have a season like this again, but 26 points in 36 games at $3.5M is definitely an plus. The fact that he can be moved to center is an plus. The fact he has proven to be defensively responsible is a plus as well.
Looking at who is available on the market right now, there's not a whole lot that warrants the Leafs shipping out Kerfoot in season unless he's an important part of a return for someone like Chychrun or other player with term.
Now when it comes to the summer, heading into a contract year, with the Leafs limited cap space, you better believe moving Kerfoot is an option.
Nick Ritchie- $2.5M (1 year after this season)
Here's where we take a sharp turn when it comes to the Leafs and shedding salary, as Ritchie is a player that looks to be dead weight on their salary cap for this season and next. Moving him out would be a plus, but figuring out how to do that without the Leafs paying to do so might be tricky.
The Leafs can already get $1.125M of relief by assigning Ritchie to the Marlies, and that is might be enough for now.
With the style of hockey that Ritchie plays there is always a GM willing to entertain a deal, but it's hard to imagine the Leafs coming out ahead on a deal when they've got a number of things working against them.
For now keeping him on the Marlies, saving a bit of money, and cross some fingers that his style might fit with playoff hockey seems like the best option. The other option is that the Leafs pay a little more to dump his salary when acquiring a rental at the deadline.
Justin Holl- $2M (1 year after this season)
Colour me an optimist, but I don't think Holl has been as bad as current detractors say he is, but I'll qualify that with he was never as good as his champions said he was either. Holl might play in the top four because last season he worked out great with Muzzin, but in the truest sense of his abilities Holl is a bottom pairing defender that most teams would be content having in that role, although possibly at a slightly cheaper price tag.
That's where moving Holl might make the most sense for the Leafs, provided they have a plan for both addressing the short and long term coverage needs at that position.
Someone like Holl could be a pleasing option for a team like Dallas, that isn't quite out of the playoff race, but likely still needs to part ways with someone like John Klingberg. The same can be said of Anaheim and their defensive situation. They might need to drop someone, but want to push for some playoff ticket revenue.
Holl has value, it's just a matter of the level of confidence the Leafs have that they can upgrade at the second pairing RD position, and how comfortable they are with Sandin, Liljegren, Dermott backfilling it in the short term, and possibly relying on Biega, Rubins, and others if injuries come up.
Ilya Mikheyev- $1.65M (pending UFA)
It all comes down to how long the Leafs believe that Ilya Mikheyev can ride the wave he's been on since his return.
Mikheyev playing and producing as he has makes his $1.65M contract an absolute steal, and even if he has no intention of signing in Toronto or will price himself out of Toronto, he is the very definition of a worthwhile own rental player.
That said, if the Leafs want to cash out early, there might be a decent return from a team looking to rent or possibly sign him up for next season and beyond.
Travis Dermott- $1.5M (1 year after this season)
A lot of what was said about Holl can be said about Dermott as well. The differences being Dermott is younger, shoots left, and never found chemistry with a partner that could consistently get him top four minutes.
That said, holy recency bias if you want to look at the disastrous game from Dermott against the Rangers, and I'm sure if you are reading this Thursday morning the idea of getting Dermott off the roster already feels like a net gain. That doesn't really account for the fact that with Muzzin and Holl out the Leafs were leaning on their bottom 4D a lot more, and Dermott drew the short straw and was playing with Alex Biega. While it hasn't been a good year for Dermott, Wednesday was an especially rough night.
At this point it seems pretty clear that there isn't a path to increased responsibility on the Leafs blueline for Dermott, and parting ways wouldn't be the end of the world. There should be teams willing to dump a mid round pick for Dermott without Toronto having to take anything back and with a gain of around $750k (after you factor in the defenseman recalled to replace Dermott) it's a matter of whether that deal is worthwhile to Dubas.
Pierre Engvall- $1.25M (pending RFA)
Finally we've gotten to Pierre Engvall. Engvall's cap hit sits just $125k over the buriable amount if he was waived, but given what we've seen for waivers claims this year, it goes without saying that risking a player that has been as useful as Engvall is quite the gamble. There's also the issue that even with the depth that exists with Steeves, Clifford, Seney, Anderson, and potentially with a healthy Robertson or signed Ho-Sang, that none of them are capable of playing up to the level of Engvall, or are as versatile.
Keeping Engvall seems like a smart move, but his combination of cheap and versatile is what might make him one of the more attractive ways for the Leafs to shed salary, even if he might not bring in more than a 5th round pick.
When you look at the fact the Leafs would have to backfill Engvall, it's at best coming with a $500k cap gain, assuming you've gone with Seney or Anderson to do it. It's half that with Clifford.
Unless the intention is go with a number of trades chipping away at the Leafs depth, moves like Dermott and Engvall could hurt the Leafs, while moves like Muzzin, and Kerfoot would only create significant roster holes that need to be addressed.
There isn't a perfect solution, so it seems likely that Dubas will create a number of holes before attempting to address them in the cheapest way possible at the deadline. While the depth that the Leafs enjoy is nice, an optimized lineup card is what will serve Toronto best in the playoffs not having a good quality 17th forward that won't be called on.
Let us know your thoughts in the comments. Who stays, who goes, and is it even worth getting involved in the trade deadline antics this season? I suspect a tough loss against the Rangers changed a lot of positions about what the Leafs need to do.