Goals and expectations for every centre on the Toronto Maple Leafs' Depth Chart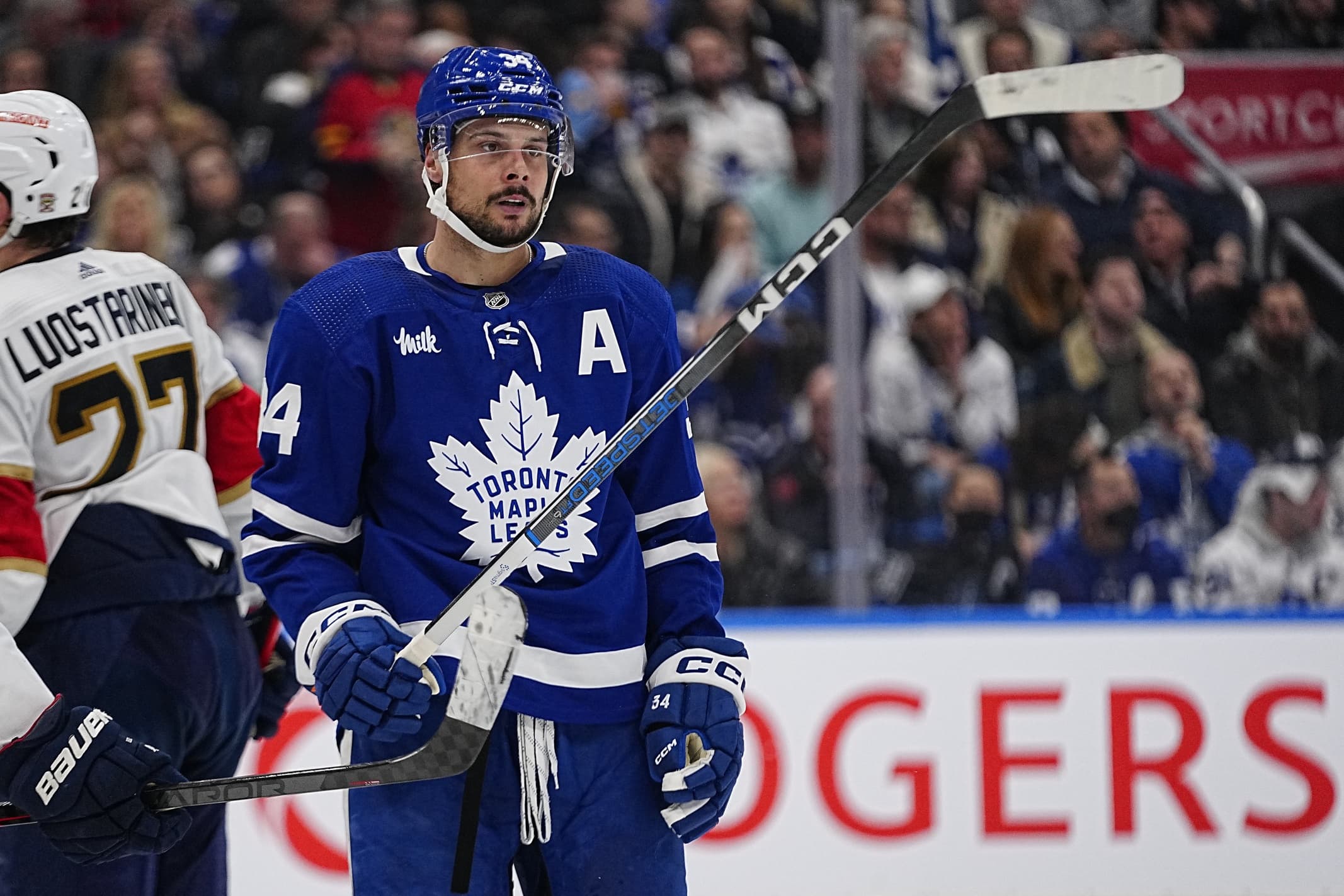 Photo credit:© John E. Sokolowski-USA TODAY Sports
Welcome back to my goals and expectations series here at The Leafs Nation. Don't worry, I didn't forget about this series! It's been a couple of weeks since we last zeroed in on the franchise-wide depth chart, but today we're finally going to close out the series. We've tackled everything from the goaltenders to the defencemen to the wingers, in every league from the NHL to the CHL. Today, we're going to close things out by taking a look at every centre in the Maple Leafs organization, and with last week's extension news, I can't think of a better player to start with. 
From the minute Kyle Dubas parted ways with the Maple Leafs, the fanbase was on their toes about the looming contract talks between the team and their prized franchise centre, Auston Matthews. With the GM he'd grown to be comfortable with out of the picture and a new guy taking over, the question immediately became "Will this affect Matthews' desire to stay in Toronto?". And ultimately, the short answer was "no". On August 23rd, 2023, the team announced that he had signed a four-year contract extension worth $13.25 million, the highest average annual value in league history.
It's only been a little over a week since that deal was signed, and I'm sure you're tired of hearing about the specifics of his deal, so we're not going to focus on that in this article. What we are going to focus on is how the new contract might impact his game this season, and what the team should expect from him in 2023-24. 
Without beating around the bush, Matthews is the best goal scorer in the NHL right now. He's got the highest goals-per-game since he entered the league in 2016-17 with 299 tallies through 481 games, good for a goal-per-game rate of 0.62 since 2016-17. He's scored at least 30 goals every year since he's been in the league, with his lowest in a single season being 34 (ironically) back in 2017-18. It probably doesn't feel this way considering he only managed 40 in 2022-23, a significant drop from the 60 he scored the year before, but when you're talking about 40 goals being a "down-year", you know you've got a special talent on your hands.
With the headache of his contract negotiations out of the way and the security of having him locked up through his prime, I'd expect a significant bounce-back year for Matthews in 2023-24. It would be a lot to ask for another 60-goal campaign from him, but I don't think a 50-goal season is out of the question by any means. If he skates with Mitch Marner and new acquisition Tyler Bertuzzi all year, we're looking at potentially one of the best lines in the NHL, and assuming he stays healthy, I see no reason he can't build on last season and boost those numbers back to where we know they can be. 
It's become a bit of an annual tradition for Maple Leafs fans to complain about Tavares' contract when he hits a slide during the regular season. And when it's happening, I can't really blame them. He signed a seven-year contract worth $11.7 million annually, a hefty number for him in the year 2023. That said, he took less than what other teams had offered to come home and play for his favourite team growing up, and at the time, it was a sign of things to come. Finally, the Maple Leafs had the pull to attract top-end free agents again, something they had struggled with for years leading up to that offseason. Even though they didn't desperately need a centre of his calibre with Matthews already up the middle, it was still a huge moment for the franchise, and at the time, nobody cared about his contract. 
The next time everybody forgot about his contract and chose to celebrate him as a player was April 29th, 2023; the day they finally overcame their playoff demons and made it out of the first round of the playoffs. Tavares had a pretty quiet series up to that point, but when he took the puck around the net, spun around and banked it off of Lightning defenceman Darren Raddysh's skate and into the net, nobody cared about how much he was making. He slayed a 19-year-old dragon, and that was all that mattered in that moment.
Perhaps that was a little bit of a tangent, but the point that I'm trying to get at is this. As long as Tavares doesn't fall right off of the deep end and maintains the level of consistency he's brought every year since signing with the Maple Leafs, more of the same in 2023-24 should cover his expectations for the year. With more depth scoring options around him including Bertuzzi and Max Domi, Tavares might not have another 36-goal, 80-point campaign in him. But as long as he sits above that 70-point mark and delivers another 30-goal season, that's about all that should be asked of him.
In a bit of a shocking move, the Maple Leafs' first contract extension of the summer went to David Kampf, inking a four-year contract worth $2.4 million annually back on June 28th. That said, I wouldn't say the deal wasn't deserved. Most fans had no idea who Kampf was when the Maple Leafs signed him to a two-year deal ahead of the 2021-22 season and weren't overly thrilled when they learned he had only one goal in 2020-21 with the Chicago Blackhawks. 
Since then, Kampf's had a slight breakout offensively, scoring 11 goals in 2021-22 and reaching a new career-high in points in 2022-23 with 27 in 82 games last season. While offence will never be his forte, he eats up a ton of penalty kill minutes, and he hasn't missed a single game in his time with the Maple Leafs yet. Towards the end of last season, Sheldon Keefe started using him to kick off overtime periods, taking advantage of his strong faceoff ability, and it worked a number of times given how important getting that first possession in overtime is. 
While some fans may have gotten used to Dubas' way of filling holes across the roster, finding guys in the bargain bin for cheap deals who eventually price their way out of Toronto, there's somewhat of a relief to the team signing one of their more important role players for multiple years. Sure, you can argue that $2.4 million is too much for what he brings, but part of what makes Stanley Cup contenders so strong is establishing a culture that everybody buys into and growing with the same group every year, and it's a little harder to do that when you've got a revolving door of players around the core. If Kampf continues to run that penalty kill, score goals in timely moments, and bring a respectable amount of depth scoring, I'd call that a successful season for him. 
There are a surprising amount of players who play two or three forward positions on the Maple Leafs depth chart, and Lafferty is one of them. While I don't see him being a centre this season, I've got him on this list solely to spread out the number of players in each piece. The Pennsylvania native was acquired from the Chicago Blackhawks in the deal that brought defenceman Jake McCabe to Toronto back in February, and he's on a very affordable contract worth $1.15 million for this season. 
While Lafferty didn't bring much to the table offensively, scoring two goals and tallying six points in 19 games along with three points in nine playoff games, he also never really found a comfortable role with the team. The Maple Leafs acquired a whack of players at the deadline, with him being one of them, and there was a good chunk of the season following the deadline where the lines were constantly in the blender. He spent time on the third line, the fourth line, up the middle, on the wing, and even as a scratch from time to time. 
In 2023-24, I think he'll be better suited to find a role and stick with it. He might not bring more than 30-35 points to the table, but he's got the energy the Maple Leafs have developed a fondness for in their bottom six, and with a full season ahead of him to adjust to their system, I can see him being closer to what he was for the Blackhawks than what he was for the Maple Leafs in March and April last season.
Few players pique my interest more than Pontus Holmberg this season. He's been a favourite of mine to follow ever since the Maple Leafs traded into the sixth round of the 2018 draft to select him, and last season he showed that he's got the foundation of skills to be a full-time NHL player someday. While trades towards the deadline eventually pushed him out of a roster spot, he put up 13 points in 37 NHL games and displayed a strong sense of hockey IQ in his time with the team. 
He recorded 22 points in 38 games with the Toronto Marlies last year, and while I'd say he's poised to crack the roster full-time, he doesn't have a spot guaranteed to him. It wouldn't surprise me if the Maple Leafs gave the first crack at a job to Dylan Gambrell, who we'll talk about in a minute, just because of his experience and the fact that he's probably better suited for a checking role on the fourth line than Holmberg is. That said, I don't see the 24-year-old Swede settling for a job as a full-time Marlie this year, so his goal for the season should be to force his way into a Maple Leafs lineup that, despite having lots of competition, will have spots for the taking in 2022-23. 
Gambrell reminds me a lot of players like Par Lindholm and Nick Shore in terms of his role to start the season. Not to slander the guy before he even gets the chance to put on a Leafs jersey, but he was one of the least productive players in the NHL last season, registering four goals and ten points in 60 games as the Ottawa Senators' fourth-line centre. The 6-foot-tall centre was originally a second-round pick of the San Jose Sharks back in 2016 and has been with the Senators since 2021-22. 
If I'm Gambrell, I'm gunning to find a way to develop an aspect of my game that makes it hard for Keefe to keep me out of the lineup. Whether that's developing an offensive edge or embracing the role of an energy forward in the bottom six, it has to be something. The aforementioned Holmberg among other Marlies players will be looking to steal that spot in training camp and as the season starts, and that doesn't factor in the possibility of any players signing professional tryouts with the team. He likely gets a look in October, but his spot is far from guaranteed. 
The selection of Abruzzese in the fourth round of the 2019 NHL Draft confused some fans at first. Of course, you're immediately going to have a certain demographic against you if the team selects you and your height starts with the number five, and that was part of the reason. Originally standing at 5-foot-9 and playing as an overager in the USHL, there wasn't a lot of excitement at the time, but he immediately broke out with Harvard University of the NCAA, recording 44 points in 31 games in 2019-20. 
Since then, Abruzzese's played a total of 11 games with the Maple Leafs, scoring one goal and adding two assists, but his performance with the Marlies kind of flew under the radar. He scored 16 goals and added 48 points in 69 games for an impressive rookie season in the AHL. He unfortunately has the disadvantage of being behind players like Holmberg, Nick Robertson, and Alex Steeves on the depth chart. But with an impressive training camp and ideally more of the same in the AHL (assuming he starts there), his goal for this year should be to build on last season and find a way to force himself into a roster spot when injuries eventually happen. 
Of all the prospects the Maple Leafs have, there might not be anybody poised for a bigger season than 2022 second-round pick Fraser Minten. A 6-foot-2, 192-pound centre, the Vancouver native was a member of a stacked Kamloops Blazers team that made it to the Memorial Cup. While his 67-point campaign through 55 games might not immediately scream "top prospect", he had the welcomed disadvantage of being stuck behind several talented players on that team, including Dallas Stars prospect Logan Stankoven and Minnesota Wild prospect Caedan Bankier. 
With both Stankoven and Bankier graduating to the AHL next season, Minten is going to get more than middle six minutes and will have every opportunity to be one of the Blazers' premier play drivers in 2023-24. Not to pin heavy expectations on him too early, but his potential ETA for the NHL could line up nicely with the expiration of Tavares' contract. That said, it's too early for him to be thinking about that. I went a little deeper into Minten's situation in our top-20 prospect rankings if you want to learn more about him, but in terms of goals and expectations, he should be aiming to take a significant step forward in what will likely be his final year in the WHL.
All eyes were on the Maple Leafs' first-round pick in the 2023 NHL Draft, with somebody other than Dubas taking the reigns for the first time since 2018. There were talks about potentially trading the pick, whether that meant moving down in the draft or using it to seek roster upgrades, but ultimately, Brad Treliving decided to let the scouting staff in place take the player they wanted, and that player ended up being Easton Cowan at 28th overall.
The pick was met with some skepticism at first, considering Cowan was ranked in the late second round and early third round on most scouts' draft boards, but as the days went on and people learned more about him, the skepticism started to fade. It will always be there to an extent, considering the number of players ranked above him who were still on the board, but growing up as a farm boy with a strong work ethic embedded into his bones, those expectations will hardly be a blip in the road for him. 
He recorded 30 points in his final 33 games of the season last year, and like Minten, I did a deeper dive on Cowan in our prospect rankings, which you can find here. While he likely has another two years in the OHL ahead of him, he should have his sights set on a big season that will likely see him take on a bigger role this year. 
Like Holmberg, my interest in Tverberg was piqued when the Maple Leafs traded into the seventh round of the 2020 draft to select him. He was playing for the Toronto Jr. Canadiens of the Ontario Junior Hockey League at the time, meaning there was far less coverage on him than those playing in the OHL. Considering his freshman year with the University of Connecticut was limited to 14 games due to the pandemic and some injuries, nobody really had a good look at him until 2021-22, when he recorded 32 points in 36 NCAA games. 
He continued that success in 2022-23, with 30 points in 35 games, and it earned him a three-year entry-level contract with the Maple Leafs in March 2023. He got a brief look with the Marlies at the end of the season, albeit a quiet one, with no points in seven games. That having been said, if he applies his energetic game to his rookie pro season this year, he could be one of the players considered for a call-up if there are any injuries, and that consideration should be his goal in 2023-24.
One of the more unique prospects in the Maple Leafs' system, the club signed him to a three-year entry-level contract ahead of the 2021-22 season. The small centre went undrafted in the 2021 class after the cancellation of the 2020-21 OHL season, but earned an entry-level deal after a standout development camp later that summer. He had a strong final year in the OHL, scoring 25 goals and adding 52 points in 47 games for the Flint Firebirds, and now appears poised to make his pro debut in 2023-24. 
The Maple Leafs have a lot of graduating prospects competing for a job with the Marlies this year, so it will likely take another standout camp for him to start the year in the AHL. Otherwise, it seems more likely that he starts the season in the ECHL, which wouldn't be a bad outcome by any means. His goal for this season should simply be to channel the fact that the Maple Leafs took a chance on him after 31 other teams passed on him, and apply it to whichever team he ends up playing for in 2023-24, ECHL or AHL. 
Malinoski is another prospect I did a deep dive into as part of our top-20 draft rankings this season, and if you haven't read up on this kid's story, I'd highly recommend it after you finish with this article. Long story short, he had a near-death experience as a teenager that ultimately stalled his development, but he's back on track after a miraculous recovery. 
Drafted as an overager by one year in the fifth round of the 2023 NHL Draft, the 6-foot-1 Saskatoon native recorded 69 points in 44 games for the AJHL's Brooks Bandits, a team known for producing the likes of players like Cale Makar. He's set to make his NCAA debut in 2023-24, suiting up for Providence College in October, and it will be interesting to see how he fares playing against advanced competition this season. I firmly believe that he's one of the most underrated prospects in the Maple Leafs' system right now, and his goal for this year should be to put his name on the map. 
Schingoethe was the Maple Leafs' second-last pick of the 2020 draft, before they traded into the seventh round and took Tverberg to close things out. The 5-foot-11 centre was known as a defensively responsible centre with an ability to chip in offensively from time to time as well. Unfortunately, he hasn't really taken a single step forward since the Maple Leafs drafted him. 
Coming off a 38-point campaign in 47 games for the USHL's Waterloo Black Hawks and earning himself a draft pick, he took a step back in 2020-21 with an underwhelming 21 points in 44 games. The following year, in his freshman season with Western Michigan University, he failed to record a single point in 20 games. It was more of the same in 2022-23, only getting into nine games with WMU and tallying only two points. Simply put, it's going to take an astronomical step forward in 2023-24 for him to be considered for an entry-level contract with the Maple Leafs, and that should be his only goal this season.