Goaltending targets for the Leafs in the draft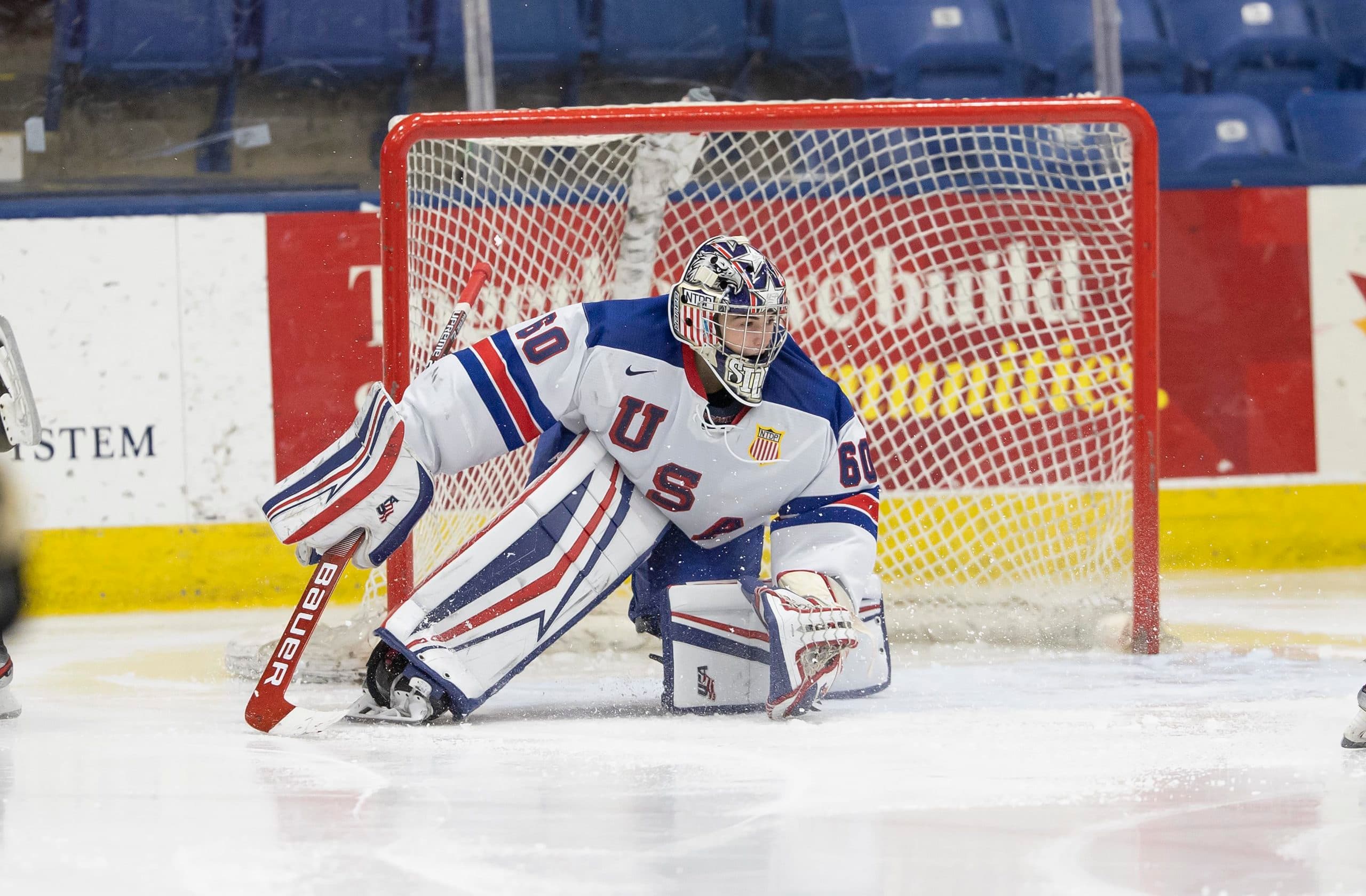 Photo credit:USNTDP Website/ Photo: Renata Laverty
Initially this post was written before the Leafs decided to not renew Steve Briere's contract (the Leafs goaltending coach). The idea that the Leafs need to explore any and all goaltending options until they produce a worthwhile goaltender in their own system seems like a necessity. Really the last 30 years have only Felix Potvin, Damian Rhodes, and James Reimer as success stories. With a new goaltending coach arriving, it's important they get a chance to bring in their guys to work with and have a say on the organization direction when it comes to goaltending.
Related:
This draft is deep. This draft has high-end talent. This draft really doesn't have that one goaltender who truly warrants first round consideration. That's fine. For the most part, goaltending seems to be about requiring the best raw materials at age 18 and putting that player on the best development path to success. It's a hard position to assess often even by the experts. That's why I usually just steer into my biases when identifying goaltenders that make sense for development.
One of my biases is that I'm a fan of workhorses. If a goaltender is handling over 50 games at 17 or 18, they will likely be capable of tackling a starter's workload at the pro level as well. In theory, they should be durable, in practice, Ian Scott still found a way to start off his pro career with an entire entry level contract worth of injuries.
Another bias is seeing that the goaltender is working in a good development system. These could be competitive NCAA schools, well-funded CHL teams, or European clubs with a history of goaltender development.
Based on that, here are some of my top picks.
Thomas Milic- Seattle WHL
Milic is very much a what have you done for me lately option, and with Seattle still going in the WHL playoffs, he's a good option. Milic was ranked 28th on the NHL Central Scouting North American goaltending list, and suspect his stock has raised. Milic is an overage, which I don't think is a deal breaker when considering goaltenders and if anything held Milic back in his initial draft year it was his lack of resume only having 9 games last year with Seattle and 2 light load games for Canada in the U-18s.
Milic had a .912 save percentage through 47 regular season games, and a .924 so far through 23 playoff games. A lot of this is supported by a strong team in front of him.
The knocks on Milic might be that Seattle isn't really a place with a reputation for developing goaltenders, the fact that he is a little older, and at 6'0 he's considered a bit short for a goaltender.
Milic remains a strong late round option, and if height is a concern, 19 year olds have been known to grow.
Topias Leinonen- JYP Liiga
Looking at the top tier goaltenders of the draft, Leinonen is either at the top of the list or close to it. That said, he really only projects as a 3rd rounder, but someone with a goaltending need might reach and take him sooner. Still, if he's there when the Leafs pick in the third, he's worth considering. He's got the important building block of being 6'5, which I'm told can't be taught. He's had success at the U20 level, but any attempt to introduce him to tougher competition either at a higher league like Liiga or Mestis or in international play, Topias' numbers decline.
When you add up all the places that Leinonen played he's at 40 games, and that's a solid workload. He has a legitimate path to playing in the Liiga next season, and with the Leafs increased interest in Finnish defensemen, why not have a Finnish goaltender to communicate with them in a few years.
Niklas Kokko- Karpat Liiga
Anytime you can draft someone named Kokko, you pretty much have to make that move, right? Anyways, we're sticking with Finnish products here and giving up a couple of inches in height to consider a 6'3 goaltender instead. Kokko doesn't have the scouts behind him the same way that Leinonen does, and a lot more of his time was spent at the U20 level. The path to a regular job with Karpat in Liiga is also a lot more challenging as well, Kokko might have to get his reps at the U20 level or Mestis for another year or two, which could hinder his development.
Between the playoffs and regular season, Kokko got in 41 games, and aside from his .914 at the U20 level, there wasn't any standout production for him this season.
Charlie Schneckel- Soo OHL
Schneckel wasn't fulltime in the Soo this season, in fact, he was just there for 7 games, and including his time at Rockland, he has just 15 games to his name. He is also 6'5 and will likely be fulltime with the Greyhounds next season. Schneckel's numbers in the Soo weren't great last season, as he had a .843 save percentage in his seven appearances, and there is the fact that he catches right that might be offputting to some coaches and GMs. Still, Schneckel would be part of a program that has done well with goaltender development and is a known organization to Toronto which at least warrants a little late round consideration. He is the 17th ranked North American goaltender by NHL Central Scouting.
Dylan Silverstein- USNTDP
The Leafs seem to have a tendency to acquire goaltenders out of California. Perhaps it's time they draft one born there. Silverstein is the 3rd highest ranked North American goaltender by NHL Central Scouting but hasn't really factored into any other rankings.
Generally speaking, going with a USNTDP goaltender means acquiring a goaltender that has had a ton of resources thrown at them, and with Silverstein committed to Boston College, there is a strong path for him going forward.
There are three catches with Silverstein. First, at 6'0, he's not big for a goaltender. There's also the fact that he wasn't the starter on his team, although interestingly enough Central Scouting has Silverstein just ahead of Muszelik. And finally, the results aren't there considering the stacked team in front of him. His .878 save percentage will leave you wanting.
Most of these goaltenders don't warrant the Leafs tapping into their third pick, let alone their first, so whatever the Leafs decide to do it would be a low risk decision to pursue. None of these goaltenders would be coming in as favourable options to anyone presently in the Leafs system, and would instead be new question marks that will hopefully develop.