Grading the Leafs trade for McCabe and Lafferty (Is there anything higher than an A++?)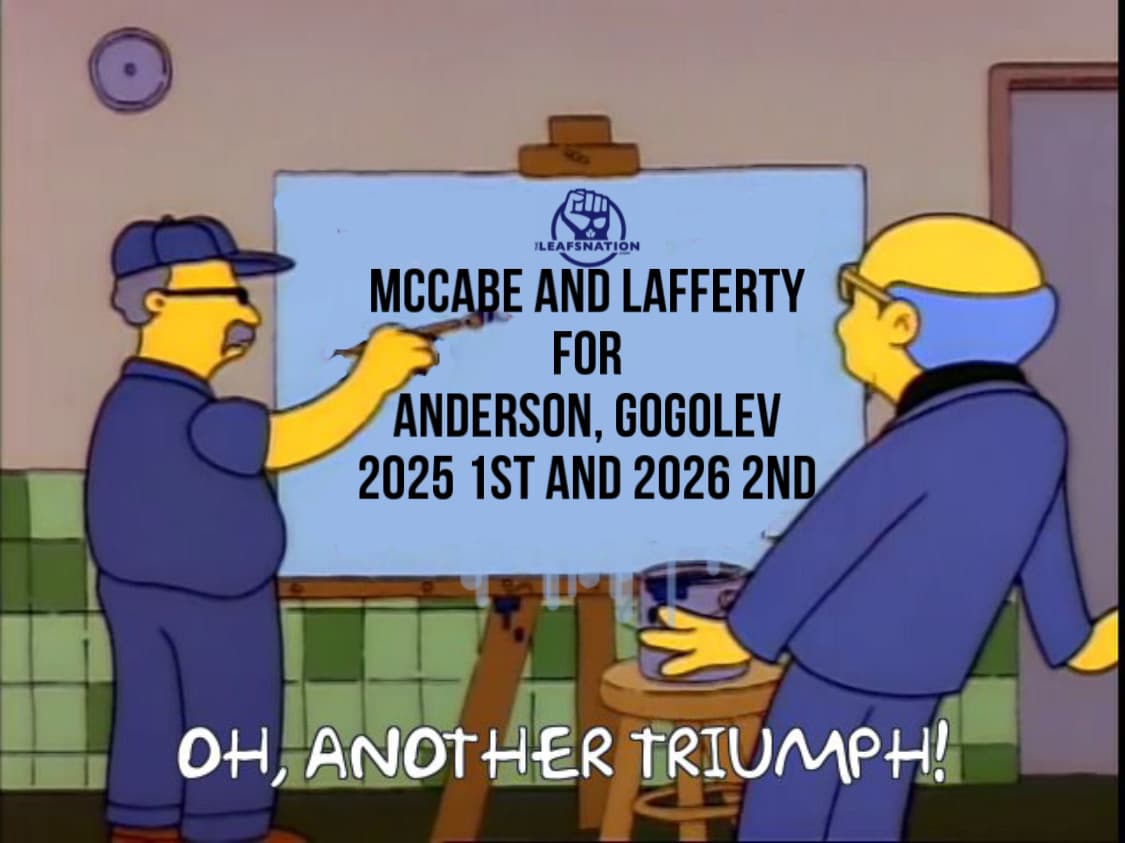 Photo credit:puckcontent
Three cheers for bias. Let's be completely honest, a Leafs site rating a Leafs trade, when we've spent years hungry for a moment when the Leafs were committed to going big, we are destined to love this trade. Take us with a grain of salt. We've earned the right to be excited, and I guess while this trade is universally loved, perhaps a nugget of truth can be gleaned from our thoughts accompanying the highly supportive grades.
Michael Mazzei: A-
If you did not think the Leafs were all in after acquiring Ryan O'Reilly and Noel Acciari, then Monday's trade should be further proof that Kyle Dubas is pushing his chips to the centre of the table.
Jake McCabe should be a solid replacement for Jake Muzzin who may not come back for a long time. McCabe will be leaned on a lot in defensive situations and on the penalty kill while also providing a physical element that the Leafs needed more of with their regulars on the back end. The fact that they get him at 50% retained over the next two seasons means he is going to be a mainstay for the foreseeable future.
In the two games the Leafs played against the Blackhawks, Sam Lafferty was noticeable in a good way. He is solid on the forecheck, good in the faceoff circle, and has the scoring touch to boot. Lafferty will make the bottom-six even better and provides Sheldon Keefe with even more options to work with. Have I mentioned he is under contract for another season after this one?
The fact that all it took to get these two players was a conditional first round pick, a second round pick three years into the future, and two prospects is tidy business for Dubas. Much like the ROR trade, the real test comes in how they fare in the playoffs. But as with the aforementioned trade, it's hard not to get excited about how much better the Leafs got without sacrificing a player from their roster.
Bennett Jull: A
Kyle Dubas strikes again. I have been clamouring for Sam Lafferty for a long time, and I am thrilled he is a Toronto Maple Leaf. He brings energy, physicality, depth scoring, faceoff ability, penalty killing, speed, and is cost controlled beyond this year. Lafferty will be important in May, and he isn't even the focal point of this deal. Dubas filled Jake Muzzin's void by adding Jake McCabe. Not only for these playoffs but for the next three. Dubas managed to get McCabe's cap hit down to $2M, which for context is what Justin Holl's hit is. McCabe's numbers this season have been incredibly impressive given how porous Chicago has been. He also has the ability to play either side, giving Sheldon Keefe even more tinkering ability. Once again, Dubas added two major players without subtracting from his current roster, or parting ways with any prospect.
Colin Hunter: A-
In a vacuum, this is an objectively great trade. Getting a player like McCabe for $2M with term left on the contract is incredibly valuable in today's league. Lafferty is a useful piece that should add some speed to the bottom six. To acquire all of that for what essentially boils down to a first and a second is great asset management.
My only gripe with this trade is that I would have preferred the Leafs to have gone for more scoring depth. The defence has been solid this year, and adding McCabe, while an upgrade, will inevitably bump out a solid defenceman. Scoring depth has sunk the Leafs in recent playoff series, and in my opinion, would have been better place to spend the assets.
Now, as I mentioned this is still a great move and if the Leafs can manage to somehow still add scoring depth, then I will be very pleased. But for now, the trade gets an A- from me.
Nick Alberga: A-
Kyle Dubas isn't messing around. For a variety of different reasons, I'm a big fan of the 

trade

. Not only does it address short-term needs for rest of season purposes, but it's hard not to like McCabe's $2M cap hit through 2024-25. Bottom line: It's a hard league to win in. Sometimes, you have to take your best shot and swing for the fences. And that's exactly what Kyle Dubas has done here. Furthermore, all-in-all, in the grand scheme of things, I don't think they gave up that much in this instance. Stealth move.
Joseph Zita: A
This trade with the Chicago Blackhawks that Kyle Dubas and company pulled off is nothing short of a massive win in my books for the organization.
For starters, when Toronto acquired Ryan O'Reilly and Noel Acciari, they didn't give up a single roster player or one of their top prospects and they managed to do that in this trade too. The fact that all Dubas gave up was multiple picks and some lower-end prospects without subtracting a player off the current 23-man roster is awesome.
One of the two players they acquired in this deal is Jake McCabe. McCabe was linked to Toronto for what seemed like months, and it finally came to fruition. He's a 29-year-old defence-first defenseman who can play both sides of the blue line and play on your penalty kill as well. He's also on pace to have a career year offensively this season. He currently has 20 points in 55 games and is just three points away from breaking his career-high of 22 points which he set last season.
The other player in the deal is Sam Lafferty. He is a 27-year-old forward who can play both centre and wing. Having that type of versatility on a team like Toronto is great to have. He's a bottom-six defence-first player who brings speed and good forechecking. If you like hits, he brings that too. He would currently rank fifth on Toronto in hits with 94 on the season.
I'm grading this trade an A simply because neither McCabe nor Lafferty is a pending UFA. McCabe has this year and two more left on his deal and Chicago also retained 50% ($2M AAV). Lafferty has this year and next left on his deal at a respectable cap hit of $1.15M so it's a big win having these two players for two to three playoff runs at very low cap hits.
Dylan Murphy: A+
ALL-IN BOYS, CUP OR BUST!!!!
Hyperbole aside, Kyle Dubas strikes again, with a second master class trade in about 10 days. With today's additions, Dubas has once again addressed a team need (physical and good defenceman, complementary forward) without removing a single piece from the active roster or touching the top prospects in the organizational pool.
Newfoundland Growlers fans will miss Gogolev, who was absolutely torching the ECHL before a lower-body injury sidelined him, and I'm sure someone somewhere out there will mourn the loss of Joey Anderson from the Marlies (won't be me though, good riddance I say) but outside of that, all draft picks, no matter how high, are mystery boxes, so nothing of true value was lost in either this or the O'Reilly/Acciari trade. All that's left to wonder now is: what's next for Dubas?
Nick Richard: A+
The Leafs addressed the biggest remaining need on their roster, not only for this season but for two more, at an annual cap charge of just $2 million.
McCabe is a bonafide top-four defenseman who both bolsters and diversifies the Leafs' blue line with his hard-nosed, defense-first style of play. He isn't simply a butcher, however, and has proven capable of winning his minutes against tough competition while playing for poor teams in the past.
Like landing Acciari the O'Reilly deal, getting Lafferty (who is also signed cheap for next season) along with McCabe adds serious value to the deal. Lafferty will bring speed and added tenacity to the bottom-six, and he has found the back of the net at an impressive clip so far this season.
The cost was significant but this isn't your traditional deadline deal where a contending team pays big for a rental, instead the Leafs took care of business for this season and beyond while paying rental prices to do it. That the picks are so far down the line and they managed to tack top-10 protection on the first-rounder doesn't hurt, either.
I think this deal also benefits from some compounding excitement following the additions of O'Reilly and Acciari, as it is clear that the Leafs are as all in as they have been in the salary cap era.
Jon Steitzer: A-
I said it in the last grading of the Ryan O'Reilly trade that A's and A+'s need to stand for something truly exceptional and to Kyle Dubas' credit, he is certainly reaching for that.
It's not that either Jake McCabe or Sam Lafferty are truly exceptional players. McCabe is very much a solid middle pairing defender who has underlying numbers that are sneaky good. The Leafs definitely addressed a need by bringing McCabe in and did it with a true upgrade.
And Sam Lafferty is a high energy sparkplug for the bottom six, who really hasn't had a noteworthy career to date, but stood out enough to get a bizarre amount of deadline focus. Both players have the potential to help the Leafs. Between Lafferty and Acciari, the bottom six is getting a bit more of a playoff identity. Still McCabe and Lafferty as acquisitions aren't an "A" trade on their own.
There wasn't any dramatic fleecing of Chicago either. Paying a first for McCabe with 50% retained was a high price. Paying a second for Lafferty looks like an overpayment too, but man does an overpayment become a lot more tolerable when it involves picks from 2025 and 2026. That's where the deal starts creeping up into A- territory. Giving up assets a couple of years removed from now takes a lot of the sting off.
So the real reason this deal seems like an A- is the message it sent to Leafs fans. It said that the O'Reilly deal was a big move, but it wasn't the only one the Leafs were going to make and given what Kyle Dubas has started this year, there's no reason to believe the Leafs are completely done upgrading.
THE DAILY FACEOFF TRADE DEADLINE SHOW
Join us on March 3rd for the Daily Faceoff Live: Trade Deadline edition as Frank Seravalli and the panel break down all of the latest rumours, news, and rumblings from around the NHL. The show will be live on 
YouTube
, 
Facebook
, and 
Twitter
 from 12 PM – 4 PM ET to keep you up to date on all things trade deadline no matter where you're watching from.