Gustafsson nets hatty, Caps torch Leafs in Samsonov's return to Washington: Muzzy Muzings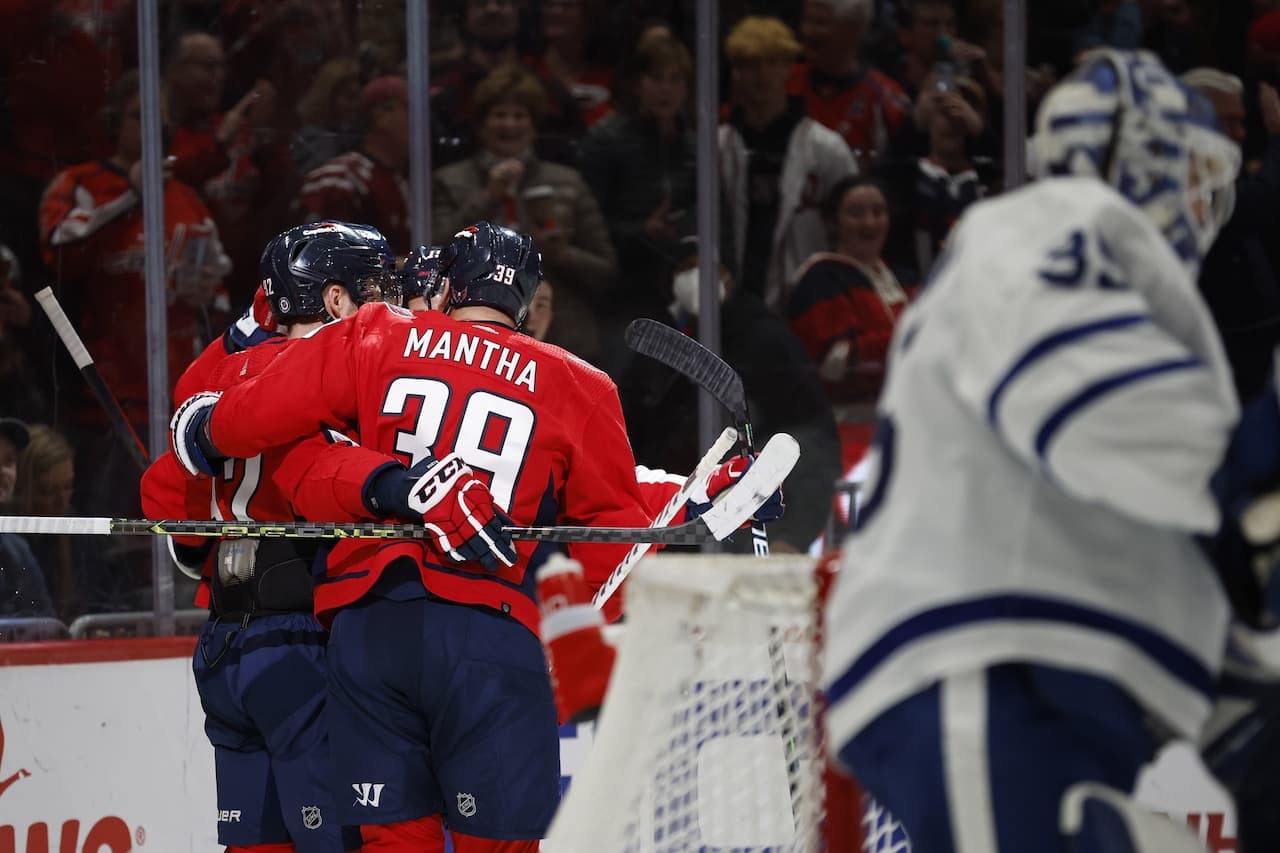 Photo credit:Geoff Burke-USA TODAY Sports
Suffice it is to say, it wasn't the return to Washington Ilya Samsonov was hoping for.
Erik Gustafsson netted a hat trick as the Capitals smoked the Leafs 5-2 to hand Toronto back-to-back regulation losses for the first time this season.
Classic. Guy doesn't score for 32 games only to erupt for three goals…always against the Leafs, right?
Charlie Lindgren was outstanding, especially in the second frame when the Leafs outshot the Capitals 14-6. He made 34 stops to improve to 6-1-0 in his past seven outings. As for Samsonov, the 25-year-old surrendered five goals on 28 shots in his first back in D.C. since Washington elected to move on from him last summer. He fell to 9-3-0 on the season; that was his first loss since October 29th.
Meantime, Michael Bunting's 10 game point streak came to an end. Also, Alex Ovechkin failed to score, he's still one goal back of Gordie Howe for second all-time in NHL goal scoring.
Auston Matthews had one and one while Conor Timmins notched his fifth assist in the past three contests.
Muzzy's Muzings:
TOUGH START & TOUGH FINISH
For the second straight outing, the Leafs were scored on first. Honestly, it reminded me a lot of Thursday night's game in New York. They were just a bit off. And again, that's going to happen from time to time; it's a tough league. That said, ultimately, it's how you learn from those situations that could help you in the long run. On top of that, there's no question Samsonov would've liked both of those first period goals back. They were not pretty. Kudos to the Leafs though, they came back strong in the second period, which is exactly what you're looking for in those type of situations. We won't talk about that third period.
5 FORWARD POWER PLAY
After teasing a five forward power play deployment in practice on Friday, the Leafs tried things out against out the Caps. Early returns: Meh. That said, I do think now's the time for experimentation, especially given all the points Toronto's banked over the last little while. On top of that, the power play's been struggling recently anyway, so whatever. In case you missed it, Sheldon Keefe rolled with a top unit of Auston Matthews, Mitch Marner, John Tavares, William Nylander and Michael Bunting. Poor Rasmus Sandin. Lastly, I would just add that the glaring danger with this kind of configuration is not having a true blueliner out there. What happens if the puck goes the other way? The tinkering will continue, I'm sure.
COMPLACENCY ISSUES
I should preface by saying that it's tough to naysay a team that's been as hot as the Maple Leafs. Having said that, there's no question the turnovers and defensive gaffs have been more apparent over the past two outings. They made a lot of mistakes on Saturday night, and ultimately, it cost them the game. We saw that a lot in October. It's important that they enter the mini holiday break feeling good, so I'm intrigued to see how they come out this week. It's a long season, something we're reminded about seemingly on a weekly basis.
Highlight of the Night:
 WHAT'S NEXT?
 Two more games for the Leafs until their four-day holiday break, both of which will take place at Scotiabank Arena. Next up is a date with the Tampa Bay Lightning on Tuesday night. Back on December 3rd in Tampa, the Bolts drew first blood in the three-game season series with a 4-3 OT victory.