Help the Maple Leafs, Mike Gillis, you're our only hope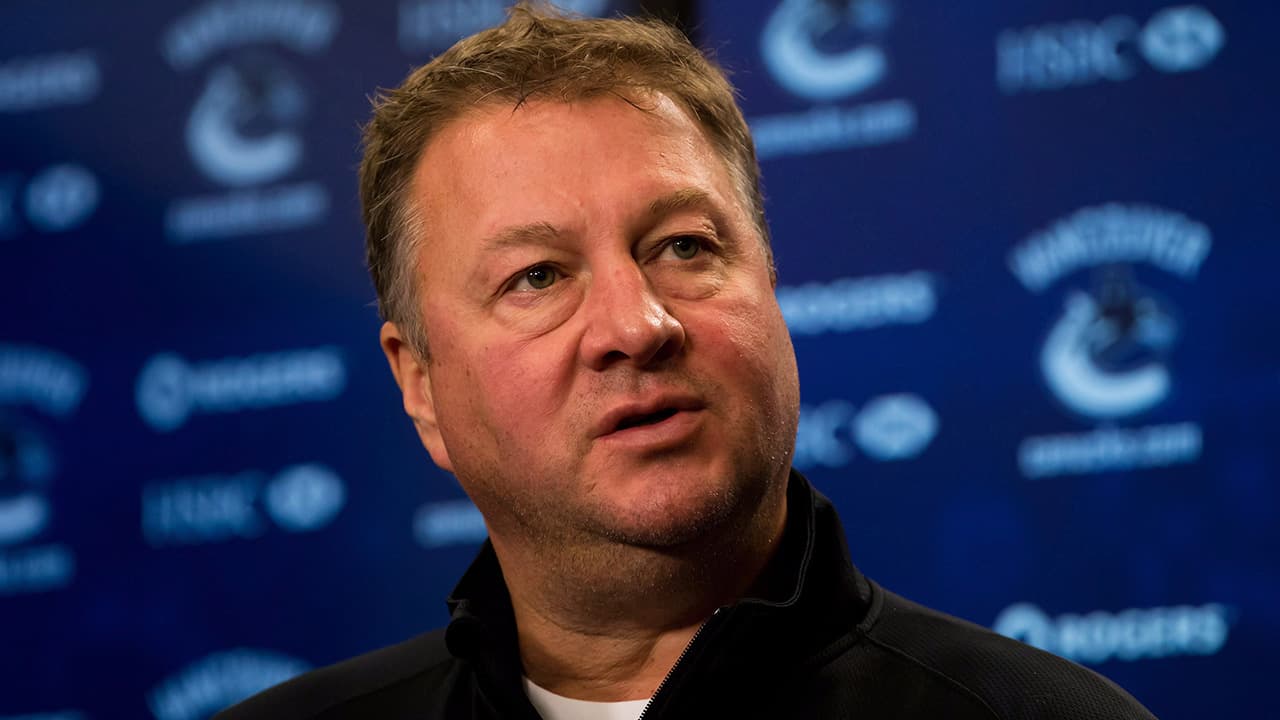 Photo credit:DARRYL DYCK
To be a bit of a broken record to what I said yesterday to my small but elite followership on Twitter, there are few phrases scarier in hockey than "looking for an experienced General Manager." The current selection of retreads available would include Jim Benning, Peter Chiarelli, Dale Tallon, Marc Bergevin, Ron Hextall, Brian Burke, Cliff or Chuck Fletcher, Brian Lawton, and Dave Nonis. There are a few other less concerning options that still don't excite like Brad Treliving and Jason Botterill, but generally experienced GM means a commitment to chaos.
That's one of the reasons I've landed on my favourite of the experienced group, Mike Gillis.
Let me start off by saying that I absolutely despised Gillis while he was in Vancouver. A big reason for despising him though was based on his success. He re-signed the Sedins on great contracts, he maximized the term available to him with Luongo, added smart pieces all over Vancouver's roster, and took the Canucks to the Stanley Cup Finals. It wasn't until they took a modest step back from that high that he was chased from Vancouver and the Canucks became the comical mess they are today.
Since that point, Mike Gillis has not held a position in the NHL, but not for a lack of trying. There is also the matter of him being fairly selective about the opportunities he's pursued.
Gillis was connected to the expansion team GM openings, as well as he was rumoured to be one of the finalist for leading the NHLPA. Something that would have played to his player agent background, something that has served him well in negotiations as well as connecting professionally with his players. He might have seemed like a chore looking at Vancouver from the outside, but his work seemed to be valued internally and often respected by the more reasonable Canucks fans you come across.
There is also something to be said for him already having a man on the inside and reuniting Mike Gillis with Laurence Gilman could serve the Leafs well.
Mike Gillis also seems like someone who is destined to build a team that plays the way many people want the Leafs to play.
The Sedins were often insulated with a strong checking/agitating presence to protect them and create space for them, Ryan Kesler as a pain in the ass two way centre on the second line served him well. There was a respect for strong goaltending, a bottom six that could make life difficult, and the Vancouver blueline featuring Edler, Bieksa, Mitchell, and others could control the puck but felt comfort taking the body as well.
By most accounts, Gillis seemed open to analytics, but there was also that older school two-way physical hockey element attached to most of his players as well. Even if the Sedins weren't physical, they knew what to do in their end of the ice.
I wasn't a fan of his choice in coaches as Alain Vigneault seemed completely joyless, and critics will point to the number of key pieces he inherited from Brian Burke, but there is something to be said for both of these things as strengths for Gillis as well. He optimized the pieces other GMs had left him with and found a coach who wasn't afraid to push a talented roster. This situation might be something Gillis could mirror in Toronto.
Now is about the time to acknowledge that no one has connected Gillis to Toronto nor has anyone said that he is pursuing anything else following the NHLPA position. If he's not an option, sorry for wasting your time.
One of the other important things to consider with Gillis is that he's available today. There is no waiting for permission to speak to him, he's someone the Leafs could speak to and offer something to in quick turnaround. And while I can appreciate the optics of making a show of a lengthy search, Shanahan doesn't have that luxury with the lengthy to-do list surrounding the Maple Leafs.