Horvat doesn't want to talk about his future, the holiday roster freeze, and the Leafs waivers situation: Rumours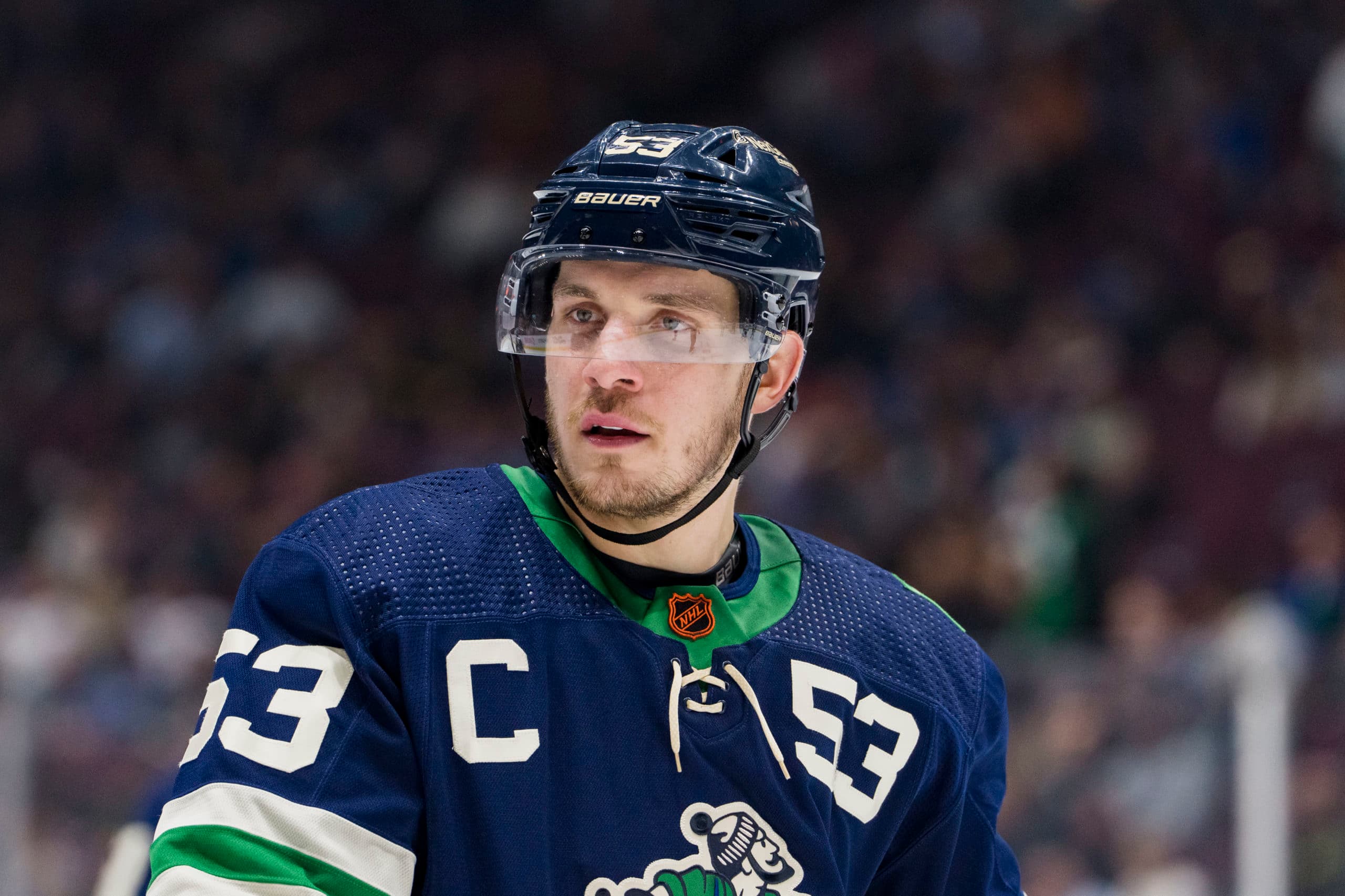 Photo credit:Bob Frid-USA TODAY Sports
The Canucks "we're not looking to trade Bo Horvat" t-shirt has people asking a lot of questions already answered by their shirt…
That certainly has all the signs of a player being available for trade and while Horvat will not be cheap to acquire and he most definitely will be expensive to retain beyond this season, Horvat is an intriguing option for the Leafs as well as pretty much any other playoff bound team this season. Horvat's $5.5M contract this season is a bargain considering he has 20 goals, 29 points in 28 games so far this year. If the Canucks are willing to retain on that $5.5M, they should easily be able to gather the typical 1st round pick, prospect, and young roster player package typically associated with this caliber of player. It's just a matter of whether or not that payment is worth it for a team that won't have a chance at re-signing Horvat.
Elliotte Friedman reported that Horvat was offered a contract with an AAV in the $7M range from the Canucks. This is definitely on the lower side of what he'd get on the open market and a long term deal around $8.5M AAV seems far more likely. How many teams can plan for that when there is uncertainty around the salary cap is probably limited.
From the Leafs perspective there should be some level of interest in Horvat. Ensuring the Leafs have depth at center, and top six capable depth at center heading into the playoffs is a luxury that Toronto should at least kick tires on. The Leafs shouldn't have any qualms about paying the first round pick price, it's just what goes along with it.
Horvat looks like he'll be the best forward available this season and if Toronto wants to go big, he's the player to consider. It's just whether or not going big is something the Leafs are prepared to do.
The Holiday Roster Freeze
We've probably talked about this enough on this site already considering very little comes in the form of trades at this point. The NHL has no problem avoiding making trades throughout the season and taking an eight day break around Christmas seems like something NHL GMs would naturally do anyway. Still a set date on the calendar could trigger something and it will be something to pay attention to from now until December 19th.
I'd put my money on nothing big happening between now and then, but there is still no shortage of little things that could come to fruition. The Leafs are still sitting at 50 player contracts and if there is a team out there that feels they need some bottom of the NHL roster depth or even AHL depth over the roster freeze, the Leafs could potentially move on from one or more of the players that don't necessarily factor into their plans.
The Leafs waivers situation
There are few players on the Leafs that are completely waivers exempt. At the moment it's pretty much just Pontus Holmberg, but others like Joey Anderson, Wayne Simmonds and Victor Mete are all in varying stages of nearing the point they will require waivers again. The Leafs have already sent down Mac Hollowell, who would have also been working towards his cumulative 30 days on the Leafs roster or his 10 games, whichever would come first. He's safe for now, but it's worth noting how close he is to requiring waivers again as well. Here's the current list of bottom of the roster players that either require waivers or will in the near future
Victor Mete: requires waivers. He's played 11 games since he's last cleared waivers.
Joey Anderson: doesn't require waivers. He's played just 2 games so far and has only spent 4 days on the Leafs roster.
Wayne Simmonds: doesn't require waivers. He's played 3 games, but has been on the Leafs roster for 21 days. He'll require waivers again on December 24th.
Mac Hollowell is already on the Marlies. He played 6 games for the Leafs and has been on the roster for 24 days. Toronto has been careful about managing his recalls.
Conor Timmins, Jordie Benn, and Denis Malgin all haven't been on waivers yet this year and would require them as well.
The Leafs are presently sitting at 21 active players on the roster, but with Jordie Benn being activated and either Calle Jarnkrok or Morgan Rielly hopefully not being too far behind. Basically something is going to have to give on one of these players soon (except Hollowell) and it will be interesting to see what direction the Leafs go.