How good are the Leafs prospects relative to other teams?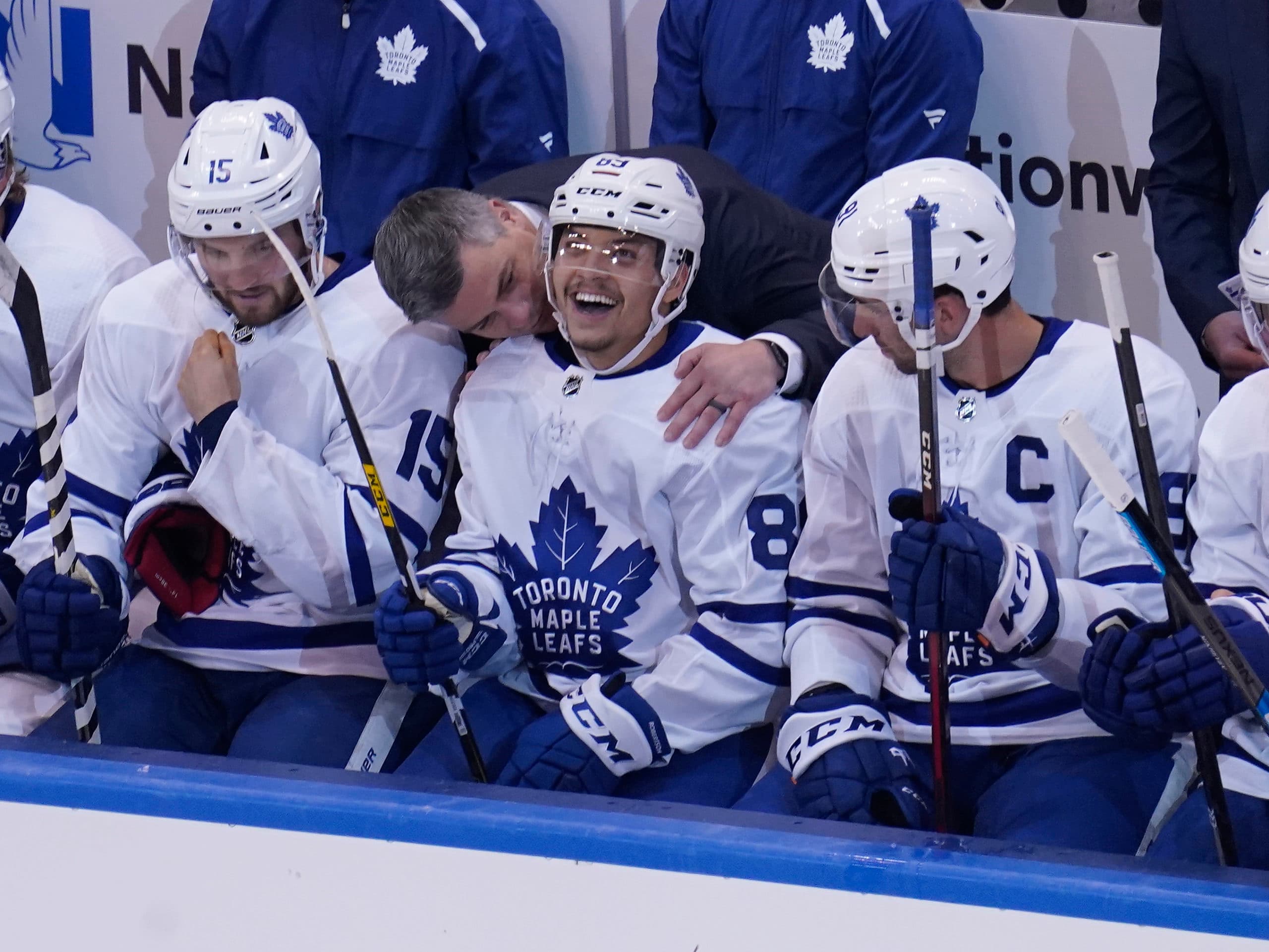 Photo credit:© John E. Sokolowski-USA TODAY Sports
As we continue to countdown the Leafs prospects, and get to the players that we are increasingly optimistic about, it's important we ask ourselves, how good are these players relative to the league and not just to other Leafs prospects?
Take yesterday's prospect, Nick Abruzzese. We're all pretty excited about him. I mean he was ranked 8th so we must like him a fair bit, he had a strong first year at Harvard, he compares favourably to other NCAA prospects (although the Ivy League teams rarely face the same level of competition), and despite missing last season to an injury and COVID cancelling the season, he was recently named captain, and he shows a lot of promise. Abruzzese is a Chicago Steel product, and Ryan Hardy knows him well. They use a development program created by Leafs player development guru Darryl Belfry and that should help him too, all of this sounds good, but in reality this is us just really knowing our prospects, liking them, but not playing Abruzzese relative to his prospect peers.
The reality is that Abruzzese is still a longshot. He'll probably get a contract from the Leafs, he's a great candidate to get a taste of the NHL, but writing him into your 2023 rosters is premature. There are a lot of players around the league better than him, including ones that we might not know a whole lot about. The same is really true of the whole tier of prospects like Niemela, Hirvonen, Abramov, Knies, and others. They have a lot of excitement about them, but their NHL paths are far from certain. And that's just that group.
A player like Timothy Liljegren is also an interesting player to consider as he's at times shown a lot of promise, but hasn't been able to push for much of a look at the NHL level so far. Being a first round pick, and one that was previously considered for the top of the draft makes him seem exciting, but in reality Liljegren could be fighting to make a career as a sheltered bottom pairing defender.
Nick Robertson needs his shot to be effective to make it in the NHL, and a player like Rasmus Sandin seems to be much more of a really good middle pairing defender at this point than a guy who will certainly establish himself as a top pairing defenseman.
That leaves Amirov as the possible offensive upside guy who could grab a potential first line role down the line.
Looking through the depth of the prospect system has to be concern about the lack of high end center talent. The lack of goaltender establishing themselves at the pro ranks as being on the path for the NHL, and depending on who you talk to, the lack of players with the size/skill combination will also be a concern. We might like our prospects but we need to be comfortable with the admission that years of trading first round picks, and some questionable draft selections during the Lamoriello years have an impact on Toronto.
I think the Maple Leafs have done a decent job accumulating talent given the resources they've had, but there's just a reality that getting top talent is unlikely with the assets they've had. That being said, I think Rasmus Sandin, Rodion Amirov and Nick Robertson are all very strong prospects.
While rankings (including ours) are subjective, and like Moneyball reminded us "no one has a crystal ball" the analysis points to a lack of top flight prospects that would likely put other organizations ahead of Toronto.
Kyle Dubas and company have done a good job of closing the talent gap by focusing on what is available to them, and by chasing skill and ignoring size they have established a collection of exciting swing for the fences prospects like Hirvonen, Voit, and Abruzzese that could improve the Leafs standings as development continues and evidence increases of the players taking the next step.
Next year's draft will only add to the uphill battle for the Leafs though, as Kyle Dubas currently owns only three picks (1st round, 2nd round, and 7th round). Toronto's continued pressure to win now could cut into that further.
At the end of the day, most of us really like our prospects. We believe in them. Toronto's situation doesn't seem dire, but admittedly could be better. It seems critical that Toronto hold onto their picks in this promising draft to help get on track, and with a strong development program and the ability to find promising pros in Europe the Leafs are far from doomed.