I'm not going to read too much into the Maple Leafs preseason but…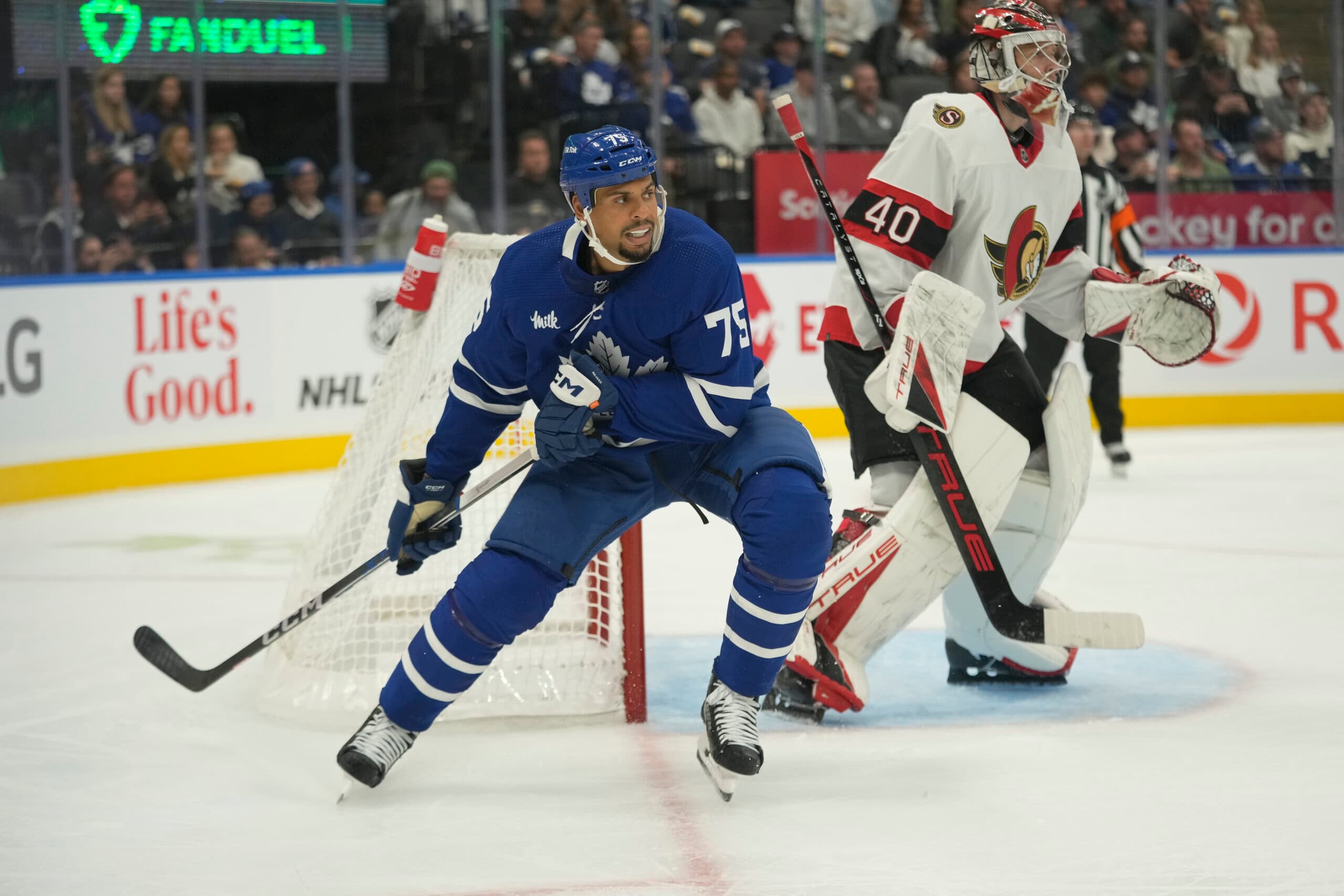 Photo credit:John E. Sokolowski-USA TODAY Sports
During his second intermission interview during the Leafs/Senators game on Monday night I think Jakob Chychrun hit the nail on the head when he spoke the preseason being a time to get their reps in. This is about getting used to playing at a high speed, getting your timing down and eliminating mistakes in a fairly consequence free environment. We might not have accepted that answer from a Leaf but given that it came from a player on the winning team who sniped a beautiful first period goal, maybe his words carry a bit more weight.
Nevertheless, even though it's the preseason and what we see is pretty meaningless it's probably worth highlighting somethings that at least appear exciting or concerning.
Topi Niemela's meatball up the middle early in the first period of his first preseason game is going to unfortunately stick with him for a while. For a lot of fans this is their first taste of Niemela and given that he's a bit smaller and had a strong offensive season a few years back he's going to be labelled as not knowing how to play defence. Nope. This was a bad play on his part and one that he couldn't make if he was trying to make a case for playing somewhere other than the Marlies to start the year, but in reality, he was AHL bound anyway, and this might be a good learning for him about how the NHL is a step up from the competition he's outplayed throughout his short career.
Easton Cowan has gone from "who?" to looking like he could challenge for a roster spot. That's really not the case but Easton played with the awareness that a lot of people believed the Leafs reached for him at the draft and was anxious to show everyone why. The excitement on his first goal seemed to come with a huge sigh of relief especially after it being clear he wanted to make his case to Leafs fans on his penalty shot. No matter what happens next, I'd imagine that Cowan is on the radar of a lot more Leafs fans today and he could very well see another preseason game or two before returning to London.
Joseph Woll looked rocky and in contrast Martin Jones looked okay. I'm not sure how much stock you can put in that (or any of this) but it serves as a reminder that the Leafs are gambling a little in net this year with their trio of netminders. Woll might have a looked a step behind the play, but he wasn't really helped by the team in front of him. Martin Jones benefited from a much more alert Leafs team late in the game and while his numbers looked good, he still seems like the smallest 6'4 goaltender in the world to me. For both of them it is going to be about getting their reps in and I don't think the plan has changed from the Samsonov/Woll tandem to start the year.
Noah Gregor did a lot to show that he is worthy of a contract. He definitely seems like the right type of player to have riding shotgun with David Kampf and he could bring great energy to that line. There's something to be said for standing out when you have the most to prove and lose and Gregor certainly needed to try harder than the effort that was seen from other Leafs. Whether that effort stands out as much in the regular season when everyone is playing with a greater sense of urgency might close the gap, but so far he's done what he should do to earn a contract.
At the same time before his late game penalty, it seemed like Joseph Blandisi was playing for an NHL contract too. He'll continue to be a standout on the Marlies in all likelihood, but if Toronto's injury situation is bad this season, I wonder if he's a player we see get offered an NHL deal down the line.
It's also safe to say that the debuts of John Klingberg and Ryan Reaves could have gone better. They weren't David Clarkson starting off his Leafs career with an eight game suspension bad, but John Klingberg reminded us that he is a defensive adventure and with Reaves even with a lineup full of AHLers he is going to be a limited use player at best. Both Klingberg and Reaves deserve the same benefit of patience when it comes to working their rust off that we'd afford Matthews and Marner who didn't look great in the first part of the game either but neither of those new acquisitions stood out in a positive way. You could lump Tyler Bertuzzi into that group as well although his play in the late game 6v4 to help tie the game is a reminder of what the Leafs want him to bring to the team.
The second game of the preseason, much like the first game of the preseason didn't do much to reassure Leafs fans about the new direction of the team. It's still a lot of trusting that the talent will be there when it matters and given that the Leafs have started slow before in the regular season it might be a matter of trusting that it will show up eventually.