The importance of situational context in the Leafs' playoff lines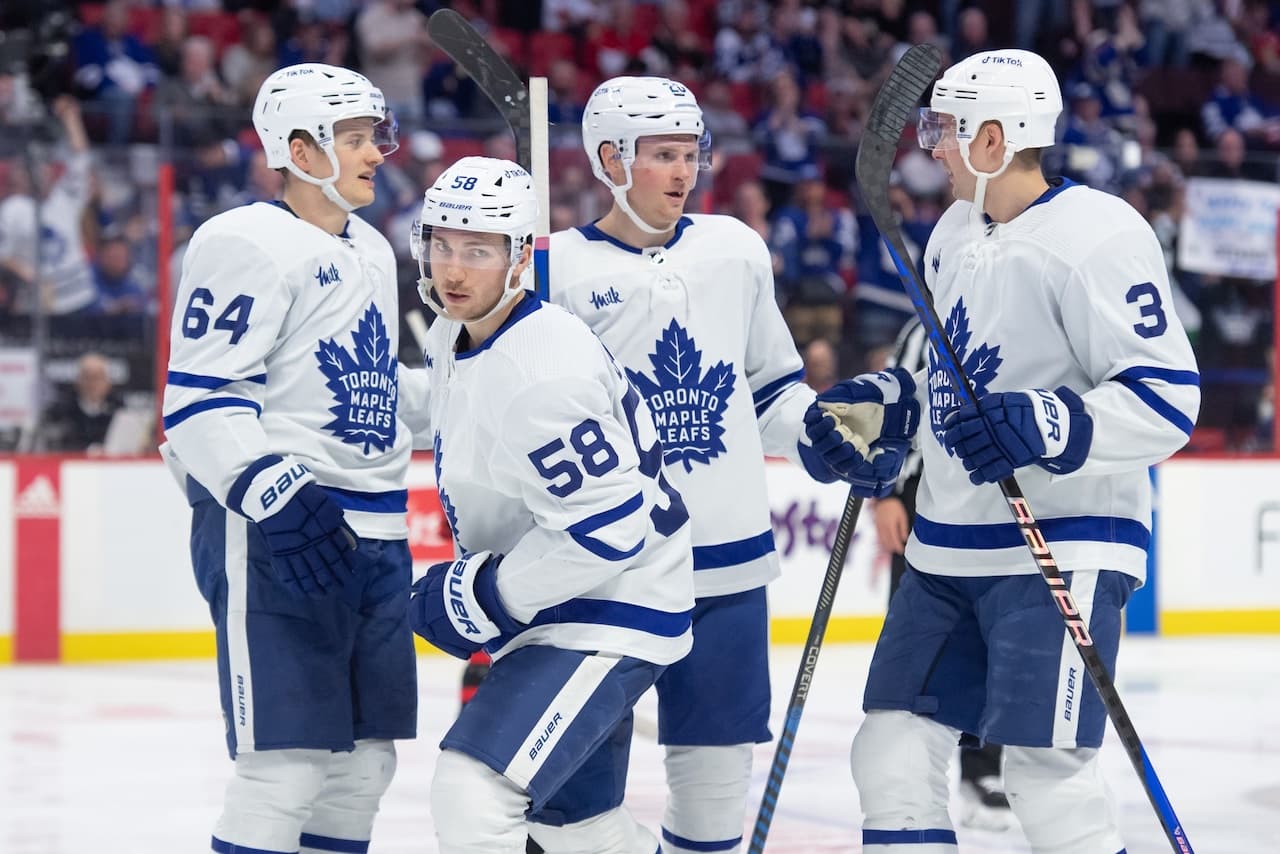 Photo credit:Marc DesRosiers-USA TODAY Sports
There is plenty of speculation about what the Leafs lines will look like heading into Game One against Tampa this postseason. Last year, after being fairly consistent in their deployment, Sheldon Keefe blew things up a little and stashed William Nylander on the third line to get at least one of his players into a more preferable matchup. It's hard to say that it didn't work, as Nylander was a point per game player with three goals in the seven game series, and Toronto took until the last possible second of the first round to be eliminated. It's entirely possible we see something like that again from Sheldon Keefe as we have to remember that this isn't about building the best lines to roll through an 82 game season. This is about building the best lines tailored to the Tampa Bay Lightning.
So let's start with considering what Tampa is when it comes to their lineup and interestingly enough it seems a lot more manageable than last season.
When looking at the forward group it's no longer three lines deep and a line of players that are a sour pain in the ass to line up against, it's now two lines of sour pains in the ass and two top-heavy lines.
On defense, the removal of Ryan McDonagh from the equation is a big positive for the Leafs as it now means that Hedman and Sergachev might be on the ice for the majority of the game, but there isn't that third strong option to cover off the rest. Those little gaps aren't a luxury the Leafs had last season and while they will still end up shooting on Vasilevskiy, the Lightning losing players like McDonagh on defense and Palat on forward certainly help make the Leafs favourites in the series for good reason.
So now with all that said, yeah, the Leafs' lines are going to look a little different, and while we've probably seen everyone play with their linemates at some point or another over the course of the past month, I would wager that what Sheldon Keefe is using against Tampa on Tuesday night is far from what we'll see in Game One. And that's just the core lines.
The main thing that I want to look at is the potential situational usage of lines and defensive pairings from the Leafs over the course of the series. While most of the personnel will likely remain the same home and away or whether the Leafs are looking for offense or defense, their deployment may differ slightly.
When it comes to who is playing the Leafs top 12 forwards below are likely a lock until someone gives them a reason to take them out. The defense is still a bit of a mystery, but the top six seem to be favoured, but both Gustafsson and Liljegren are unlikely to be completely absent from the series.
| | |
| --- | --- |
| F | D |
| Matthews | Brodie |
| Marner | McCabe |
| Nylander | Rielly |
| Tavares | Schenn |
| O'Reilly | Giordano |
| Jarnkrok | Holl |
| Bunting | Gustafsson |
| Kampf | Liljegren |
| Kerfoot | Timmins |
| Acciari | |
| Lafferty | |
| Aston-Reese | |
| Knies | |
| Simmonds | |
| Holmberg | |
It's probably for that reason that the home and away splits for defense might be a factor. Gustafsson and Liljegren might be able to add more of a puck moving element at home when they can be deployed in a more sheltered fashion and could be the choice of Sheldon Keefe if he is looking to increase his offense. Players like Justin Holl and Luke Schenn seem like if they aren't providing what is required of them in a shutdown or physical capacity, they could be at risk of losing their roster spots. Typically playoff lineups favour the shutdown options so there is no reason to believe that what Keefe has been showing as his defensive pairings will change, but Liljegren has done well against Tampa Bay in his career and Gustafsson remains an underrated option as well.
When it comes to road/home deployment for the forwards it will likely be the same 12 forwards unless someone is hurt or gives Keefe a reason to take them out. That said the Leafs might choose to go more top heavy at home and deploy Ryan O'Reilly in the top six when they have control over matchups and look to spread around the depth of talent more on the road creating three lines that Toronto can comfortably roll with the Leafs own sour pain in the ass line taking the ice the rest of the time.
If I had to guess the two versions of the Leafs lines would look something like this:
Home
Bunting – Matthews – Nylander
Tavares – O'Reilly – Marner
Kerfoot – Kampf – Jarnkrok
Aston-Reese – Acciari – Lafferty
Road
Bunting – Matthews – Marner
Jarnkrok – Tavares – Nylander
Kerfoot – O'Reilly – Lafferty
Aston-Reese – Kampf – Acciari
The importance of Ryan O'Reilly can't really be understated in the playoffs. Whether he's adding an additional offensive push or forward depth, if he's at his best the Leafs seem likely to have a good time. I wouldn't rule out O'Reilly being the go-to defensive zone faceoff guy if his line is on the ice or not and I wouldn't doubt that he will be the only player we see used situationally like that.
I don't think the Leafs will waste too many offensive zone faceoffs on the bottom six players and the freshest two of the core four forwards will probably see every offensive zone faceoff to not squander any opportunity to get the puck by Vasilevskiy.
The other aspects worth considering when it comes to the Leafs' lineup are the potential shadows and how to shorten the bench. We'll start with shadows first, and if I had to guess, Brodie and McCabe will be glued to Point and Kucherov. I'd assume the Leafs will want O'Reilly on the ice against them as much as possible as well.
Leafs players with over 100 minutes against Elite players (via Puck IQ):
Leafs players with over 100 minutes against "Gritty" players:
*For additional context, Ryan O'Reilly had the highest percentage of icetime against "Elite" players while on the Blues (39.1%)
When it comes to Stamkos it gets interesting. I'd presume that Giordano and Holl would be the best to take on his line, but I'm not sure whether we'd see a specific forward unit against them. By default, I'd assume that if Cirielli is centering Stamkos' line, the Lightning will be fighting to get that line out against Matthews, so perhaps it is best to steer into that and look to get Tavares & Co. some air. (This could also be why we're seeing Bunting and Jarnkrok with Matthews.)
As for the bench shorting, when the Leafs need a goal I'd suspect we'll see a lot less of Kampf, Aston-Reese, and Acciari. Similarly, when the Leafs are defending a lead we might see Tavares and Nylander deployed more creatively or the lines shuffled so that no one line has too much of an offensive or poor possession balance. You'd expect Matthews, O'Reilly, and Kampf to become the primary three centers with Kerfoot, Jarnkrok, and Marner supporting them.
| | | | |
| --- | --- | --- | --- |
| Situation/Score | GF% | CF% | xG% |
| All situations/Score | 55.69 | 51.25 | 54.58 |
| 5v5 All Scores | 56.51 | 51.33 | 53.73 |
| 5v5 Leading | 56.8 | 46.71 | 51.79 |
| 5v5 Trailing | 59.46 | 57.64 | 56.56 |
When it comes to the in-season track record for the Leafs, they've been able to stay in control of their leads (as long as they aren't heavily penalized) and claw back fairly well when trailing. If what has worked for them situationally in the regular season can translate to the postseason, once again they should be in good shape.