Is this the year for the Leafs to overpay, Sandin vs. Liljegren and a tip of the hat to a legend: Leaflets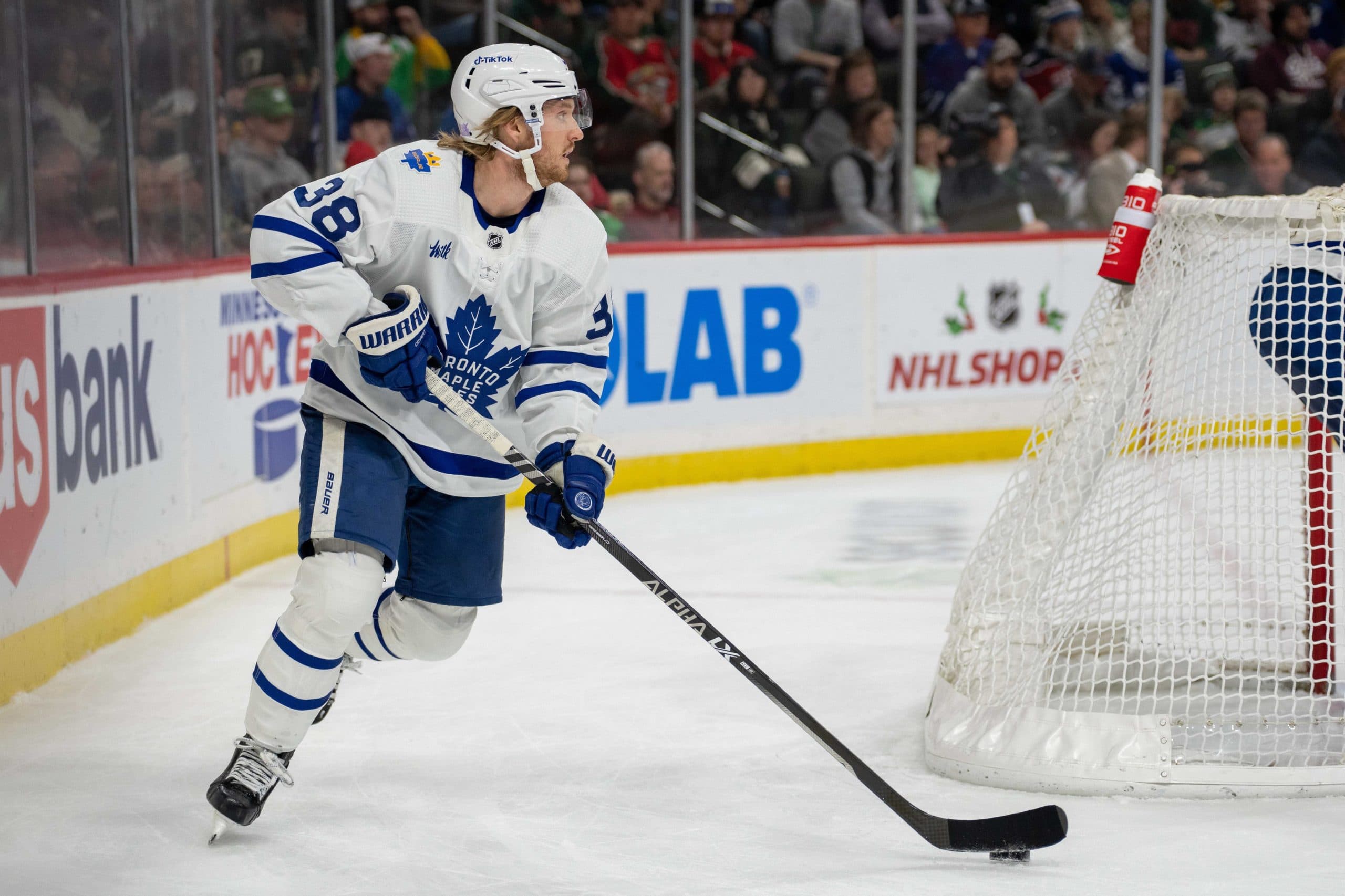 Photo credit:Matt Blewett-USA TODAY Sports
It's Saturday morning and we're hours away from the Leafs vs. Habs. It feels good. It feels like the these two teams are never good at the same time, but that also hasn't stopped the Habs from knocking off the Leafs before so it's not a game to be taken for granted. If the Leafs can beat up on just one lottery team, this is the one they should commit to.
Now here are the stray thoughts rattling around in my head…
It's time for the Leafs to go all-in (but in a smart way)
On the Leafs Morning Take yesterday, Nick Alberga was discussing possible Leafs trade targets with Frank Seravalli. One of the players that was swiftly dismissed in the conversation was Bo Horvat. Then not a minute later it was mentioned that Boston could be a possible landing spot for Horvat. The belief is that the price on Horvat is more than the Leafs are willing to pay, but at the same time, the Bruins would be willing to pay it. So let's break that down.
The Bruins find themselves in a situation where their prospect pool is even more drained than the Leafs. They have a very similar draft pick situation, and their salary cap situation is even more pressing as they will be dealing with an eight figure cap hit on Pastrnak and will still have to pay something to the heavily discounted Patrice Bergeron and David Krejci (assuming they don't retire). Jeremy Swayman won't be free either, and they only have 12 players presently on their roster under contract. Having $20M to address that when Pastrnak is eating up a lot of it makes things interesting.
Despite all that, there is talk that not only will the Bruins aggressively pursue Horvat for this season, but are likely to get him under contract for the next. That's an aggressive play and one that is putting a lot of trust in being able to figure out the rest later.
To some extent I find myself looking at the Leafs and wondering why they can't be like that? They could easily offer what other teams are willing to put up for Horvat? They certainly could use a skilled forward and with all due respect to Frank Seravalli, I don't see how having an additional center was ever a barrier.
What is also important that if things good for the Leafs this year, it's very likely the price paid was worth going on a run. A run can't be winning the first round and tapping out in the second, but Horvat could help with a legitimate run. If things go sideways for the Leafs this year, then you do need to have a more serious discussion about the future personnel of the Leafs team, and having Bo Horvat (and potentially signed) would give the Leafs a jump start on what comes next.
We'll call Horvat an example (feel free to consider Meier a target too). At the end of the day only one team is going to be able to acquire him. Might as well drive up the price by kicking tires.
Sandin vs. Liljegren who is more untouchable?
The answer should probably be that the Leafs should want to hang onto both of their young and steadily improving defensemen with $1.4M cap hits for this season and next, but I feel like if we are talking about being aggressive like mentioned in the section above, someone good is going to be made available. Do the Leafs see one of these players as the path to taking a significant step forward and can see Benn and Timmins as strong enough to fill in the whole created by their departure? That's what I struggle with.
When it comes to which player seems like the more untouchable of the two defensemen, I feel like the answer is a bit easier, but it's not the one that is seemingly cast as the more untouchable.
Sandin, either via the media or through the team itself seems to be regarded as the future of the Leafs defense and is destined to develop into a key all situations player. On the flip side of that, Liljegren seems to already be a few steps ahead in that regard, is slated into the top pairing tonight, and is the coveted right shot the Leafs are always looking for. By pretty much every angle it looks like Liljegren is the better current player and the more untouchable option.
This isn't a slight on Sandin, who has been solid this year and has shown signs of being ready for more responsibility. It's just Liljegren is further along and addresses a more pressing need. If the Leafs have to make this tough decision on who they'd move on from, I know who I'd part with but honestly, I still wouldn't feel great about it.
Some love for our friends at Pension Plan Puppets and the SBNation 
Yesterday was a tough day for the hockey community as Vox and by extension, the SBNation announced mass layoffs that appear to be ending their hockey coverage. I feel for all the writers and contributors over there who were already largely doing the work as a passion project and having the platform taken away is a cruel reality that even in its most cost-limited form, covering sports can be tough.
While I never wrote over at Pension Plan Puppets, I owe a lot to them. Julian, Chemmy, SkinnyFish, and their core group of contributors would regularly feature my YakovMironov Blogspot posts in their From the Branches dailies. Having my writing shared in the same space they were promoting Cox Bloc, General Borschevsky, Bloge Salming, Down Goes Brown, and other more talented writers gave me my voice when I was feeling very alone with no one talk hockey with.
Their comment section was THE place to talk about the Leafs before Twitter was a thing, and introduced me to many of the people I still regularly communicate with online. The content whether it was David Nonis or a Potato, or Chemmy's investigative journalism into where Kessel buys his hotdogs is some of the best content to come through the Leafs online community and it is still one of the places I start my daily hockey reading.
Not having a site like Pension Plan Puppets, or the many other unique SBNation hockey blogs is a loss for the sport and independent/objective coverage of hockey is taking a hit in the process.
At the time this site launched in many ways it was PPP 2 based on the familiar faces of Pension Plan Puppets launching the Leafs coverage on this network.  I hope we get to see the Pension Plan Puppets name live on in some capacity and we get a PPP 3.0 as well. If TLN can help provide a platform for anyone from SBNation looking for a place to cover hockey,
I encourage them to reach out to me.
We need more places to debate whether Joel Champagne should have been signed or not.
Long live Chaim Weisswasser. Barilkosphere forever.