It looks like 2022-23 will be the cap hell we've been promised for years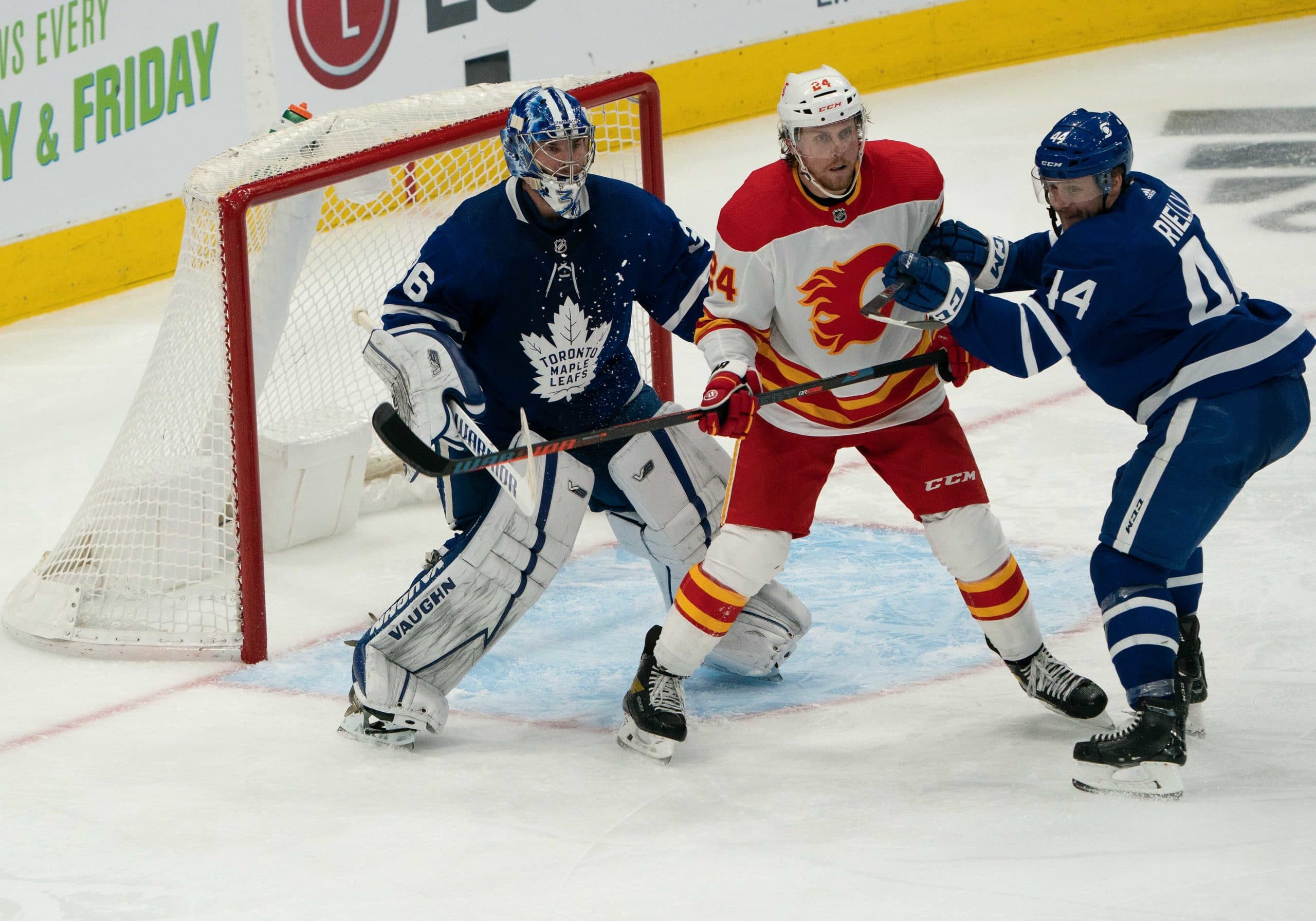 Photo credit:Nick Turchiaro-USA TODAY Sports
In this the magical time where newspapers and sports radio are freaking out about a USports goaltender sitting on the bench, and trying to manufacture salary cap concerns for this season, I feel like getting a jump start on their freakout for next season, where it looks like our long promised cap hell will actually come to fruition.
We've been through one of these before. Paying a first round pick to have Patrick Marleau's contract taken off the books, so the Leafs could turn around and throw a blank cheque at Mitch Marner certainly seems to fit with cap hell, but it also demonstrates that the Leafs have been able to wriggle their way out of bad situations as well, even if I'm not sure I'd use this as an example that left Leafs fans feeling particularly happy.
Toronto will have $67.8M committed to the salary cap for next season. If the cap stays flat (thankfully we're hearing it won't) that would leave Toronto with $13.7M to spend on filling a minimum of six roster spots. That leaves the with $2.28M for each spot available open. On the surface that doesn't seem to bad. It starts looking worse when you look at who the Leafs have listed as free agents.
Morgan Rielly, Jack Campbell, and Rasmus Sandin certainly don't seem like cheap options, even if Sandin returns on a bridge deal, those three players would all come in north of that $2.28M average, and that's not accounting for having a reserve player. Even if the cap goes up by $2M, that means Toronto is working with $2.61M per vacancy and that Rielly, Campbell, and Sandin will eat into a large chunk of that money.
We've discussed Rielly a lot on this site before, and we won't go back into him in detail here, but the reality is that a team friendly contract is a lot more than this team has to work with. Top pairing defensemen are typically being paid north of $9M, and the team friendly version of contracts are falling in the $8M range. The Leafs might gain a bit of leverage via John Klingberg's rumoured contract of 8 years, $62M-65M total, which could mean he's as cheap as $7.75M AAV. If the Leafs can get that for Rielly that's a best case scenario. We'll choose to believe in the best case scenario for the purpose of looking at the Leafs situation, and that would essentially leave the Leafs with $8M for 5 must fill spots on the roster, meaning Toronto can spend $1.6M per player.
Morgan Rielly's free agency gets the attention in Toronto, but it won't be long before attention swings to Jack Campbell. Cal Petersen's three-year, $15M extension in Los Angeles raises the bar if Campbell continues to carry the load.
The Cal Petersen contract is certainly a fair benchmark, and the Leafs have essentially established the floor for themselves with the Petr Mrazek contract. If Campbell is an equal participant in the tandem, Mrazek's contract seems plausible, but if Campbell does in fact establish himself as the starter, Petersen's contract might be more likely, and if Campbell continues to keep up the .923 Sv% he's enjoyed as a Leaf, Toronto could be begging for Campbell to take a $5M/yr deal.
For the purpose of being optimistic, we'll say Campbell takes the Mrazek deal, and leaves Toronto with about $4M to spend on 4 players, again this is without reserves. With a minimum contract of $775k next season, that leaves Toronto with the option for adding 5 minimum cap hits and carrying a reserve player.
Of course this is ignoring the fact that Sandin and Liljegren are free agents as well, best case scenario they take Holl and Dermott priced deals and leave Toronto with $500k and 2 to 3 roster spots to fill. Some key players that would still need replacing include Ondrej Kase, Jason Spezza, Pierre Engvall, and Ilya Mikheyev. At least Spezza won't cost much, and the others might leave, but Toronto has demonstrated an ability to find adequate replacements at affordable prices in free agency, not to mention we can play the wishful thinking game with Rodion Amirov and Nick Robertson.
So if the salary cap goes up by $2M, that still leaves the Leafs with a probable $2M deficit when it comes to filling their necessary contracts. That also assumes a lot of incredibly team friendly deals from Rielly, Campbell, Sandin, and Liljegren. It's entirely possible the Leafs could be looking at upwards of $4M more in potential salary committed, and that's assuming that the Leafs don't fall in love with Ondrej Kase and want to keep him too.
The Leafs do have options though. Letting Rielly walk certainly lets the Toronto afford almost anything else they want to do, but represents a significant downgrade in defense. The same is true of swapping out Campbell, if he performs well this year. If Campbell does establish himself as a true starter, it could be Mrazek who is shopped in favour of a cheaper option. Players like Alex Kerfoot, and Jake Muzzin could also be shopped, and as much as suggesting Muzzin being an option on the way out seems unlikely, age would be the influencing factor.
While the cap hell still seems manageable and honestly not all that hellish, it does represent a trend that has been continuing for a while with the Leafs, and that is losing worthwhile assets without the money available to replace them. Having players like Robertson and Amirov potentially able to step in, and having Liljegren and Sandin potentially return as established NHL players might be enough of a difference to improve the Leafs, but again all of this seems very wishful. Perhaps it's not so much cap hell as it is cap purgatory that the Leafs are experiencing, as the team doesn't seem to struggle with getting down to the number they need to be at, but are consistently blocked from improving the team.