It was always going to be like this, the Reaves sideshow, and Minten: Leaflets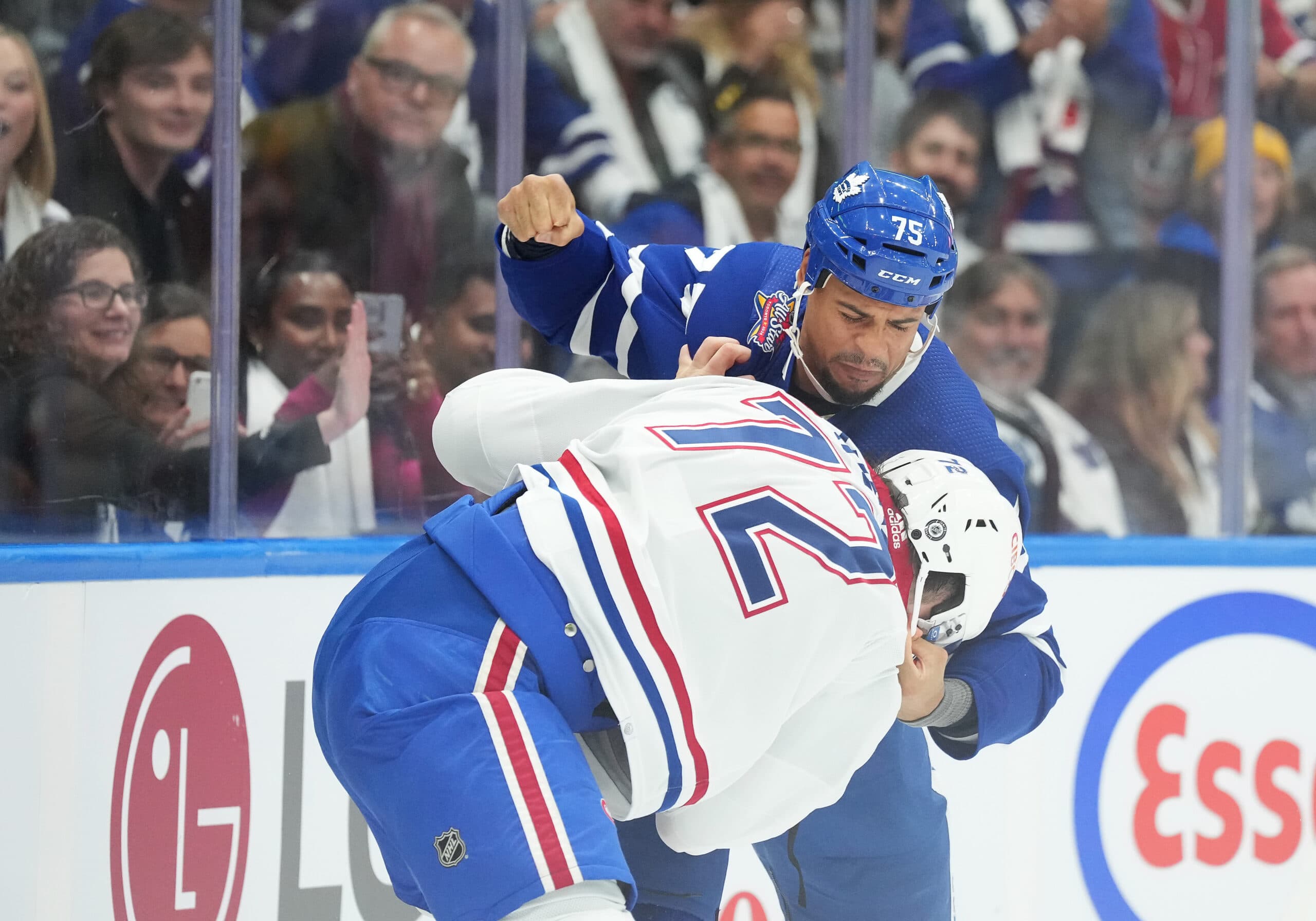 Photo credit:Nick Turchiaro-USA TODAY Sports
It's been a rocky start to the season for the Leafs. That Minnesota game sure was a lot of fun and it is nice to see the core offence still clicking, but to echo what Frank Corrado said on Leafs Morning Take on Friday, the Leafs are a flawed team. Whether those flaws can be addressed over an 82 game season is going to be the question but if the lesson was painfully clear from the past few seasons, high end offence can only get you so far. I'm not justifying panic after four games into a season, I'm justifying concern 271 games into Sheldon Keefe's time behind the Leafs bench.
A slow start was inevitable
The Leafs have a number of new faces and new-ish faces. Domi, Bertuzzi, Reaves, Minten, Gregor, Klingberg are brand spanking new to the Leafs. Jake McCabe, Matthew Knies, and Joseph Woll are still new-ish faces as well. Throw in a couple of new assistant coaches in Mike Van Ryn and Guy Boucher and their different approach to systems and there was going to be a learning curve. And you start putting new defensive systems in front of a goaltender and they are going to struggle for a bit too. We knew the first twenty games were going to be rocky and that's what we're being treated to.
That said there are some facts that we liked to ignore during the optimistic period of the offseason. The first is that not everyone the Leafs brought in are going to be a fit for the Leafs. Bertuzzi's injury issues might be too much, Klingberg might truly be washed, the Leafs might not have the right fit for Max Domi, and on a team that enjoys rolling four lines, Ryan Reaves might be too much of a liability.
There is also the very real possibility that with the number of potential changes that the Leafs might be facing that the best alternative might be to see if there is another coach out there who can do the job better than Sheldon Keefe.
Four games in seems too early to make any big decisions and there is a lot of hockey left for Toronto to play their way out of it.
If I'm going to drop a bit of optimism in on a slow start it is that it is probably a good thing for the Leafs to come at the season realizing how much they have to work on and that they aren't a team that can afford to take nights off.
Reaves vs. Perry
For a lot of people what Ryan Reaves is providing is exactly what they wanted. He's got a take no shit attitude and has gone right after one of the most hated players in Toronto in Corey Perry. Perry's history of timely production and dirty plays against the Leafs has cemented him in our heads and I'd be lying if I didn't acknowledge how incredibly effective he is at what he does.
Reaves chirping Perry and having an ongoing feud through the media this past week might be a welcome distraction from the Leafs slow start and might also feel like Toronto is developing a bit more of a "we won't get walked over" attitude.
The problem is that Corey Perry really did walk all over Toronto again. Perry scoring and causing chaos in the Blackhawks win over the Leafs is still a win for Perry even if Ryan Reaves doesn't want to let it go. Perry's career success really makes Ryan Reaves opinion of him seem about as meaningful as our opinions on Corey Perry and when Reaves' line has been one of the biggest disappointments for Toronto this season this whole act feels hollow to me.
I like Reaves, I don't like his contract, but I do want to see Reaves work. The thing is I want to see Reaves work on the ice. I don't know how much the Leafs were in the need of another big personality veteran and the fact that the long line of Marleau, Martin, Thornton, Spezza, Simmonds, Giordano, Foligno, O'Reilly, etc. didn't magically solve what is ailing the Leafs mentally probably means that Reaves wasn't going to be the answer either.
Time to return Minten
We've reached the Minten playing under 10 minutes a night phase of his trial with the Leafs and that probably means it is time to return him to the WHL. He's shown a lot of promise and maybe over an 82 game season he starts getting closer to where the Leafs need him to be as an NHL regular towards the end of the year.
Returning him to Kamloops is a commitment to wanting to get the best version of him and to keep him playing the minutes that the Leafs want him to be at throughout his career. There is a lot for him to experience in hockey still and he stands a great chance at making the World Junior roster as a start. I'm not sure that keeping Minten with the Leafs and having months of healthy scratches, eight minutes a night situations and more and more 4th line utilization is the best path forward when promising centres have been such a rarity for this organization.
That said, give him a good send off. Let him know when he's getting his last game and give him some linemates that will help him find the scoresheet. I'm sure heading back to juniors when he can take a 1st NHL goal puck with him would make it a lot easier on him.