It will be a different feel to the Marlies season, but there are important players to keep an eye on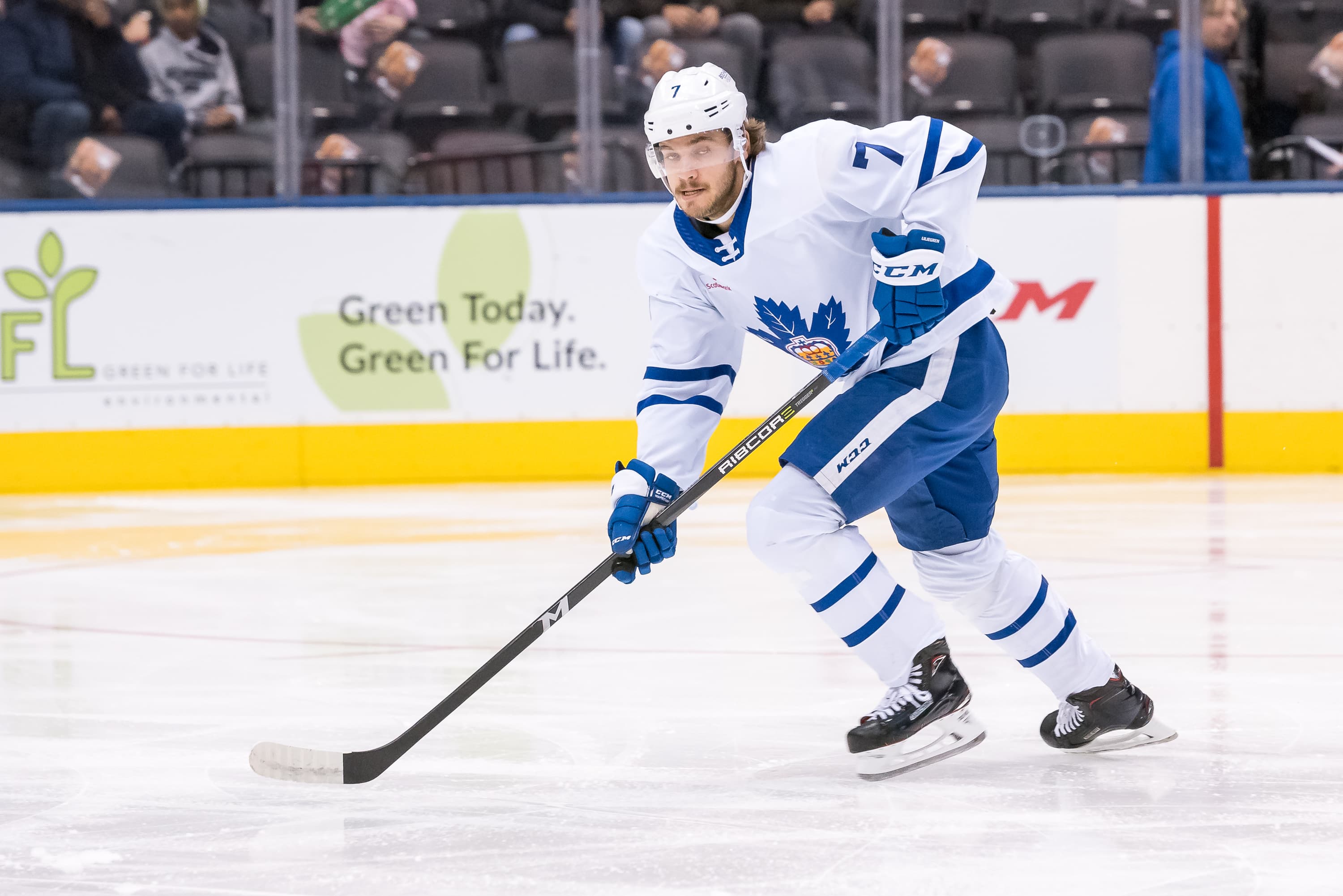 Photo credit:Christian Bonin
To call this season of the AHL bizarre would be an understatement. The majority of the league has started play, and we've been patiently waiting for the Canadian teams to begin playing. Initially those were Belleville, Winnipeg, Laval, and the Toronto Marlies, but the Stockton Heat will be playing out of Calgary this year, so now there are five.
To complicate things further, both the Marlies and Belleville weren't able to be scheduled for home games, as Ontario had restrictions in place preventing that until recently. The result of all these issues is a schedule being built that only takes teams through February, and the remaining schedule will come at a future date.
From Marlies.ca
There will be four game series with Manitoba and Stockton that will kick start the year, and involve a four game in five night stint followed by a travel day and then four games in six nights. That's a lot of hockey and fast, but it meets the needs of teams that have desperately been waiting to get their prospects some playing time.
Who to watch on the Marlies
Look no further than recent LeafsPR tweet to see the key names to keep an eye on for the Marlies…
Sandin and Robertson, along with Timothy Liljegren will be the headliners for this team this year, and they are the reason why the AHL season is so important. These kids need to play and not sit on a taxi squad in hopes of five minutes of a NHL game once a month.
Sandin and Liljegren will get to be twenty minute a night defensemen, and Robertson will get to be a top line winger against men, instead of swimming in the NHL or dominating in the Ontario Hockey League, which he would have been required to return to if they were playing. Throw in the bigger roles for players like Joey Anderson, Mac Hollowell, Joseph Duszak, and the likely rotation of Joseph Woll and Ian Scott flip flopping between the NHL taxi squad and the AHL starter role, the kids are going to play.
Beyond those names, serviceable players like Adam Brooks, Kenny Agostino, Teemu Kivihalme, Kristians Rubins, and Calle Rosen will also get their chance to be ready if the Leafs need to call upon them down the stretch, and in particular Brooks, Kivihalme, and Rubins could be a part of the future depth of the Leafs as well.
There has been plenty of discussion surrounding Sandin's lack of playing time but another top prospect and former first round pick, 

Timothy Liljegren

, is also coming up on an entire calendar year since his last real game. With a looming expansion draft, he could factor into the Leafs' plans as soon as next season and getting him back into regular game action will be imperative as he looks to prove himself capable of holding down an NHL job…
New Faces
From Kyle's tweet you can see that the forward group and backup goaltending situation for the Marlies is where the majority of the new faces exist. A number of recent graduations, expired contracts, and the impact of the taxi squad has created a chance for AHL contract players we've seen before in Justin Brazeau, Hudson Elyniuk, and Tyler Gaudet, but now also feature some newbies in Rourke Chartier, and Jeremy McKenna.
The interesting decision to bring in players like Pavel Gogolev, who was OHL bound and was written about by Earl Schwartz last week:
He was the only player on my list of 

Overage standouts in the 2020 Draft

 that didn't get selected, and briefly played in Sweden before signing his AHL contract with the Marlies.

If the highlights failed to make clear his biggest strength, he has an NHL level shot already. It is really difficult to compare to Matthews' shot, but Gogolev employs some of the same mechanics. He is keen to use the defender as a screen, load his stick for the shot, then curl and drag his release point closer to the feet. It's deceptive on two fronts, challenging the goaltender to see through the screen and disguising the angle the puck will come from.
Other draft eligibles like goaltender Tristian Lennox (although Lennox is no longer listed on the Marlies, so that plan might have been axed) and Cole Mackay will also be important players to watch this year, as the Marlies will certainly gear themselves heavily towards development and prospects over putting together a Calder Cup run. For some of the OHL players that have been signed to either AHL or tryout deals, this will be an important part of the making a case for being selected and gives them an advantage over their non-playing peers. As for the Leafs, well the advantage is the first hand knowledge the organization will have of these prospects, and know if they are an organizational fit.
More on that can be found in the post on the (presumed) Lennox signing:
What next?
Well, considering that a lot of these players haven't played in a game since last season, haven't had training camp opportunities, and no preseason, an intense week of four games in five nights is going to be pretty wild. AHL teams are going to need to lean heavily into the fact that there is no ECHL season and rely on that depth to keep fresh legs out there and establish their best AHL roster in short order.
As for players like Sandin, Robertson, Brooks, Anderson, etc. this is a great chance to build on their taste of the NHL this year with significant roles in the AHL. Robertson in particular seems destined for a swift recall.
The Marlies are also going to be a team that leans heavily on the performance of its defense. Sandin, Liljegren, Rosen, Kivihalme, Duszak, Hollowell, Rubins, Warofsky, and the possible return of Marincin at some point would lead me to believe they are better situated here than in net, which will be relying on excited youth getting their shot in net, and the forward group that seems to be relying on a top line and interesting question marks. That's not a bad thing considering the Leafs need stength from their blueline, and want Nick Robertson to get experience being the man.
While we only have the first eight games in February on the schedule, I'd imagine we'll hear about what's going on in March and April soon. And it remains to be seen what happens after that.
A play it by ear AHL season isn't doing anyone too many favours, but unquestionably it beats not having a season at all.