Sandin's injury provides Holl one last chance to show he belongs on the Leafs' blueline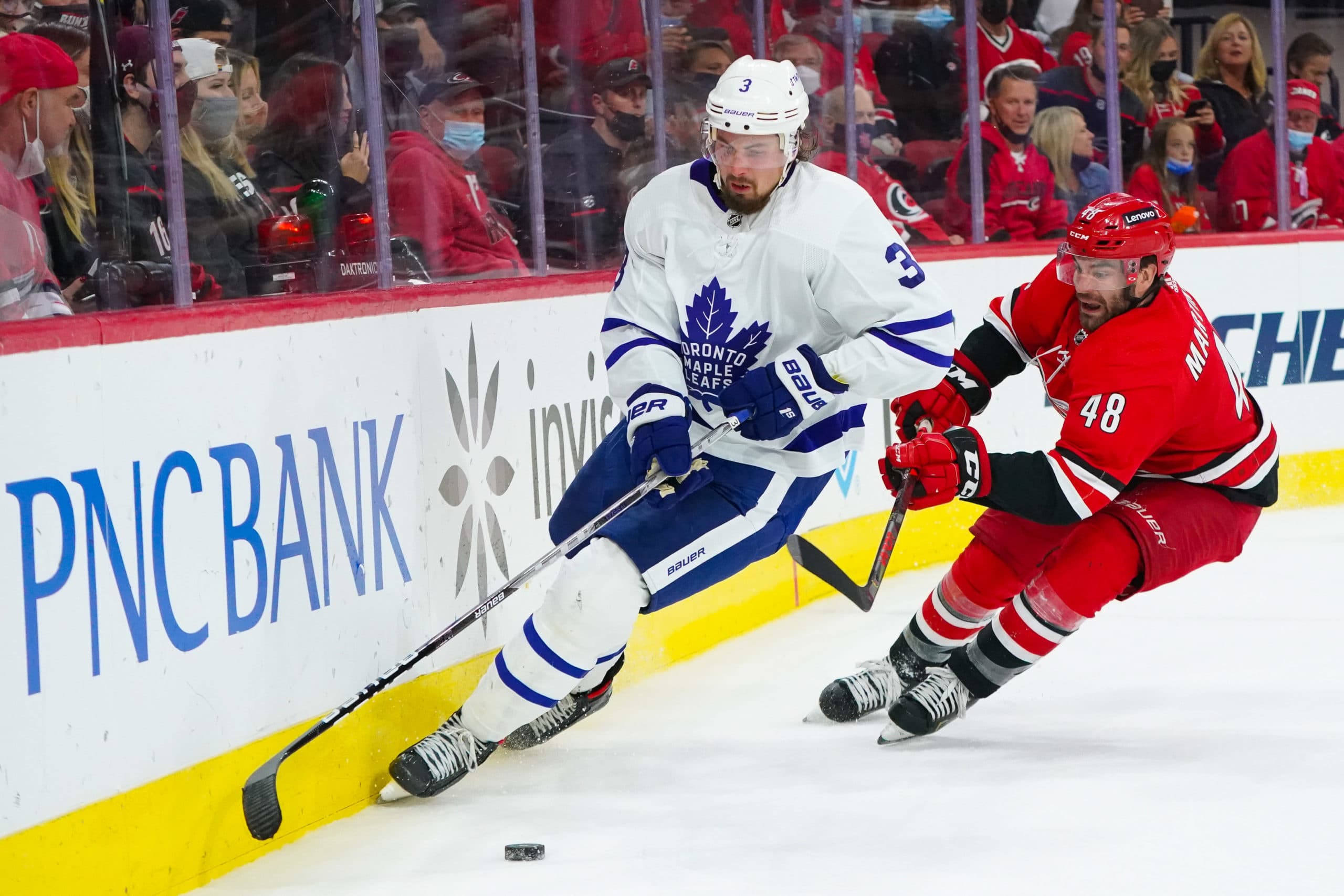 Photo credit:James Guillory-USA TODAY Sports
When I sat down to write about the underwhelming year from Justin Holl on Sunday afternoon, I certainly didn't anticipate that we could very well be looking at the end of Rasmus Sandin for the season. That certainly fell into the less than ideal category and one that runs counter to the premise of this post which about the need to move on from Justin Holl. Luckily for the purpose of not completely trashing the post and more importantly Rasmus Sandin's health, it looks like it will only be a two to three week window that Sandin will be out. This new scenario really fits with a lot of the recent articles that about the Holl trade speculation that caution against giving up defensive depth. While the situation has changed, Holl's performance still leaves a lot to be desired, so while I might have initially been calling for it being time to move on from Holl, instead this seems like chance to turn things around.
A few years back the Leafs took a chance on a former second round pick whose career had sent him on a path to the ECHL.
Things went well on the Marlies, he earned a NHL contract. He earned a late season call up, he didn't disappoint. And after suffering through a year of essentially being a healthy scratch Justin Holl found his home on the Leafs second pairing with Jake Muzzin and the two of them provided the Leafs with some semblance of a shutdown defensive unit.
This season we are dealing with a slightly different reality. The first is that Jake Muzzin has had a number of injuries and is entering the twilight of his playing career. He needs a partner that can be carrying him to a certain extent, not the other way around.
The second is that whether it's due to illness, injury, or other, Holl has not lived up to what he has been in the past, let alone found the next gear required to justify him playing a top four role.
It's not just me saying it, or your eyes showing you it, it's in the numbers. Justin Holl hasn't been good.
While Holl's role doesn't lend itself to having strong numbers there is still no shortage of plays that go beyond bad bounces that support Holl not being the player he used to.
The sentiments towards Justin heading into this season weren't ideal even before camp opened. After the Leafs made a move to acquire Jared McCann there was a growing belief that Toronto would be better off protecting McCann and Kerfoot and instead letting the Kraken have their choice of Holl or Dermott, you know, the two players being dangled by the Leafs in the trade market as you read this. The decision many fans called for certainly seems to be proven right even if the defensive free agent market over the summer raised some doubt and there was a brief period where Dubas' decision seemed correct.
Despite the outcome, Dubas likely did make the right call. Protecting Holl was keeping his top four intact, and after some of the recent seasons of Leafs defence, that was a justifiable move. The prices being offered to defensemen like Barrie and Ceci, who Toronto had cast off certainly made it seem that replacing Holl would be a nightmare, and then there's the fact that Sandin, Liljegren, and to some extent Dermott were going to be largely unknowns for Toronto and at $2M, Holl was a good safety net.
It seemed like a good idea but the safety net has some pretty big holes in it and anecdotally playing well against Connor McDavid doesn't make much of a case for continuing down the Holl path.
There are a few options the Leafs have with Holl other than continuing to count him with Muzzin. The first is seeing if he can be a third pairing guy. A sheltered role with Dermott could be a better fit. He's done alright with Dermott in the past and Liljegren already was given the option to spend some time with Muzzin. That might be the best play while Sandin is out even if there might be some patience required as Liljegren handles an elevated role.
The next option would see Holl as the depth guy. The Leafs aren't really a team that can afford to have $2M sitting in their press box, but no team can really risk blowing up any semblance of defensive depth either. Where this previously would have meant running with Sandin, Liljegren, and Dermott as the NHL regulars. This new philosophy would be an attempt to see what the Leafs have with Kristians Rubins.
Finally, there's the trade option. There seems to be interest. I'm willing to bet there are plenty of teams that see the value in a right shooting defender who can play in the top four in a complimentary capacity, all for the low one time cost of $2M and having that locked in for another season as well. The Leafs are certainly one of the teams that seemingly could use that, but unfortunately Holl isn't it here. The Sandin situation is likely putting this idea on hold temporarily as Toronto shooting itself in the foot for a mid round draft pick doesn't make a ton of sense, but if salary needs to be moved out in order for the Leafs to do what they want or need to do, Holl's name will still be at the top of the list.
These might seem like harsh options with Holl, but reality is the course has been run here. And after turning around Holl's career and giving him a chance for success, Toronto should feel fine about being ready to move on. Holl turns 30 next month and not too many defenseman have their best days after that mark. Plus Toronto has the opportunity to start the Holl cycle all over again with Kristians Rubins, Toronto's next great ECHL to NHL story.
I very much was a fan of Holl from his first day in the organization and have been pleased with his time with the Leafs. Seeing him and Muzzin in All or Nothing also very much had me wanting to believe that this pairing was going to be a positive for the Leafs, but the reality is that is no longer true. Holl isn't washed, a term I've come to increasingly hate, but has likely run his course as a Maple Leaf and Toronto would be best to see if they can move him to benefit the Leafs through increased opportunities for Liljegren and Sandin (once healthy), and by creating the space they need to bring Mikheyev back into the lineup. As much as reducing depth seems like it has the potential to bite the Leafs in the ass, playing Holl in the top four is already doing a pretty good job with the ass biting.