It's in the Leafs best interest to find a fit for Nick Ritchie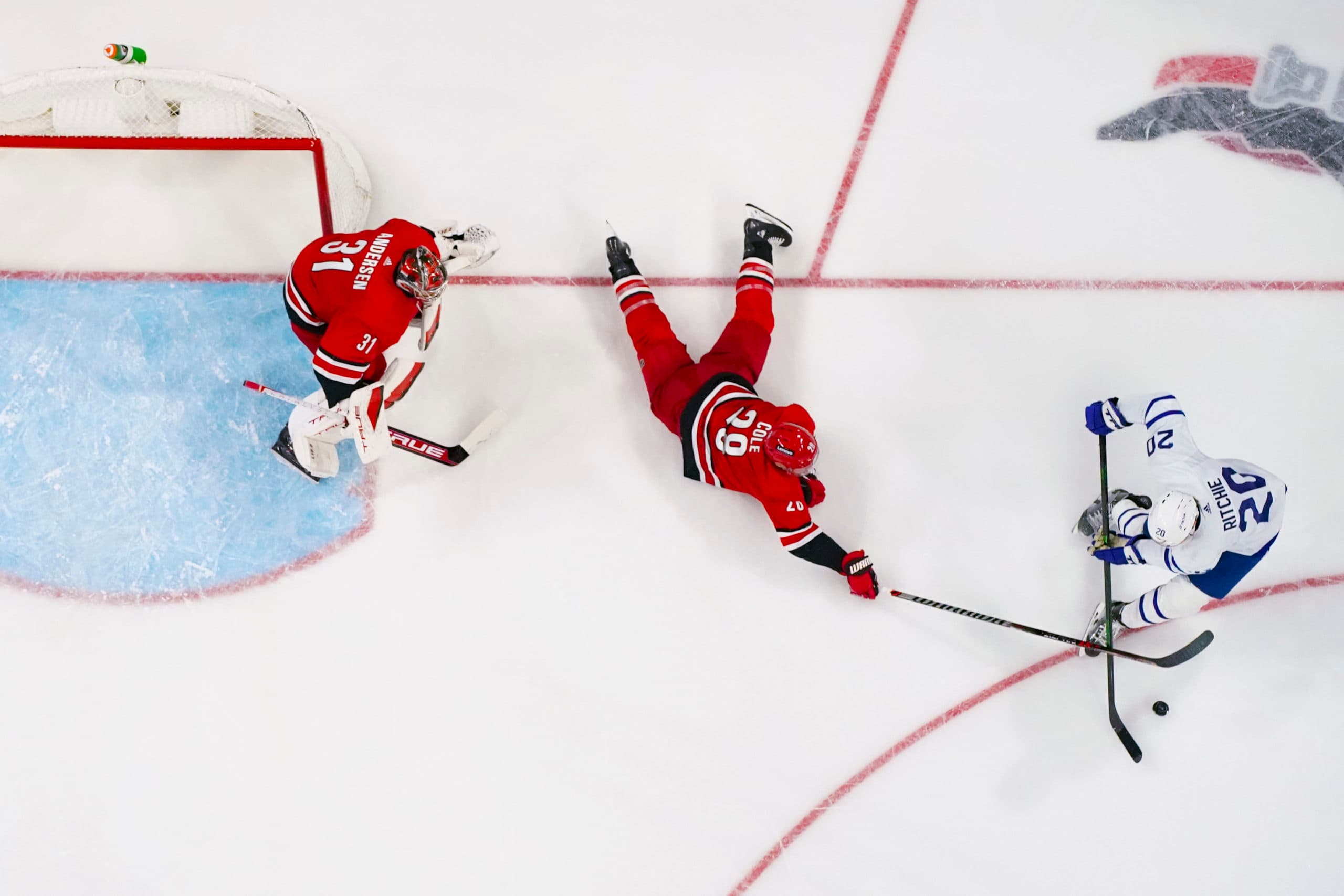 Photo credit:James Guillory-USA TODAY Sports
The scoresheet evidence that we have that Nick Ritchie is a Leaf is limited to one assist so far. A secondary assist on a Michael Bunting powerplay goal. That probably serves as another interesting tidbit in the summary of Ritchie's struggles, and that's despite his inability to produce offence he's still cemented to the second powerplay unit. At 5v5, Ritchie has only been on the ice for one goal for and presently sits at a 16.67% GF%. That is unfortunate to say the least, and he's presently sitting at 94.4 PDO.
At least there seems to be some acknowledgement from both the Leafs and Ritchie that so far things haven't gone well… (
via Mark Masters of TSN
)
"Just getting used to playing with different guys," Ritchie said of the challenge. "There's been some chances. I made a few plays that could've went in. Just trying to get around the net more and hopefully I can do that in the next few games."
…
"He has done a lot of good things that have gone unnoticed," Keefe stressed. "I thought, like a lot of our players, last night was not a good day for him. We expect a lot more and we need to get a lot more out of him. Part of that is on him and part of that is on us to help him get there."
I think what both Ritchie and Keefe have stated ring true of what needs to be sorted out when it comes to Ritchie. Ritchie is still finding his footing with the Leafs and working with a number of different players, none of whom have really played with a player like Ritchie during their time with the Leafs and to Keefe's point of part of it being on the Leafs to get him there fits with the fact that the Leafs don't have a spot for a power forward in the style that has been successful for them the past few seasons. Perhaps the best utilization of a power forward on the Leafs would be Wayne Simmonds early in the 2020-21 season before his wrist injury when he was a solid contributor on the Tavares line.
When it comes to looking at who the Leafs have tried to get Ritchie to click with it's probably more important to look at who Ritchie hasn't had much of an opportunity to work with. Ritchie has rarely played with any of Kerfoot, Nylander, and Bunting. The players on the list are intriguing because Kerfoot plays a style similar to frequent Boston linemate Charlie Coyle, and William Nylander working with Ritchie on a line with Tavares and Ritchie might also provide the necessary play driving element that was missing in the early days of the season.
There are a few truths that need to be considered when it comes to Ritchie:
The physical elements of Ritchie's game were a perceived need by many inside and outside the organization. And while the numbers on Ritchie and the sheltering of his usage are underwhelming, the fact that Ritchie presently leads the Leafs in hits while averaging 12 minutes a night is Ritchie meeting one of the most basic needs of the Leafs. The fact that Ritchie had 15 hits in his first 4 games, and that's dropped off to 14 hits in his last nine games might be even more troubling for the Leafs than his lack of offensive output. Ritchie, like SImmonds in the previous season, is an attempt to find an affordable power forward, and the Leafs could use that style of play.
Ritchie has a $2.5M commitment this season and next. That's not cheap by Toronto supporting cast prices and at $2.5M they need him to work out and work out better than in a fourth line situation. While I can appreciate there will be a point when we're talking about a sunk cost with Ritchie, but right now the Leafs are still very much in the early days of Ritchie and finding a fit is still a thing that can happen. He doesn't seem to be a top line player as he can't keep up. He doesn't seem to be a fourth line player, as his linemates don't seem to provide him with what he needs to be successful. Hopefully the truth lies in the middle six and the competition that goes along with that.
Ritchie won't get better by sending him to the press box. He doesn't seem to have a lot going right for him at the moment, and while he's not Mitch Marner, perhaps the best approach is to allow him to play his way out of his funk as Marner did.
The thing with Ritchie as well is that if you don't buy in to the notion that the Leafs need to player a tougher, gritter game the idea of acquiring Ritchie, playing Ritchie, etc is not going to sit right with you. It becomes easier to look at him as a player that didn't work on the 1st line, isn't working on the 4th line, and doesn't have the resume that warrants a better opportunity, and for that reason I can fully appreciate the sunk cost fallacy argument, even if it is premature.
Ritchie needs to be better and thankfully the Leafs and Ritchie are acknowledging that. The good news is that it's game 13 and there is plenty of time to explore what Ritchie is or isn't capable of for the Leafs.