It's looking like the last chance for the Leafs to try to fleece Jim Benning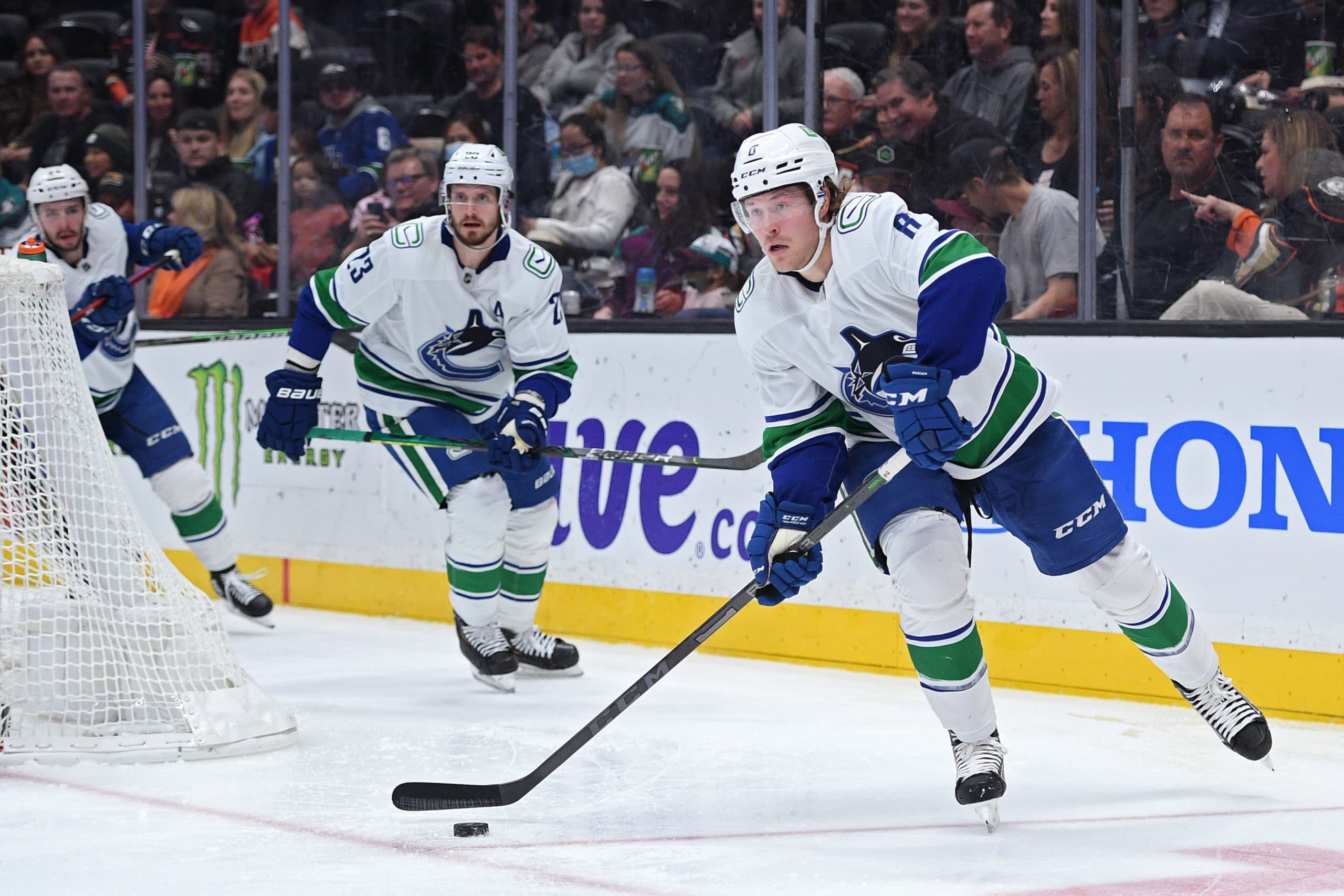 Photo credit:Orlando Ramirez-USA TODAY Sports
Opportunities like having Jim Benning as a rival GM come along…well…fairly frequently. The NHL doesn't have the best track record for housing competent GMs as everything in the Leafs history between the first go of Cliff Fletcher and the arrival of Lou Lamoriello proves (to avoid arguments I'm giving Lou a passing grade here.) Still, Jim Benning seems to especially struggle in his role and has for a while, and shockingly it finally seems like he's down to making one or two final moves to save his job otherwise he'll be refocusing his efforts on applying for the Chicago or Anaheim vacancies soon enough. That one last deal is one that the Leafs should be trying to pursue, as it catches Vancouver in a very vulnerable spot.
While everything about Vancouver's situation speaks to them needing to regroup, identify who their core is, and prepare for getting on track a year or two down the road, that is in no way the case if you are Jim Benning. Success now is what is required to save his job and you have to hope he'll steer into that. Vancouver has managed to back themselves into a situation where they are tighter to the cap than the Leafs with absolutely nothing to show for it. If they are going to get back on track they are going to need new blood, and perhaps deal some higher cap hits that they'd normally want to keep, but desperately need to shuffle the deck in hope of something clicking.
From a Leafs perspective that sounds like Vancouver could be an ideal landing spot for players like Holl, Dermott, Engvall, Ritchie, and Kerfoot (who has actually been playing very well), and a chance for the Leafs to reach out what their return is possibly by including a good on paper prospect the organization isn't overly attached to as the carrot.
For the Canucks part in this, as they function in desperation mode, and in the post Benning days that shifts to more of a seller mode, they do have pieces Toronto should be interested in.
@Tyler Motte is a very capable checking forward for the bottom six. You might already say the Leafs have that in Simmonds, Clifford, Bunting, Kampf, and Kase, but priced at $1.25M Motte certainly allows the Leafs to add to that tough to play against, while still playing well angle they are going for. With a contract that is identical to Pierre Engvall's, that could be a fresh face move the Canucks would jump on.
There is also the fact that as much as the Canucks have depleted their cap space for this season, they haven't left themselves in any better of a situation for next year, and that's where the Leafs could potentially show some interest in someone like @Brock Boeser. Boeser is a very capable winger who could be an excellent producer alongside Auston Matthews, but given the dysfunction of the Canucks has been reduced to producing Michael Bunting type numbers. It seems very likely that someone is going to pry Boeser out of Vancouver this season, why not let Toronto try to be that team?
Beyond Boeser and Motte, there's JT Miller, who at a point per game and a contract at $5.25M is probably the best thing associated with the Benning era. It may be hard to envision where he's a fit for the Leafs, and whomever acquires him isn't going to get away without giving up at least something resembling a usable asset, but there is still a chance to capitalize off of Benning needing to do something now, and if Benning has an archetype for someone who he thinks will jumpstart Horvat or Pettersson, you try to capitalize on that.
Other than Benning's moveable assets there is always the opportunity to throw Benning a cinder block disguised as a lifeline, and if he's able to eat salary on some of his mistake contracts like the Pearson or Dickinson deal there is a possibility they can add value too.
Jim Benning is desperate, the Canucks are looking lottery bound, and the Leafs need to find a way to add assets in a manner that isn't just shuffling deck chairs. Trying to exploit Benning in his final days seems like it is worth exploring.
So far this year there hasn't been anything that's reached the public about the Canucks and Leafs potentially pursuing a deal together, but we can certainly see where Benning has gone to the Leafs before looking for an opportunity to get an edge as he's added Josh Leivo, Travis Boyd, Jimmy Vesey, and Nic Petan in recent years. The Leafs on the other hand have Manny Malhotra, a former Canucks Assistant Coach and Laurence Gilman, a former Canucks Assistant GM who are familiar with the organization and some of the personnel.
With one of the biggest needs for the Canucks being defense and that being something the Leafs are openly shopping, it will be interesting to see if Dubas will call Benning before it is too late.
Looking to up your fantasy hockey game? DailyFaceoff has the tools you need for both daily and season-long fantasy leagues, including a lineup optimizer, daily projections, and a whole lot more. 
Sign up for the DailyFaceoff tools here.