It's only been four games so let's cut Nick Ritchie some slack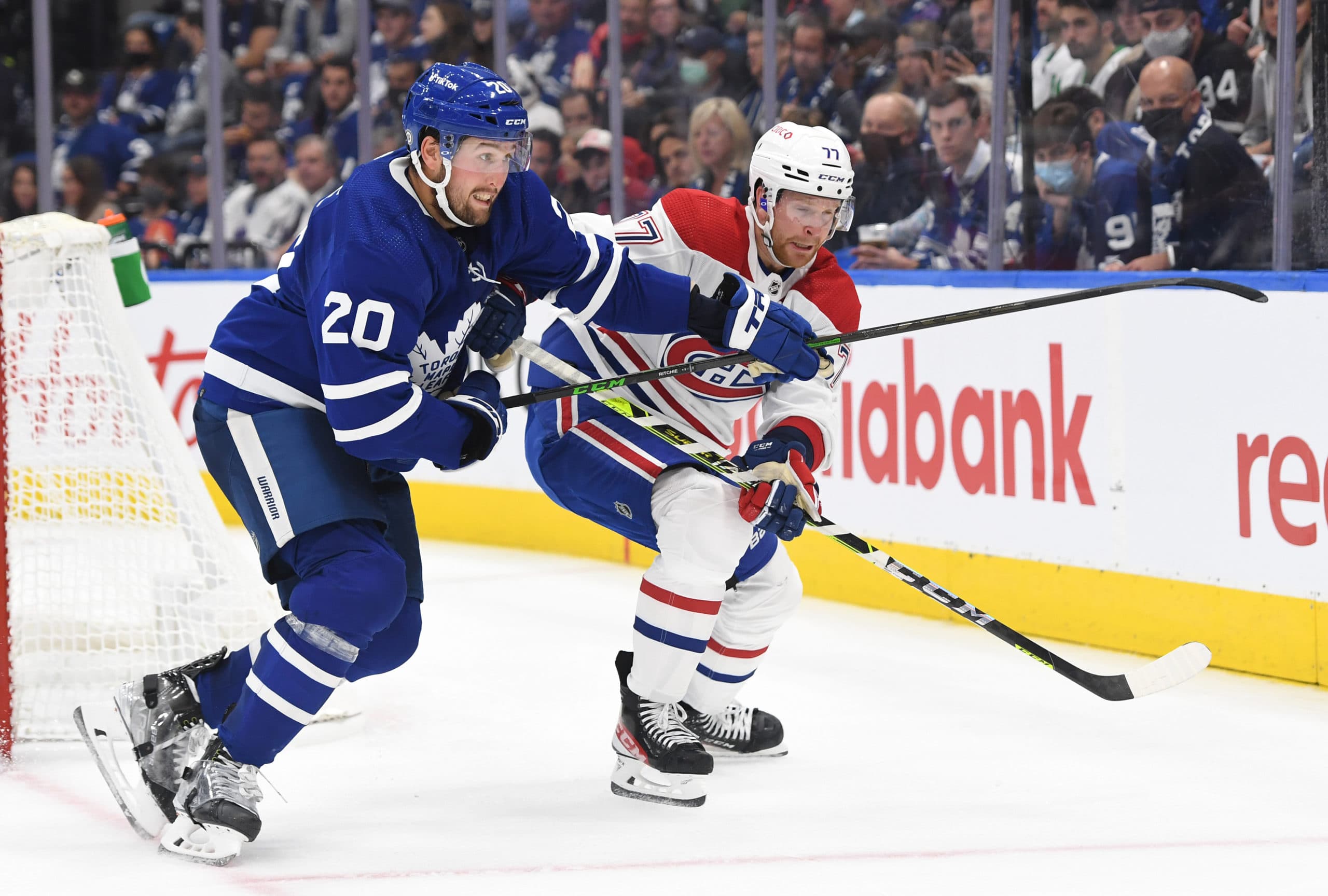 Photo credit:Dan Hamilton-USA TODAY Sports
One thing I'd never want to do is take away one of the most fun elements of sports and that is overreacting to things in the moment. And last night while Auston Matthews was buzzing in his return it certainly was noticeable that Nick Ritchie didn't really seem to have an idea of how to play with a center like Matthews. I think a big part of that was because last night was the first night that Nick Ritchie had the opportunity to play with Matthews. Or really even Tavares for that matter. It's going to take some time, and putting it together in four games might be a little much.
To understand why Ritchie might be struggling it's worth looking at who his most common centers were at his last two NHL stops. In Boston Ritchie was primarily playing with David Krejci, much more of a pass first center, and in Anaheim he was playing with Adam Henrique, who was a bit more of a balanced shooter/playmaker center, but on the same skill level as the previously mentioned centers. After Krejci, Coyle was the next most common center for Ritchie, and really it's no surprise that Boston wasn't breaking up the Pastrnak-Bergeron-Marchand line to get Ritchie some time up there, but it's worth noting that after one game with Matthews, Ritchie has already played only six minutes less with Matthews than he has played with Patrice Bergeron in 5v5 situations. Nick Ritchie has always been a middle six winger, or in during his time in Anaheim a first line winger on a lottery team, but none of that aligns with taking regular shifts with one of the best shooting centers in the league, both from a linemate skill level and the fact that Auston's game is very different from that of a playmaker.
So, Ritchie looking out of place might be expected at this point. The good news is that it didn't seem to slow Auston down, and arguably in Saturday's night game we saw plenty of chances from Tavares as well with Ritchie on the ice. I don't think that anyone would say that there isn't room for improvement in Ritchie's game, but a little patience for him at this point wouldn't be a bad thing.
Last season we saw the Leafs attempt to force Wayne Simmonds as a top six winger as well, and admittedly it went better in the beginning before Simmonds' injury. The fact that the Leafs are attempting to include some size in the top six and experiment with what they can do on the left side of the ice is exactly what we saw last season as Joe Thornton and Wayne Simmonds started on the left side allowing Zach Hyman to start the year further down the lineup. To some extent this feels like what we could be seeing again this year with there being some potential for Kase or Kerfoot to find themselves moving up if Ritchie doesn't pan out.
There's also the fact that Ritchie is doing the thing the Leafs want from him the most and that's hitting. Through four games Ritchie presently sits at 15 hits. That's good enough for a 6 hit lead over Morgan Rielly, who is presently sitting second on the Leafs in that category. If the assumption is that Ritchie is creating space for players like Matthews and Marner out there it's entirely possible the line will stay intact.
Outside of a disastrous game in Ottawa for Ritchie and his line, his on ice numbers have been solid. 3 out of 4 games have seen his CF% at 59% or better, and 3 out of 4 games have seen his xG% 56% or better. No one is going to claim that Ritchie is carrying those lines, but he isn't dragging them down so much that it's time to move on the next LWer either.
The other thing to remember with Ritchie is that his failure to make it work on the Leafs top line isn't necessarily his failure as a player, and it's very likely that he could find a place further down the lineup for Toronto. It seems unlikely that Toronto is ready to walk away from one of their few forwards willing to play the body and it's entirely possible that Ritchie is better suited for third line responsibilities and players like Bunting and Kerfoot taking on the top six forward responsibilities. We are still very early in what is soon going to feel like a very long season.
Interestingly enough, Ritchie had a rather slow start to his time in Boston as well, as he only scored in one of his first seven regular season games there, and again only picked up 1 point in the following 8 playoff games that he played before putting together a solid follow up year last season with the Bruins. Perhaps power forwards need to find their fit, and since the Leafs haven't really had one to work with in recent years the deployment and coaching of Ritchie is something that Keefe needs to figure out as much as Ritchie needs to find his game.
The fact that the Leafs have Matthews back and with Toronto not playing again until Friday seems like a fortunate opportunity to start getting the first line in order.