It's slim pickings if the Leafs are looking for goaltending help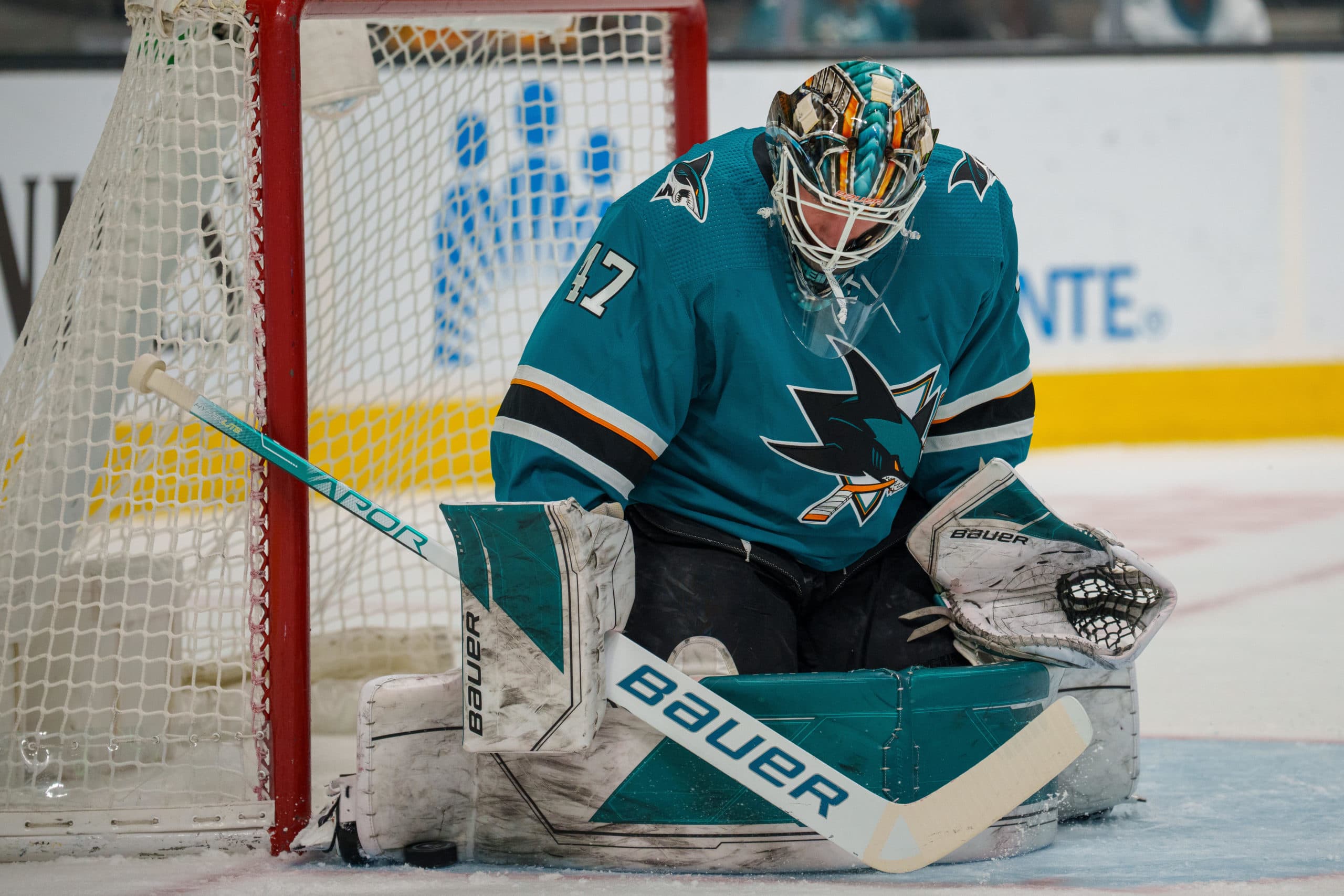 Photo credit:Neville E. Guard-USA TODAY Sports
It would probably be safe to say that any exploration of trade deadline goaltending targets might as well just say Marc-Andre Fleury or bust. If you are looking for certainty in net, he's the closest thing to that, and even Fleury isn't a guarantee. It's just after Fleury there's a huge drop-off to what is available, and honestly, I don't know what you'd expect in that situation. Why would even a lottery-bound team walk away from good goaltending? If you've got good goaltending there's a perfectly good chance you won't be a lottery team forever. Case and point might be what Carey Price was able to accomplish with very little in front of him last year. As painful as it is at times to acknowledge, the goaltender makes a difference, and right now the Leafs have a reason to be concerned about theirs.
Now, so much of goaltending is about being hot at the right time, and that's where before looking at other goaltending options it might make sense to consider what the Leafs have in house. Campbell and Mrazek both have a recent history of some very hot stretches. And with two potential goaltenders to cross your fingers on and hope for the best, the Leafs might be as good as they can get instead of chancing it on unknowns.
There's not much fun in arguing a stay the course approach, especially at the trade deadline. There's no doubt that a successful upgrade in goaltending can make a bigger difference than upgrades elsewhere on the team, but the price could also be steeper. That's why I'm going to focus on five very different options for you all to hate.
The Vezina Winner: Marc-Andre Fleury
This is the idea that most people are on board with. And there is no shortage of flaws when it comes to putting eggs in this basket. Marc-Andre Fleury has a $7M cap hit for this season, and the Blackhawks are in a bit of a cap pickle. They'll retain on Fleury, but can't really take much in the way of money back if they do that. There's also the fact that Fleury has a modified no trade clause, and it's a perfectly reasonable thing to assume that Toronto might be on that list. There's also the fact that he's a 37 year old rental. He can help for this year, but it seems unlikely that when he can name his next destination that it will be Toronto, and even if it was how many years before Toronto is again dealing with needing a goaltender. He's the definition of a short-term option, and not surprisingly his numbers haven't been great in Chicago so maybe that's some additional cold water to throw on this idea. Considering his numbers are near the worst among starters for goals saved above expected, and his high danger save percentage is in the Mrazek and Campbell ballpark, it's safe to say he isn't the surefire answer.
The Mystery Box: Alexandar Georgiev
If the Leafs were looking at Ben Chiarot because of how inexplicably bad the Leafs play against him, perhaps they should also consider a netminder with a history of goalie-ing them.
Georgiev isn't having a great year, though it's possible it's because he's not getting much of a workload, it's also possible he had a really exciting entrance to the NHL as a kid and the past three years of declining results are not because he's unhappy, but because the Rangers don't have any interest in playing him.
Comparing Georgiev to Shesterkin isn't fair, but considering how much worse the numbers are for Georgiev playing behind the same team, he's not a lock for being an upgrade either, and it's entirely possible the Rangers still have a ridiculous price tag attached to him.
The Rivals: Matt Murray/Anton Forsberg
So it's come to this. The Senators' goaltending might actually look like the best option for the Leafs. Anton Forsberg has been underrated by many for far too long, and at the very least it gives Toronto another back option and potentially someone who can stabilize the position short term and audition for a backup role next season.
Matt Murray is the bigger gamble, and probably not going anywhere now that Pierre Dorion was somewhat proven right about the contract he gave him. I don't know many teams want to try their luck on Murray and his $6.25M cap hit, but with a .920 save percentage, someone might pay for a goaltender who also has some playoff success to his name. Given that he's a former Soo Greyhound, you can never count out Dubas exploring this option.
The Hot Take: Phillipp Grubauer
To say it's been an absolute shit year for Grubauer is an understatement. Having his negotiations with the Avs go sideways and then landing in Seattle wasn't ideal for him, and having the expectation that he was going "Marc-Andre Fleury" the opposition with nowhere near as good a roster as the Golden Knights had in the expansion year, was setting the bar way too high. Now he's a $5.9M contract that isn't looking too good and the fact that it's going on for 5 more years probably doesn't have anyone too thrilled.
Here's the thing though. Grubauer looked good in Colorado. Before that, he looked good in Washington. Grubauer is good behind good, offensively driven teams and Toronto fits that bill. The contract is ugly. His numbers are ugly. And his no trade clause doesn't even make it a guarantee that he'd come to Toronto, but Grubauer might be the best go-big option that doesn't set the Leafs back from an assets perspective.
The Sequel: James Reimer
I'm not a big fan of Reimer which seems to be one of my worst characteristics according to Leafs fans, but the time has come for me to acknowledge that out of the options, Reimer might fall into the category of the options worth pursuing. He's familiar with what it's like to play in Toronto. His temperament seems like it could complement Campbell's. He's been in a tandem with Mrazek before if that's the preferred way for Toronto to go. Statistically, he's up there with Murray and Forsberg as some of the better options that might be available, and his cap hit and term certainly look like a fit too.
There is the small matter of if James wants to come back to Toronto, as he does have a five team no trade list, and if his exit from the Leafs wasn't to his liking I guess there's no chance of a reunion.
As hard as it is for me to say this, I think Reimer might be the best fit.
There are plenty of other goaltenders I didn't mention…
We can be here all day, so it seems necessary to highlight a few other options of note:
Jaroslav Halak hit his performance bonus and will cost whoever trades for him $1.25M in bonuses either this season or next. That's a big hit for someone who hasn't played too well.
Braden Holtby is very much a decent rental option, but alas, the Stars are still sitting in a playoff spot and can probably use him.
Semyon Varlamov probably warrants more discussion than I'm willing to give him, but the player off-ice matters too and that makes Semyon a no-go.
Joonas Korpisalo has been connected to the Leafs many times before, and while I wouldn't rule him out as an option, I'm not sure he has a strong case for making an immediate impact. He might be someone that Steve Briere and the Leafs organization want to put time into, not necessarily a ready-to-go now guy.
By the numbers
| | | | | | | | | |
| --- | --- | --- | --- | --- | --- | --- | --- | --- |
| | GP | GSAE | GSAE/60 | Sv%AE | Sv% | GAA AE | WAR | HDSV% |
| Matt Murray | 18 | 10.1 | 0.57 | 0.009 | 0.92 | 0.57 | 1.68 | 0.839 |
| Anton Forsberg | 24 | 4.2 | 0.202 | 0.003 | 0.917 | 0.2 | 0.7 | 0.838 |
| James Reimer | 33 | 3.9 | 0.129 | 0.002 | 0.916 | 0.13 | 0.64 | 0.819 |
| Jack Campbell | 38 | 2.4 | 0.066 | 0.001 | 0.917 | 0.07 | 0.4 | 0.812 |
| Braden Holtby | 23 | -1.4 | -0.067 | -0.001 | 0.912 | -0.07 | -0.24 | 0.825 |
| Semyon Varlamov | 15 | -1.2 | -0.082 | -0.001 | 0.914 | -0.08 | -0.2 | 0.827 |
| Marc-Andre Fleury | 39 | -10.6 | -0.281 | -0.005 | 0.911 | -0.28 | -1.76 | 0.821 |
| Alexandar Georgiev | 21 | -6.5 | -0.36 | -0.006 | 0.895 | -0.36 | -1.08 | 0.792 |
| Petr Mrazek | 13 | -5.7 | -0.486 | -0.01 | 0.895 | -0.48 | -0.95 | 0.789 |
| Jaroslav Halak | 12 | -4.8 | -0.498 | -0.009 | 0.883 | -0.49 | -0.79 | 0.782 |
| Joonas Korpisalo | 18 | -8.2 | -0.505 | -0.009 | 0.887 | -0.5 | -1.36 | 0.823 |
| Philipp Grubauer | 41 | -30.2 | -0.798 | -0.015 | 0.888 | -0.8 | -5.03 | 0.775 |
While Campbell still is sitting at the top of this underwhelming list, it's important to note his steep decline that has led to Mrazek being the better option at the moment. So yeah, the Leafs could use some help even though the options are limited.
Interestingly enough, the numbers support James Reimer as well or possibly venturing into the Ottawa abyss.
The good news is that the best options probably won't cost as much as Marc-Andre Fleury, the bad news is there really isn't a goaltender out there that should magically make you feel confident about the state of the Leafs goaltending.