Jacks of all trades, masters of none: Are the Leafs overdoing it with Swiss Army knife players?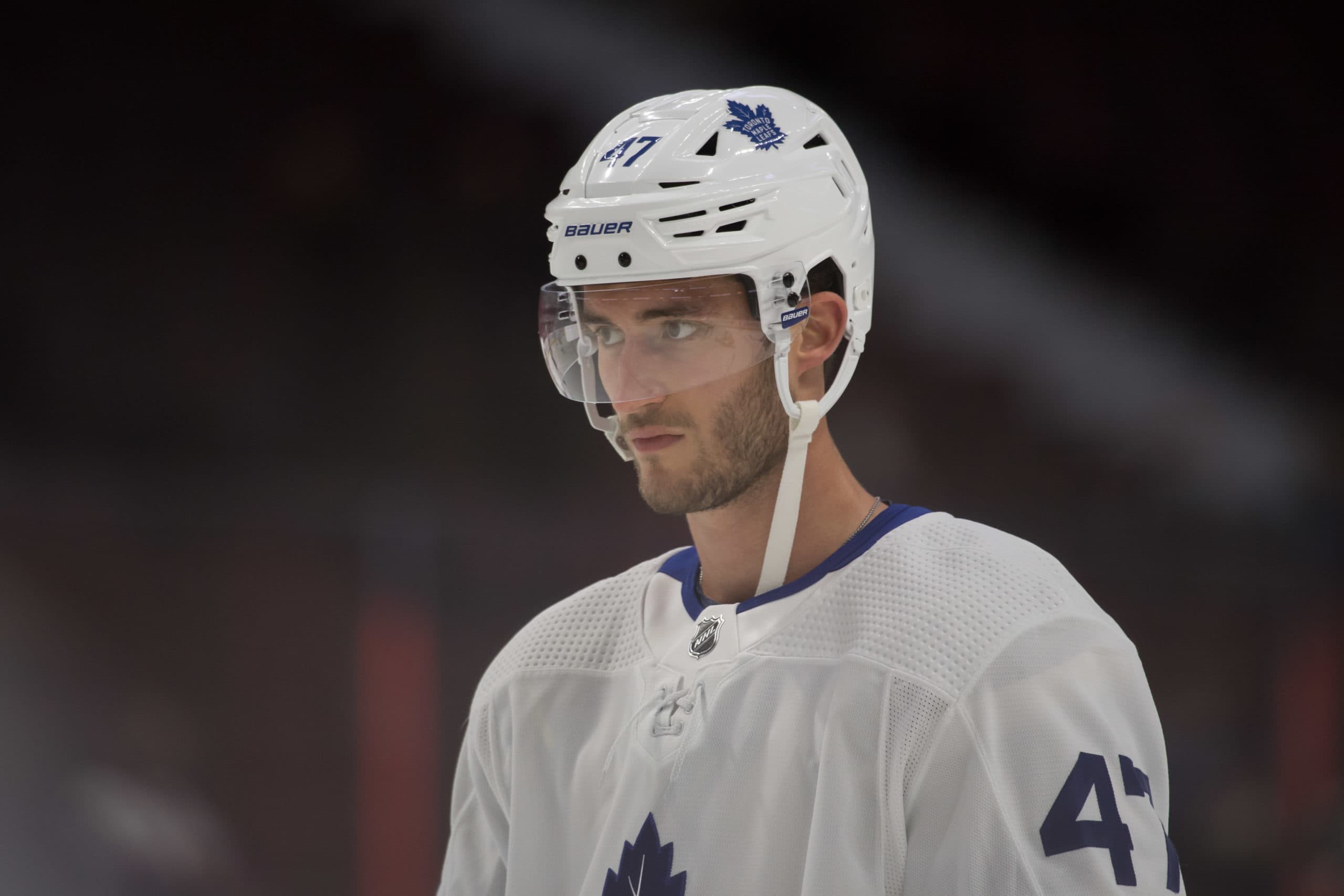 Photo credit:Marc DesRosiers-USA TODAY Sports
Over a stretch in the late 90s, everyone in my family struggled annually with what to get my Dad for Christmas. The solution seemed to be that every year he'd wind up with a Swiss Army Knife, a Leatherman, or some other utilitarian tool that was great for stuffing in a tacklebox, backpack, travel kit, or whatever. These are great tools for when you are in a jam and need to rely on the next best thing to the proper tool, but much like my Dad at the turn of the century, the Leafs are over-encumbered with Swiss Army knives that were a pleasant surprise as a stopgap, but a miserable Plan A for addressing problems.
In the grandest tradition of complaining about the Leafs, I've chosen to wait until after they've had a 5-2 win, featuring a goal from one of those Swiss Army knives, set up by another Swiss Army knife, and the third Swiss Army knife managed a breakaway as well (although that result was predictably underwhelming.) Still, it's worth noting that if we are going with our recency bias on this, Calle Jarnkrok, Pierre Engvall, and Alex Kerfoot all performed well on Saturday night.
Now with recent success acknowledged, let's move onto the overall underwhelming results so far this year…
| | | | | | | | | | | | |
| --- | --- | --- | --- | --- | --- | --- | --- | --- | --- | --- | --- |
| | GP | G | P | CF% | GF% | xG% | CA/60 | Hits/60 | ATOI | PP TOI | SH TOI |
| Kerfoot | 19 | 1 | 6 | 50.26 | 60.00 | 51.15 | 49.46 | 1.30 | 16:09 | 1:18 | 2:02 |
| Jarnkrok | 19 | 4 | 6 | 46.67 | 41.67 | 41.00 | 57.51 | 4.25 | 13:02 | 0:58 | 1:51 |
| Engvall | 18 | 2 | 4 | 53.59 | 50.00 | 52.90 | 51.86 | 5.87 | 12:01 | 0:10 | 0:48 |
It seems that each player is finding a different way to be underwhelming in their role, but it also seems that they continue to remain in the lineup due to the penalty killing factor.
Kerfoot, as the incumbent to the Jack-of-all-trades title, started the year as the 3rd line center. This seems like something that annually works in training camp and the preseason, and immediately comes apart the second the Leafs face regular season intensity and a full NHL lineup. Kerfoot not being able to serve in the role that Leafs needed him in has resulted in him being a staple of the top six left wing spots, generally playing alongside John Tavares, but even seeing time with Auston Matthews. That's where the one goal and six points becomes completely unacceptable.
Kerfoot's ability to carry the puck in and out of zones is strong, and you can see by the differential stats above that the on-ice performance has been there, but the offensive outputs aren't there, and for a player seeing over a minute a night on the powerplay and regularly on a line with two point per game players, this goes beyond snake bitten and into outright ineffectiveness.
Jarnkrok is a player that might have flown under the radar for too long for being ineffective in the Leafs lineup. Jarnkrok by design isn't meant to stand out, but while he's not standing out he should be either putting up favourable on-ice differentials or playing a plethora of hard minutes against tough competition. He hasn't done either, and in fact, he hasn't done much of anything (save for four goals in 19 games isn't a bad pace.)
Jarnkrok, for reasons only known to Kyle Dubas, has the second longest running contract on the Leafs after Morgan Rielly, so if there is one of these Swiss Army players that the Leafs should be trying to figure out, it's probably Jarnkrok. Given that Jarnkrok is the player that does seem to have a bit more offensive success this year, it's somewhat odd that he's sticking to the bottom six while Kerfoot sees time with Tavares and Nylander.
That brings us to Engvall, and it's somewhat scary that somehow Engvall has the highest Hits/60 of this trio. There is clearly some favourable counting going on as Engvall has been nothing short of frustrating in his unwillingness to use his 6'6 frame for anything beyond reach.
Engvall has been the most sheltered of the group, and perhaps the hardest to watch when it comes to the eye test on this trio.
It's quite wild that Engvall has fared so much better than Jarnkrok, and maybe that's a stronger argument for Jarnkrok spending a night in the press box rather than seeing if he can be a fit in other parts of the lineup. There's also something to be said for both of these guys potentially holding back Pontus Holmberg, who looks like he could be the more accomplished (and cheaper version of Kerfoot, Engvall, and Jarnkrok).
There are two primary reasons why Kerfoot, Jarnkrok, and Engvall are so frustrating. The first is their cap hits. With a combined $7.85M between them, it's hard to make a case for any of them living up to their contracts. That money could be better spent elsewhere, and Kerfoot's actual salary of $775k or Engvall's expiring contract at $2.25M should be somewhat movable. Jarnkrok…well, the Leafs will probably need to figure out something with him. The fact that players like Denis Malgin, Pontus Holmberg, Zach Aston-Reese, and Nick Robertson can all provide better value without sacrificing performance in the lineup should put a sense of urgency around clearing out Kerfoot and Engvall. The Leafs wouldn't be giving up much in the way of depth, especially when Adam Gaudette, Joey Anderson, and Alex Steeves are all making cases for getting a look based on their play with the Marlies.
That brings me to the second point here: the Leafs are blocking players from the lineup by keeping "jack of all trades" players around. The Leafs could use some secondary scoring and a good way to see if they can get that is to give Pontus Holmberg some offensive outlets and put Nick Robertson back into the lineup. The Leafs want to be a more imposing team. getting a look at Joey Anderson or Adam Gaudette would be worthwhile, even if hopes aren't high. The Leafs will also want that space for Matthew Knies toward the end of the season.
The continued usage of Kerfoot and Engvall seems like a love letter to the status quo and/or an overvaluation of the penalty-killing specialty. Jarnkrok's addition to this group seems to be an appreciation for what the Leafs got last season when Kerfoot and Engvall were at their best and there was an assumption there was a need for more of the same rather than addressing a specific need head-on.