Jake McCabe would be an upgrade for the Leafs defense, but how much of one?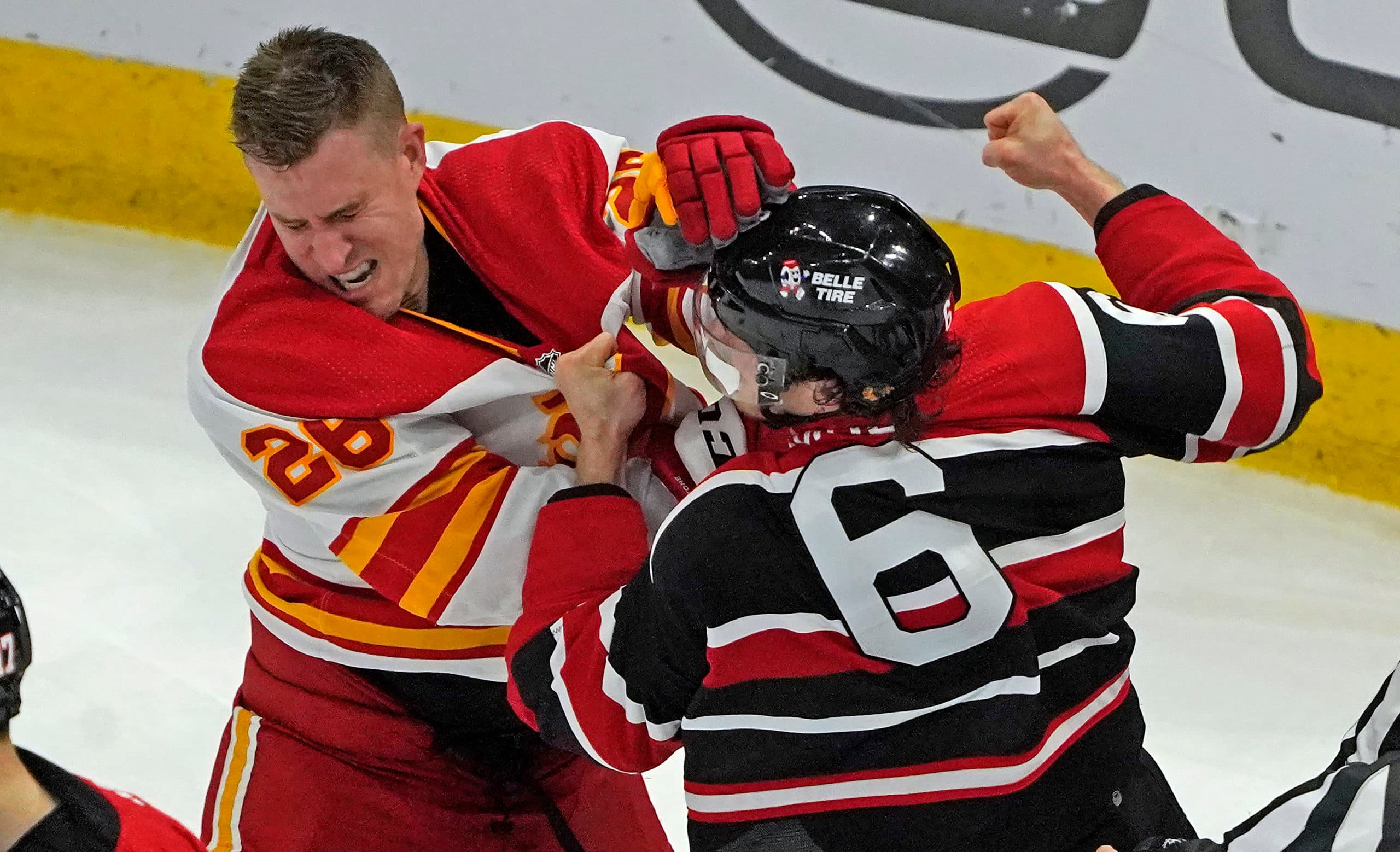 Photo credit:David Banks-USA TODAY Sports
The other day on
Leafs Morning Take, Frank Seravalli
shared the information that the Toronto Maple Leafs (and their Western dopplegangers, the Edmonton Oilers) had discussions with the Chicago Blackhawks regarding Jake McCabe.
Let's skip past the part where the preference for a Leafs trade deadline acquisition is a forward because acquiring McCabe would certainly not exclude the possibility that the Leafs could be looking at forwards. This was just the information that Seravalli had to share, and he shared it.
Before even looking at McCabe and if he's the right fit for the Maple Leafs, I guess it is worth looking at what the Leafs might be lacking on the blueline and why Kyle Dubas would want to address it.
When you look at the list of Rielly, Brodie, Giordano, Sandin, Liljegren, Holl, and Timmins that's definitely a list of seven defensemen capable of being NHL defensemen on any night. Both Rielly and Brodie are capable of being top pairing defenders, but whether one of them is one of the top 32 defensemen in the league and fitting that definition of a true number 1 defenseman is debatable. And whether they are in the top 16 where its the very best of the top defensemen is even more debatable. Still they are good options.
The next string of Giordano, Liljegren, Sandin, and Holl is far more of a collection of defensemen that you could be comfortable with in your number four spot, but might feel like using them in the number three spot is a stretch. They all make for very good options in the bottom pairing, and having Timmins starting to emerge as a great bottom pairing, offensive zone start option as well is a huge plus.
Throw in the fact that Jordie Benn and Victor Mete are good 8th and 9th on the depth chart options respectively, and the Leafs seem to be clearly looking for someone who is a number three defenseman or better if they go the defensive upgrade route.
It's also worth considering what the Leafs don't have a ton of on their back end and that's a physical presence. This is where people say silly things like "the Leafs miss Jake Muzzin" and while it ignores that Muzzin wasn't good last year or what was seen of him this season, but acknowledges that Muzzin, Lyubushkin, and Bogosian before Lyubushkin made it harder to take up high danger real estate in the Leafs end of the ice. Sandin, Holl, and Liljegren have attempted to pick up the slack, and Jordie Benn when he's in the lineup has as well (although there are other challenges with Benn in the lineup), but Muzzin was a heavy presence on the opposition and that could be part of what the Leafs are desperate to bring in for playoff brand hockey.
The Leafs could also use a bit more certainty on their right side. We've seen the wheels come off Holl over the course of the season and have certainly seen him over matched in the playoffs as well. Timothy Liljegren has shown a ton of promise, but how he will hold up as teams transition to heavy hockey is still a bit of an unknown. Timmins can be a bottom pairing option, but asking any more of him than that is asking too much at this point, and that leaves TJ Brodie, who is very good, but is a left shot on the right side, and won't bring the physical elements, but is unquestionably the best option Toronto has. Despite almost every defenseman the Leafs have been rumoured to be looking at being a left shot, it looks like the right side could use the help.
That brings us back to Jake McCabe, who is a left shot by the way, but a left shot who can play the right side (seriously though, keep him on the left.)
McCabe is that more physical style of defenseman. He'd be second out of the Leafs defensemen in hits (behind Sandin), and would be tied with Mark Giordano for the team lead in blocked shots. All things that sound good and address the tone of playoff hockey.
Some of the interesting things that stick out to me about McCabe though are that on the Blackhawks, a team that is impressively bad, McCabe is fourth amongst defensemen in icetime. He plays less than Seth Jones (fine, you'd expect him to play the most), Connor Murphy (very similar icetime), and Jack Johnson (holy hell, how are they playing him more than McCabe.) The lower utilization is probably a result of not getting powerplay time and shouldn't be worried about too much. McCabe's primary partner has been Jones and has been drawing that top pairing competition which is important to consider when looking at his numbers.
COUNTS
TOI
TOI/GP
CF%
GF%
xG%
HDCF%
PDO
Off. Zone Faceoff %
678.8667
16.55772
45.73
50
45.3
44.13
1.014
45.77
RATES
CF/60
CA/60
GF/60
GA/60
xGF/60
xGA/60
HDCF/60
HDCA/60
50.2
59.57
2.21
2.21
2.22
2.69
9.63
12.2
RELATIVE
CA/60 Rel
CF% Rel
GA/60 Rel
GF% Rel
xGA/60 Rel
xG% Rel
HDCA/60 Rel
HDCF% Rel
-3.99
4.66
-1.44
18.64
-0.35
6.71
-0.98
5.47
There really aren't any alarmist numbers when it comes to McCabe. He's playing on a bad team that is going to be dominated by their competition. While he is on the ice, McCabe has very much kept the Hawks to chances against that would mirror what the Leafs defense produce. It's interesting to see that it more the offensive differentials driving the relative performance instead of the defensive, that you'd assume McCabe is being brought in for, but it's important to remember that with Jones as his primary partner and how that pairing is going to be utilized, they will be out with the Hawks best offensive players as well. For a bit of context, let's go to some
Evolving Hockey charts
:
The above player card captures the past three years of McCabe's performance which has been very steady. He represents a safe bet for the Leafs.
The comparison to Holl really doesn't seem fair to Holl, and if I dropped in Rielly or Brodie, you'd see some areas where they were better or worse than McCabe as well. Holl is potentially the odd man when a new defenseman being brought in. The case for McCabe as an upgrade over Holl seems clear, just not so much with some of the other Leafs defenders and that's where the topic starts shifting to the price to acquire McCabe and if the upgrade is significant enough to be worth it.
Figuring out what McCabe would cost the Leafs is complicated because there are two very different values associated with him. McCabe is a $4M AAV defenseman for two more seasons after this one. The Blackhawks can certainly afford that contract and won't be in any rush to get rid of it, but a middle pairing defenseman that will be 30 next October is going to be treated slightly different than the other alternative.
If the Blackhawks retain on McCabe to turn him into a $2M AAV defenseman for the next few seasons he will certainly outplay his cap hit and the value of McCabe increases greatly. The Blackhawks can certainly afford to eat the $2M annually as they are still very much at the beginning of a scorched earth rebuild and their best assets will still be on entry level deals, but the Hawks face the complication of likely needing to retain on both Kane and Toews and leaves Chicago with only one more chance to retain and they might not necessarily want to do it on McCabe.
I don't think there is any danger of the Leafs putting someone like Matthew Knies into the equation on either deal, but if there is salary retention it seems feasible that a first could be in play for McCabe, where a no retention deal would work out better from an asset perspective, possibly mirroring the Giordano deal.
The last factor that needs to be considered is the competing interest. Ken Holland has a tendency to overpay and is not a GM the Leafs want to be bidding against. No matter what the Leafs do on defense they might be better off waiting until the Oilers make a deal and take themselves out of the market. Just don't let them be considered as setting the market.
Jake McCabe is an interesting option. He could be a good fit for the Leafs and quite likely upgrade the blueline. How much he moves the bar remains to be seen and there might be more impactful options the Leafs wish to consider. The Leafs might not look like they are in too great a need for a defenseman, but with young roster players also potentially being in play at the deadline, it's possible that McCabe might be a replacement for someone already in the Leafs lineup as well so Toronto can move a player to take a run at a forward as well.
The Leafs have a history of dealing with the Blackhawks and the Mrazek deal is a definite example that Chicago isn't afraid of doing financial favours for the Leafs at a price. I wouldn't rule out that this is one of the options the Leafs will seriously look at, but they still have over a month to find something that works better for them.