Jakob Chychrun is being connected to the Leafs again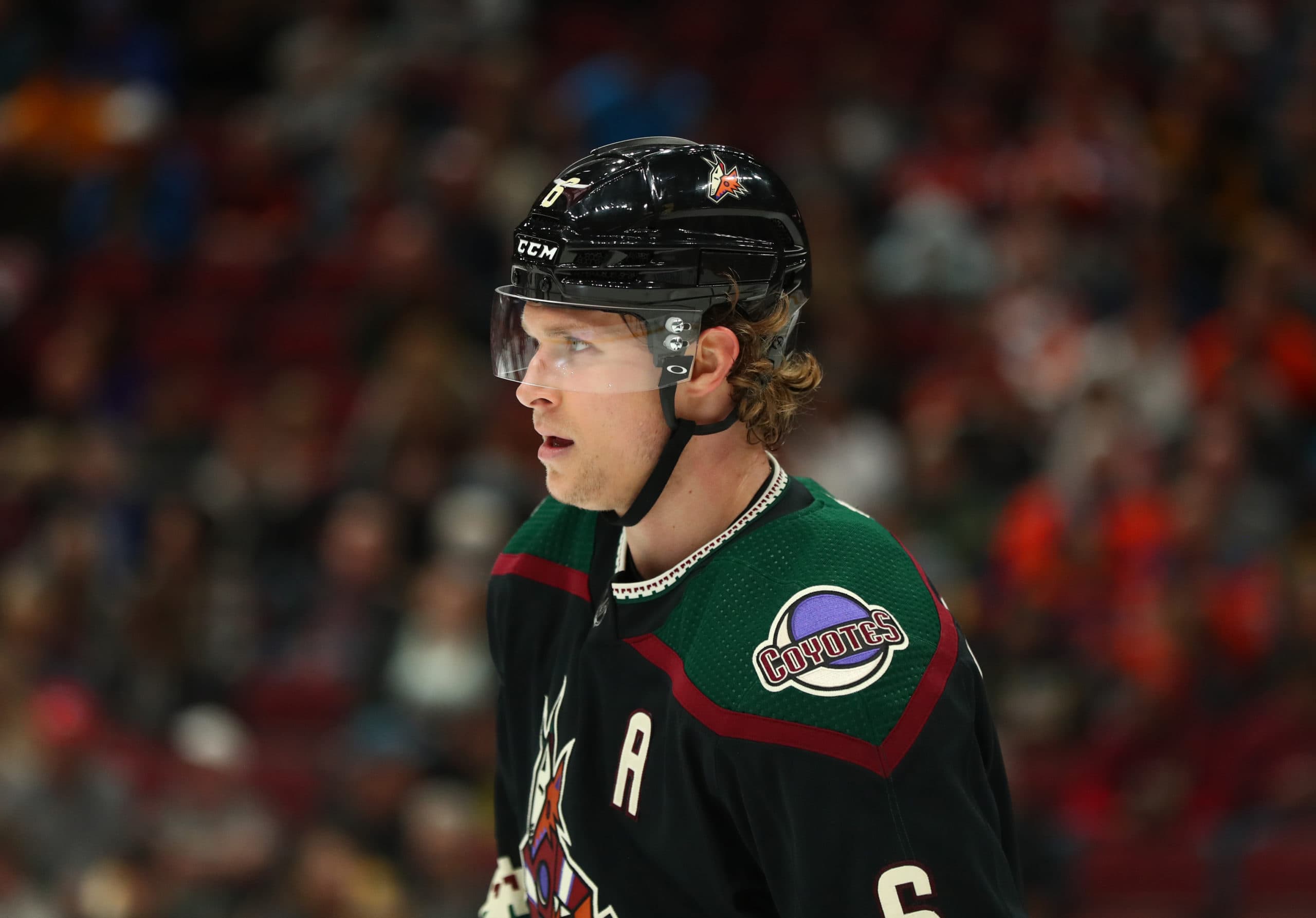 Photo credit:Mark J. Rebilas-USA TODAY Sports
When rumours repeatedly connect Kyle Dubas to a defenseman for the Leafs it seems like we better prepare ourselves for that rumour becoming a possible reality.
Jake Muzzin was rumoured to Toronto from pretty much the moment that Kyle Dubas took over as GM. TJ Brodie was nearly acquired for Nazem Kadri, and now here we are again with the on again off again speculation about Jakob Chychrun out of Arizona.
Nick Kypreos just did what we've done a couple of times on this site, and that was
writing a column basically gazing at Chychrun like he's a pie cooling on a window sill
. Like most of us when looking at Chychrun, Kypreos' argument boiled down to three things: Jakob is only 24, he eats minutes and a $4.6M cap hit looks very doable. Most of his underlying numbers can be forgiven because of his role and his team, and he's a defenseman who puts up points. People like points.
Also to Kypreos' credit, while he was talking about Chychrun as a replacement for Muzzin's injury-laden career, he acknowledged that Chychrun is very much in the same boat injury-wise, just at a different stage in his career: "His body has been through a lot the last few years — surgeries on both knees, his shoulder, and most recently his wrist and ankle."
I swear, if people ever got past those bad years Shayne Gostisbehere had, they'd see the Coyotes have another defenseman available with very similar results and usage that won't cost nearly as much to acquire.
It's the cost to acquire Chychrun that should throw up any red flags not initially covered by the injuries.
According to
Jeff Marek
, "It's essentially the equivalent of two first-round draft picks, plus. So, that would be a combination of prospects, picks, and players as well."
Kypreos speculated that the Leafs could hang onto Knies, but then listed Sandin, Liljegren, Niemela, and Robertson as potential bait to bring in Chychrun. When your goal is to find NHL players on team friendly contracts I think it's safe to say that Sandin, Liljegren, and Robertson should all be non-starters for a trade at this point. Niemela certainly looks promising as well and the Leafs have been effective in their development of defensemen. Throwing away a blue chip option doesn't have a lot of appeal, especially when Gostisbehere would cost a hell of a lot cheaper to acquire.
The always questionable
Michael Traikos
seems to think that a 2023 1st round pick and Nick Robertson plus Alex Kerfoot would get it done, which seems like two solid kicks to the nuts when it comes to the Leafs future, and creates a significant hole at center for the Leafs. While Kerfoot might not be the best 3C option, he will have something to offer the Leafs in relief if either Matthews or Tavares miss any time this year.
The idea of addressing an injury issue with an injury ravaged player is already a bad idea, paying a near Jack Eichel price for the privilege is nonsensical. The Leafs will find worthwhile options throughout the year and there isn't a sense of urgency.
As Nick Barden wrote yesterday, both Jordie Benn and Timothy Liljegren were working out with the Marlies and could possibly rejoin the Leafs after their West Coast road swing ends. And while there is no reason to ever be optimistic about Jake Muzzin's health, there hasn't been anything confirmed on that front either. (Note: late last night Capfriendly was reporting the Leafs have added Muzzin to their LTIR.)
A blueline of Rielly, Brodie, Sandin, Liljegren, Giordano, and Benn at least deserves a look before rushing into trades in October and while the Leafs haven't flown out the gates, someone who is patient to a fault like Dubas won't be lighting his roster on fire this early anyways.