John Tavares has no interest in leaving the Toronto Maple Leafs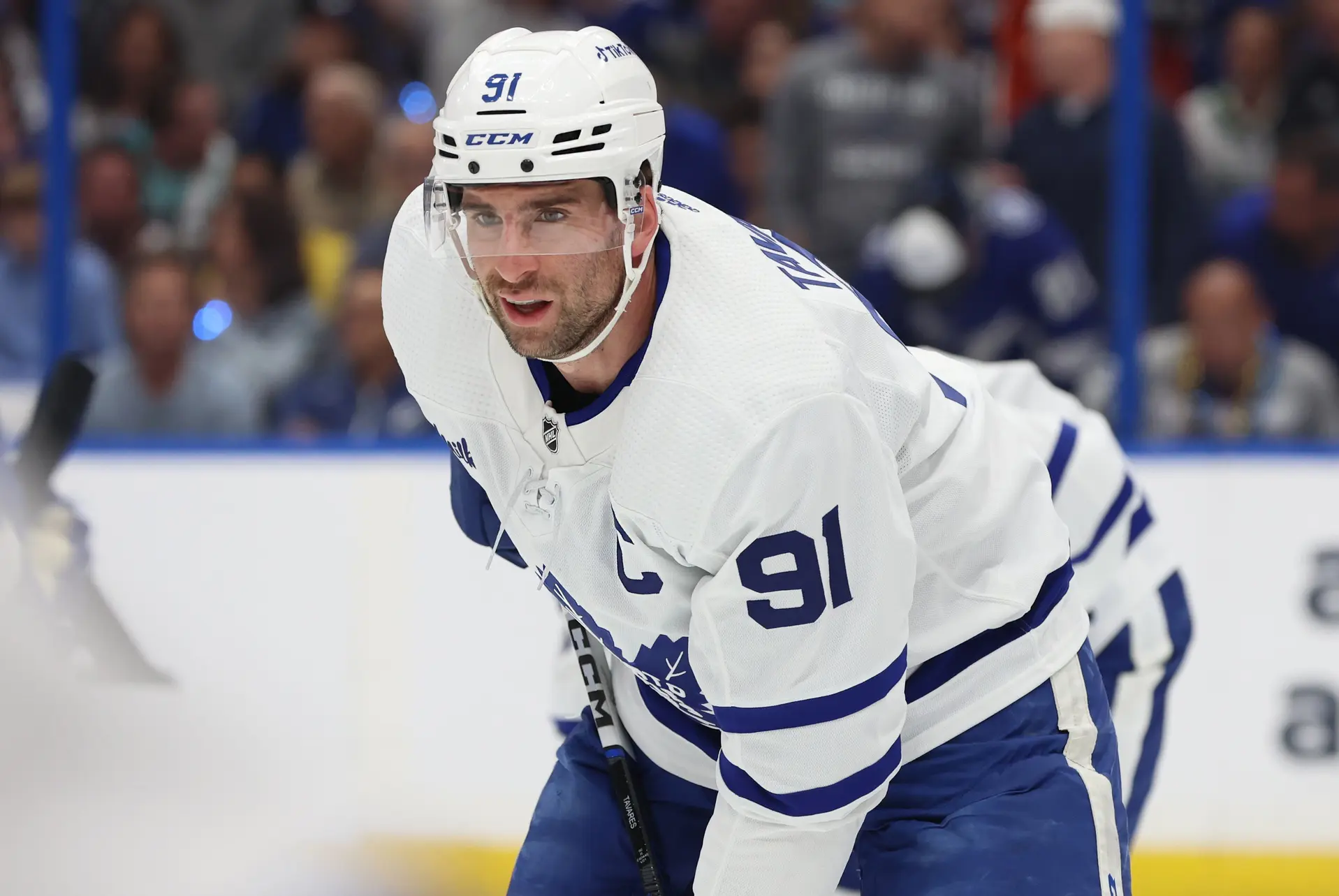 Photo credit:Kim Klement-USA TODAY Sports
Ever since the Toronto Maple Leafs were eliminated on Friday night against the Florida Panthers, there's been significant rumors surrounding the future of the Core Four.
But if captain John Tavares has his way, he's not going anywhere.
During the Leafs' season-ending press availability, Tavares addressed his future in the city, and the team he grew up idolizing. Tavares finished his fifth year with the club, with two more years left on his deal.
But he has a no-movement clause, meaning Tavares would have to be willing to waive the deal in order to move. At 32, and with a young family, that seems likely at this point.
"I love it here. I made a commitment to be here for seven years," Tavares said. "I want to be here."
Tavares holds the second-highest AAV at $11 million, a deal that'll hold him in Toronto until 2025. Mitch Marner ($10.9 million), Calle Jarnkrok ($2.1 million until 2026), Morgan Rielly ($7.5 million until 2027) are the only skaters signed past next season.
But with Auston Matthews, William Nylander and set to become UFAs next summer, the future is uncertain. And with the Core Four struggling to produce in the second round against Florida, some are wondering if change is abound. That could be on the player front, or with coach Sheldon Keefe or GM Kyle Dubas, with both seemingly being on the hot seat right now.
Tavares isn't ready to start splitting up the pieces yet, though.
"I think there's a continued belief in our group here," Tavares said. "Obviously, winning is extremely difficult… We're continuing to find our way through that to do what's necessary."
Tavares is coming off his second 80-point campaign with the Leafs, scoring 36 goals and 44 assists. He had a career-high 47 goals and 88 points in 2018-19, his first with the club. Tavares had eight points in 11 playoff games, but had just one assist throughout the entirety of the second round. He was scoreless on 24 shots, including seven in Game 5.
So, we'll see where the Leafs take things with their captain. It's unlikely he'd waive his NMC to move, and the Leafs are better off with him. But with a major summer makeover potentially in the works, you simply never know.