Johnny Toronto for Mayor: Muzzy's Muzings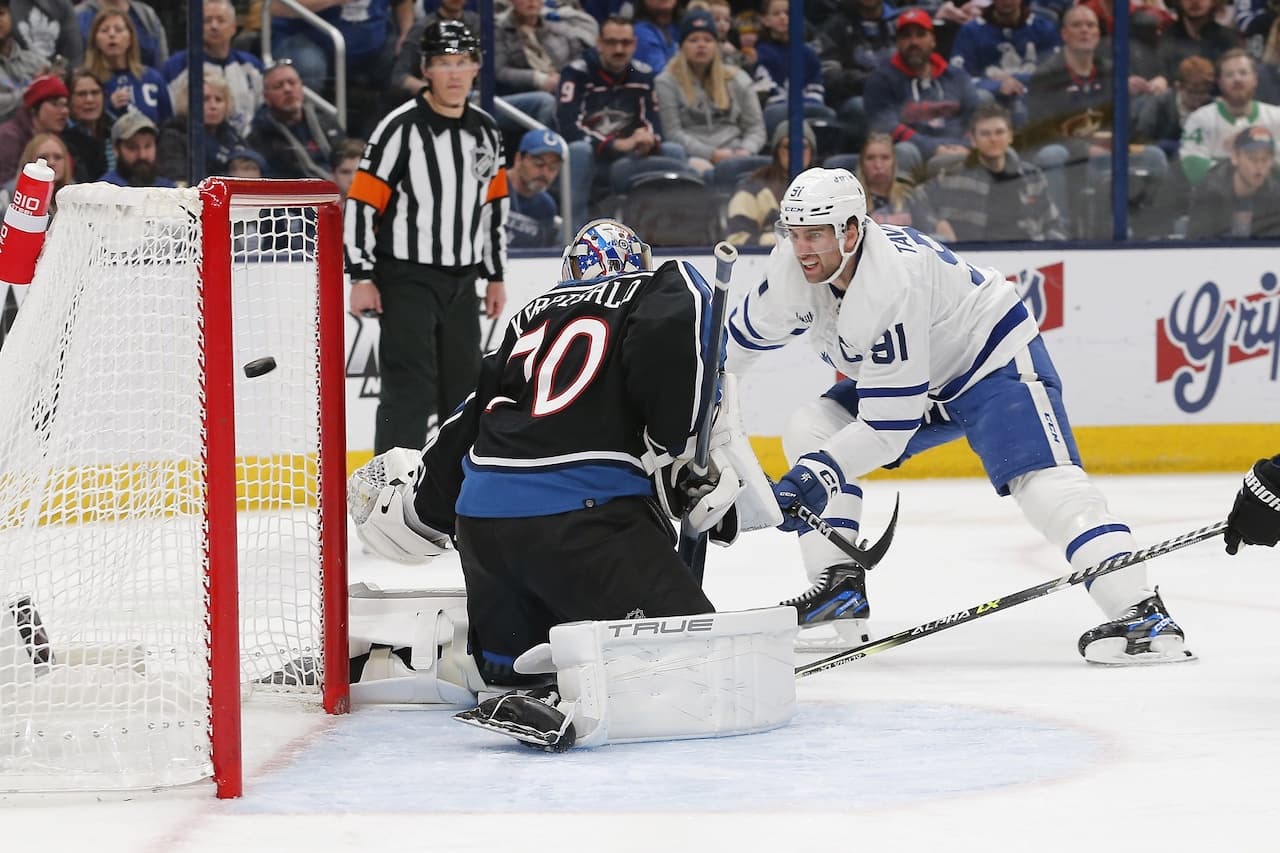 Photo credit:Russell LaBounty-USA TODAY Sports
Well, that's one way to silence the cannon at Nationwide Arena.
John Tavares scored twice while Ilya Samsonov made 30 stops for his third shutout of the season as the Leafs blanked Columbus 3-0 in the first half of their home and home.
With the victory, Samsonov improved to 18-6-2. Not to be outdone, Joonas Korpisalo tallied 38 saves in the loss. If it weren't for him, this one would've easily been a blowout.
Fresh off his All-Star Game appearance, Mitch Marner picked up two helpers. Pierre Engvall had the other goal for Toronto (32-13-8) as they moved four points ahead of the idle Tampa Bay Lightning for second in the Atlantic Division.
Columbus has dropped four in a row (0-3-1) and five of six. Joseph Woll will make his first start of the year Saturday night as the Leafs look to sweep away the home and home with Columbus on Hockey Night in Canada.
MUZZY'S MUZINGS:
SOLID START
Considering the circumstances, the Leafs had themselves a pretty good first period in their first time out in 10 days. The execution wasn't there, but that's probably what you would expect from a team that's been out of action piling away drinks for a good chunk of time. Anyway, I thought they were better the team in the first, which should be the case any time they play Columbus. Furthermore, that was a sweet pass by Mitch Marner to set up John Tavares for the opening goal. You love to see it.
STRONG DEFENSIVE GAME
For a team that's been off that long, the Leafs put forth a very strong defensive effort. Yes, it's Columbus, but still, last time I checked, Johnny Gaudreau and Patrik Laine suited up. And that was something Sheldon Keefe was looking for coming out of the break. In previous outings, especially since losing Auston Matthews, Toronto's defensive game was trending in the wrong direction. So, it goes without saying, Friday night was a welcome sight. On top of that, Ilya Samsonov was very steady when called upon.
JT/Marner Connection
No Matthews, no problem. On Friday night in Columbus, the Leafs took care of business without their superstar. John Tavares was fantastic, so was Mitch Marner. And that's what you love to see. It was a very professional and mature outing. Bottom line: They took care of business. Furthermore, I think the leadership core deserves a lot of credit. From the opening puck drop, the Leafs were engaged and ready to play. They sucked the life out of that building almost instantaneously. All in all, it was a really impressive effort. That's how you take care of business.
HIGHLIGHT OF THE NIGHT:
 WHAT'S NEXT?
Saturday night. Same two teams. This time, it will take place at Scotiabank Arena. Joseph Woll will make his first start of the season.