Joseph Woll provided a lot of hope for the future of the Leafs net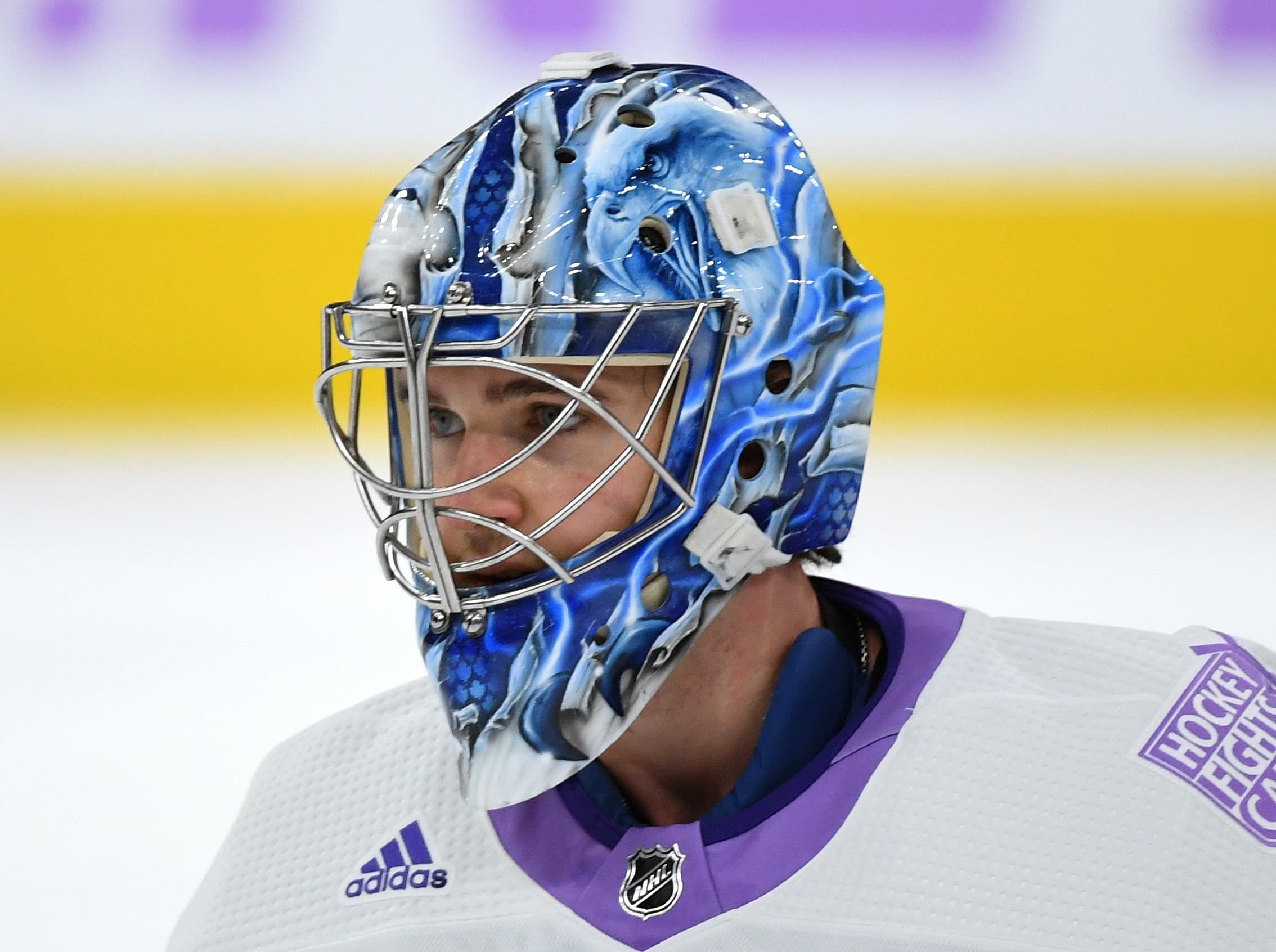 Photo credit:Dan Hamilton-USA TODAY Sports
It's hard to believe it was just a couple of weeks back that I was writing about how we shouldn't expect too much of Joseph Woll, and this was more about the organization getting a chance to assess him, not a situation where he was going to come in and immediately steal the net. And while I want to stay very true to the spirit of that article, there is something about a shutout in his second start that warrants both some excitement and a need to pour some cold water on our new expectations.
When talking about Woll's arrival there was an acknowledgement that things haven't gone particularly well in the AHL, but also with the recognition that statistical success in net in the AHL isn't much of a predictor of NHL success. It certainly doesn't hurt to do well there, it probably gets a look at a NHL job a little earlier, but it's by no means required to be a capable NHL goaltender as the realities of the game are very different between the two levels of play.
Heading into the games I put out my own arbitrary timeline for Woll. This year was about Woll getting a taste of the NHL, next season would be about him function as the third string goaltender, and perhaps if that showed promise he'd be ready to be a NHL backup in 2023-24. Now that we've seen some promise from Woll, I admit to wanting to move some of those timelines up.
Now here's where we dose some cold water on the situation, as two starts is not something that a decision should be made off of. The fact that Woll was serviceable in his debut, but allowed four goals on 27 shots, giving him a .852 Sv% is what you can absolutely live with from a NHL debut, but not something that moves a goaltender up the depth chart. Especially when it comes against the Sabres. His second outing producing a shutout definitely will create some excitement, but again came against an underwhelming Islanders team that played the night before. It did move Woll's save percentage up to .915 on the year, and his goals saved above expected is at 0.250, not a bad start even with limited numbers.
So here I am, attempting to preach a bit of patience when it comes to Woll, but being excited at the same time. And while my brain definitely lends me towards the patience side, it also has me reflecting on how a quicker path to a NHL backup gig potential helps the Leafs out of a tougher salary cap situation next year.
With Jack Campbell's contract expiring this year, and with Jack playing the way he is, he's going to be due for a significant raise. Even if it is out of the world team friendly, that could mean a Leafs tandem costing the Leafs around $9M on Campbell and Mrazek. You can obviously see where I'm going with this, and while I'm talking about elevating a goaltender after two games for the Leafs, I'm at the same time sending Mrazek out the door after two games as a Leaf, while not immediately. Woll getting his shot as the Leafs third string option this year may inform the Leafs on what decisions they can make regarding the next season. If Woll looks serviceable, the price of Campbell's contract won't be a big deal because they can potentially shop and find a home for Mrazek (read: trade him to the Oilers.) If Campbell's contract is as expensive as the early games of this season are beginning to warrant, well… I guess a Mrazek/Woll tandem would at least keep costs low like what the Leafs are presently used to.
That's a lot to put on Woll. He can't be asked to solve the Leafs goaltending and cap situation, so let's refocus to what can be looked at in the present. Whether or not Woll can be a backup goaltender by next season needs a lot more evidence to support an answer one way or another, but what we can see immediately is that Woll can function as the Leafs 3rd string option.
Michael Hutchinson's numbers at both a NHL level and AHL level this season don't justify giving him opportunities with the Leafs ahead of Woll, or for that matter Kallgren when he returns. Woll has shown he can play with a Leafs team that has played a solid defensive game in front of him, and Erik Kallgren's numbers on the Marlies likely have justified giving him a look at the NHL level at some point as well and of course I'll get to rewrite this exact same article premise with Kallgren as the centerpiece. The point being that Woll, and if not Woll, Kallgren are worth the look now instead of playing Hutchinson. With Kallgren out indefinitely, and the no set return date for Mrazek as of yet, this remains an opportunity for Woll to remind us why the Leafs selected him. The next Leafs back to back situation comes on December 4th and 5th. If Mrazek isn't back by then we'll see the third start for Woll, assuming Keefe doesn't want Campbell to get a night off on the current Western road trip.