"Just win a round": The hot seats of Kyle Dubas and Sheldon Keefe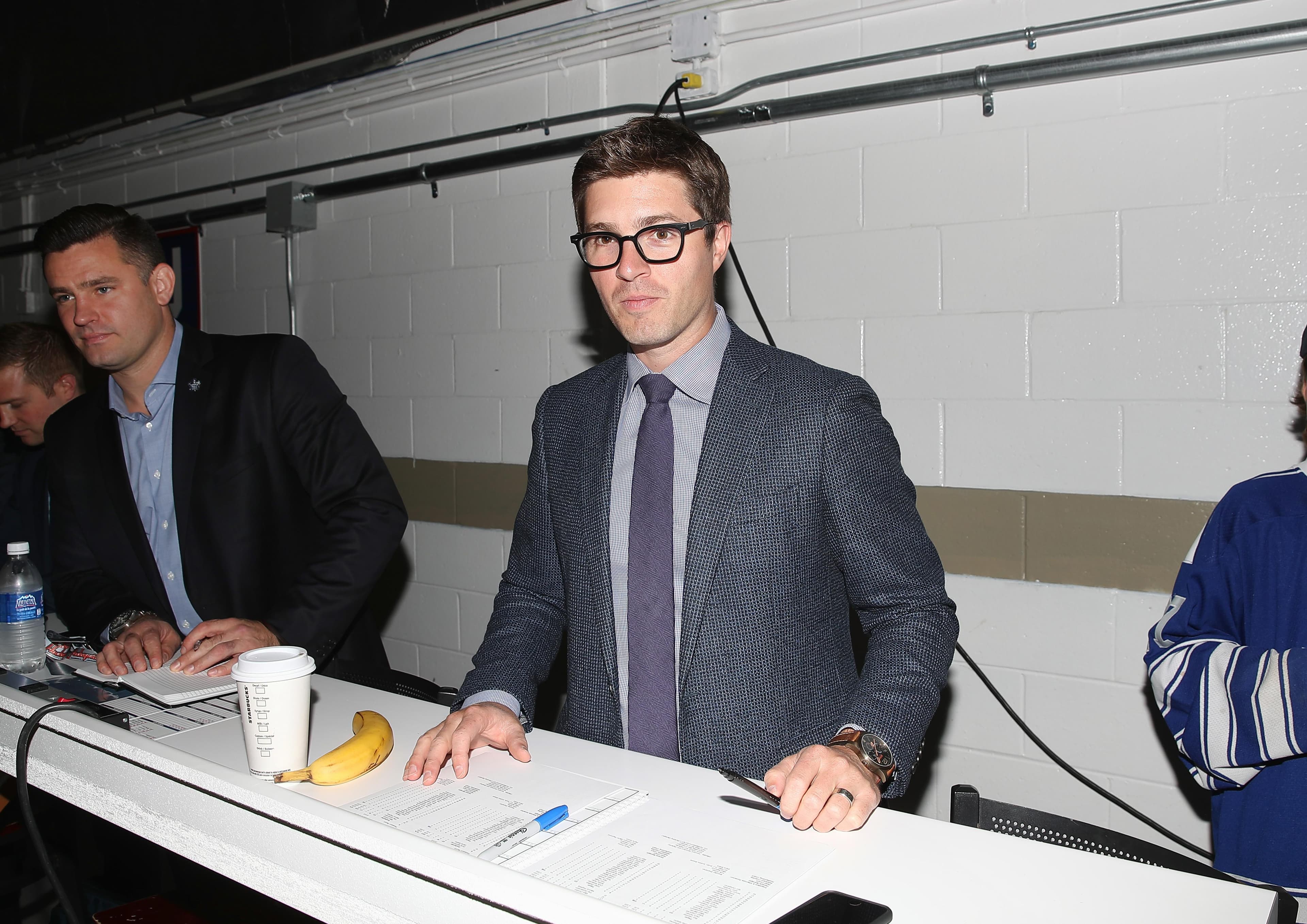 Photo credit:© Tom Szczerbowski-USA TODAY Sports
It is abundantly clear where the bar is set for the Leafs this season. It's really in the same spot as last season, the season before that, and the season before that. We've already established that the Leafs are a pretty good regular season team, dominant even at times, but with a playoff drought that is older than their top pick in this summer's draft, the bar that needs to be cleared is erasing almost two decades of embarrassment before saying you are focusing on winning the cup.
Dubas was playing the hits again yesterday when talking about his job security as well as Sheldon Keefe's and while I'd generally give high grades to Dubas' tenure in Toronto and say in many ways he has brought in a roster that I can support, there is no ignoring the obvious failure. Dubas is essentially a very good skimmer that can't stick his face in the water, wait that's not fair, it's the team at large in that situation. The Leafs are a good skimmer that just can't stick their face in the water. They do so many things right, but they'll still never get out of beginner swimming. (Nailed it.)
Those failures, especially when it is a talented bunch have to fall on the coach and GM, no matter how much even the biggest Dubas supporter agrees with the decisions he's made, there is no doubt that he's come up short in the playoffs. You can say that any given year things can break against a good team and they could still lose in the first round, and that previous years have no impact on how things play out the next year, that's true.
The issue with believing that any one year can break against the Leafs does overlook some of their challenges, and they might be more coaching driven than roster design driven. In a seven game series opponents seem to be able to adapt to the style of hockey the Leafs play and contain it. The Leafs have been far less capable of adapting to their opponent or making adjustments so their style can flourish. That's not just physical play, though it often has been that too, but it seems to be more a general lack of range in style. The Leafs can play their way 82 times a year because there's a good chance that their opposition is playing their way 82 times a year. The second the Leafs are playing against an opponent with a specific practiced strategy for the Leafs, they've proven that they'll falter. This isn't a broad criticism of all of the seven first round exits, but certainly is a criticism of the Keefe era, and arguably the later part of the Babcock era too. The losses to Washington and the first loss to Boston should have been more or less expected. You could even say losing to Tampa last year was reasonable, but patience ran out on first round exits somewhere around Columbus and Montreal. There are no clean slates.
So here I am arguing against a GM I like and a Head Coach who I can understand how he fits into this. It's strange because I'm certainly not grabbing a pitch fork and calling for the termination of either Dubas or Keefe, nor do I think I would really think their overall performance would merit it even if the Leafs lose in the first round again this season. What I will say is that I can completely understand why this would be it for them and while I'd be nervous as hell about who gets brought in to replace them, it's not only at the point of being a completely understandable decision, it's arguably past it.
Dubas getting the full length of his contract to get the Leafs out of the first round and establish themselves as cup contenders is MLSE being surprisingly patient, and I say that because Rogers has a lot to gain by having the Leafs stay in the playoffs as long as possible. It seems a bit naive of Dubas to say that his contract status won't be a distraction because we've all experience the Toronto market enough before.
I know that the first extended losing streak will mean that Keefe's status as Head Coach will be challenged by the media, perhaps even some writers on this site, and with that will come the question of whether Dubas is sealing his own fate by keeping Keefe, or if he lets him go was that the organization making the right choice on his behalf for the long term success of the organization.
There will be plenty of questions about how much autonomy Kyle Dubas will have come trade deadline time, and with contracts like Michael Bunting's if Dubas is the right person to be handling the negotiations.
In short, it will be a distraction if he makes it one or not.
As for Sheldon Keefe, well… Sheldon's fate is largely tied to Kyle's. I'm not sure anyone else feels as strongly about Sheldon as a coach and while he is perfectly adequate, the biggest selling point has always been that he is on the same page as the GM and they want players used the same way and can reach an agreement on who they want to bring in. That synergy is important, but we haven't seen a standout tactician, motivator, or developer to date. Just a decent NHL coach with a strong supporting cast.
It's understandable that both the coach and GM are getting questions about the hotness of their seats, but for the most part this discussion is premature when coming to the Leafs. It seems more than likely both will get their final kick at the can in the playoffs, but this time they'll have to win a round. Maybe after that, they can shift their priorities to winning four.