Karlsson as an option, trades before firings, and who is on the block: Rumours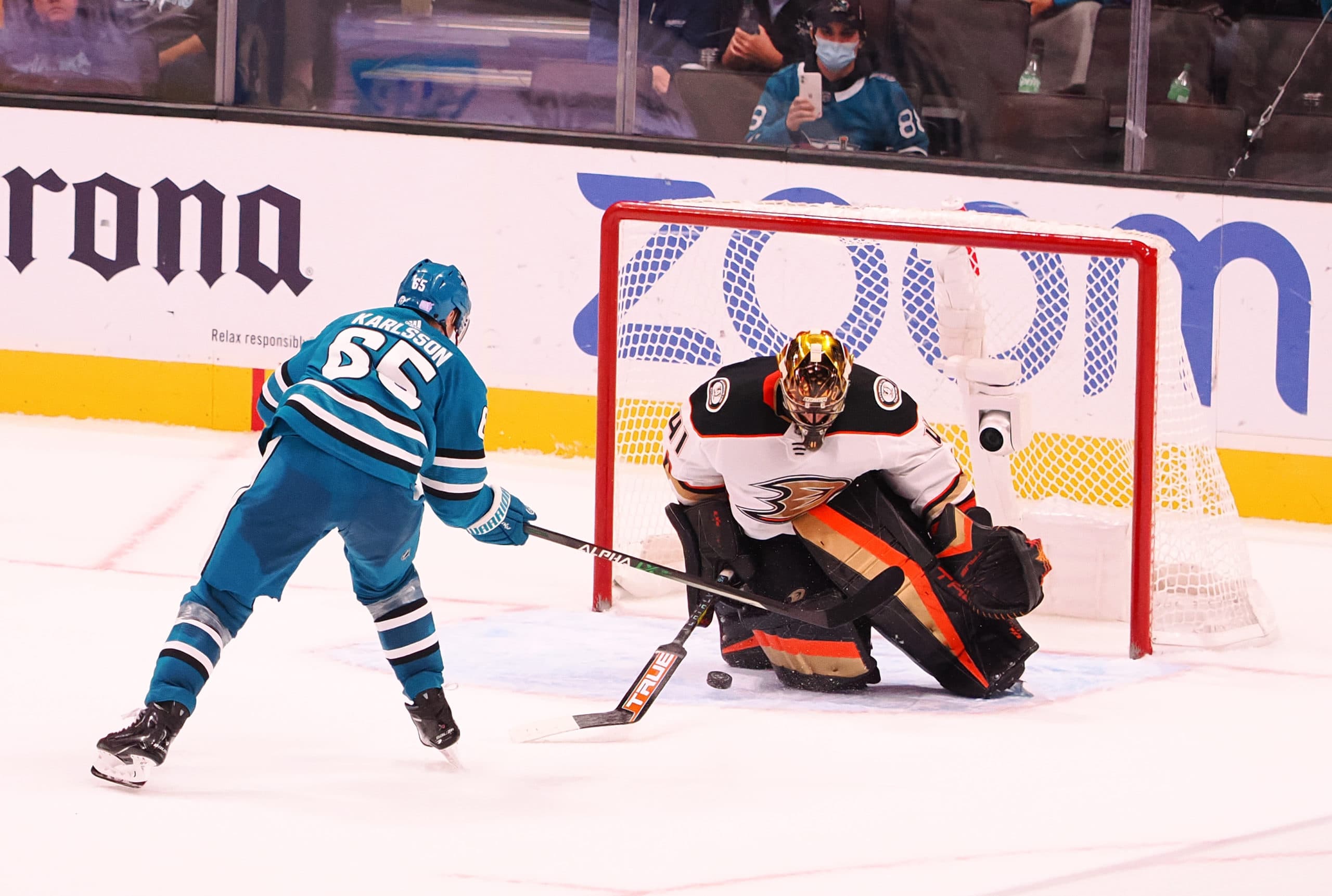 Photo credit:Kelley L Cox-USA TODAY Sports
Nothing is better for getting people back to talking rumours than completely tanking what should have been a positive road trip experience. Normally the west coast equals a few easy wins, some fun Instagram pictures, and Leafs fans complaining about late start times. This time we were just treated to the start time complaints.
In the spirit of finding the answer to the Leafs' problems through trades, let's dive into what is out there:
Erik Karlsson is available
Last week TSN ran an Insider Trading segment basically saying that anyone not named Tomas Hertl was fair game on the Sharks. A friend of the site,
@KeithWhipp
, is strongly lobbying for Timo Meier as the player the Leafs should be focusing on with the Sharks. I tend to agree with him on this. As for what has been put in digital print by Toronto Media, they are a bit more focused on the blueline and
Erik Karlsson's name is the one that came up from Kevin McGran
:
The Sharks, I'm told, are already in selling mode, which brings us to Erik Karlsson. He looks like his old self and looks as if he's auditioning for a trade. He's a right-handed puck-moving defenceman who may be trending back to elite status. He's only 32 with five years remaining on a cap hit of $11.5 million (U.S.). Say that in an ironic way and make a joke about how that cap hit would fit right in with the Leafs. That said, if the Sharks could retain half … and take someone back making around $5.685 million, and a sweetener or two … hmm.
The biggest surprise here is probably that the Toronto media is suggesting an offensive defenseman. If you are going to talk about an offensive defenseman you might as well go after one of the best though, and Karlsson has been that throughout his career and is surging back in that direction this season.
The problems with this suggestion are tied to a few different things here:
The Leafs don't really need more offense from their blueline. They could certainly go all-in on that approach, but between Rielly, Giordano, Sandin, Liljegren, Mete, and to some extent Holl, Brodie, and Muzzin, the Leafs don't struggle in that area. The right shot is nice, but it's not their primary need. They need someone who replaces "in his prime" Muzzin.
That salary and that term. There is a lot the Sharks can do to help out with the salary, but they can't really do much on the term. That leads to basically a five year commitment of a cap hit similar to Muzzin's (if the Sharks retained 50%) taking Karlsson to 37 years of age. That seems like a lot of risks to take on and that's assuming that the Sharks want to pay Karlsson to play against them. I'd imagine it would take a big return to get them to that point and it is arguably not worth it.
Injuries. Karlsson hasn't been immune from them either and age catches up with you. The 50 games Erik played last season might be the norm for him going forward, it's best not to bank on health when it comes to defensemen in their 30s.
Karlsson is absolutely an intriguing name to throw out there, but passing on him seems like the easiest decision in the world unless the Leafs are sending any and all bad contracts to San Jose to make it work. Even then the Leafs "bad" contracts either expire this year or next.
A Leafs trade sooner rather than later?
Here's the list of names suggested by Mirtle:
Jakob Chychrun
John Klingberg
Vladislav Gavrikov
Damon Severson
Scott Mayfield
Shayne Gostisbehere
Dmitri Kulikov
Justin Braun
Kevin Shattenkirk
Troy Stecher
Honestly seeing them all listed like that I feel a little underwhelmed by what is out there, and find myself preferring the friendly contracts of Troy Stecher and Justin Braun over the expensive gambles on Chychrun or Klingberg.
Shayne Gostisbehere is perhaps the most interesting option and he has shown that at least in Arizona he can play all situations despite being better suited to offensive ones.
Gavrikov might meet the Leafs needs for a Jake Muzzin replacement the best and Mayfield would also replace Muzzin's physicality, but their availability might also be the most contested of the players on this list.
Given that the Leafs were reluctant to give up a 5th round pick to bring in Ethan Bear, a player that would at least be in the middle of the pack on the list it is interesting to see what the Leafs would offer. Most of these teams aren't looking for the expiring UFAs that the Leafs would be dangling.
Mirtle suggests:
In a best-case scenario, Dubas could look to trade some of his underperforming players as part of any move, freeing up even more salary room.

Some of the top candidates to go to shake things up could include Justin Holl ($2 million), Pierre Engvall ($2.25 million), Alexander Kerfoot ($3.5 million) or Nicolas Aube-Kubel ($1 million).
Including these players as part of the deal is likely necessary but could drive the price up higher for the Leafs as they are now looking to dump salary in the process too, but it is interesting to see the names that Mirtle has suggested the Leafs are ready to move on from.
Mirtle also suggests some of the other holes in the Leafs lineup that may need to be addressed, and perhaps they are easier to do with Holl, Engvall, Kerfoot, and Aube-Kubel as the trade chips.
Defence is top of mind with how badly some of the Leafs blueliners are wobbling, but they could also deploy their cap space to find scoring help for the bottom-six forward group or try to add another goaltender to upgrade on third-stringer Erik Kallgren.
The impact of Muzzin on LTIR
One of the interesting lines from Mirtle's piece is that there is the rumour out there that Muzzin will be shutdown for the season:
…the Leafs are going to be dealing from a position of weakness given their losing skid, GM Kyle Dubas does have one thing in his favour. With Muzzin on LTIR — quite possibly for the rest of the season based on what I'm hearing — Toronto can put a large portion of his $5.625 million salary to work on the open market.
This is something that has been widely speculated on and there is no shortage of people with big plans on how to spend that $5.625M of salary. The important thing to note though is that it's largely been spent already.
Let's start with assuming that Matt Murray will come off the LTIR this season. A reasonable thing to assume as the Leafs are likely hoping for someone better than Kallgren as a tandem partner for Samsonov this season. That puts things back to Muzzin being the only form of salary cap relief. If you go with Benn and Liljegren both recalled to the Leafs, that's $2.15M spent. If the Leafs are keeping an extra forward or two around that adds approximately another $1.5M, leaving the Leafs with basically around $2M to work with, $2.75M if the Leafs go with one less forward in the press box.
That still leaves a whole lot of options for the Leafs, but not nearly as many as $5.625M does. It certainly puts things like trading Holl, Engvall, Aube-Kubel, or Kerfoot back on the table to regain that flexibility and given that the Leafs are maxed out on contracts and it's becoming increasingly hard to find spots in the lineup for many of those players, it wouldn't be a bad thing to explore.
My last thought on this is that in the cases of Holl, Aube-Kubel and possibly even Engvall, we could see waivers as a factor similar to the rumblings around Ethan Bear before his trade. If Holmberg and Liljegren make an impact in the next few games, and the Leafs commit to keeping Robertson in the lineup after this most recent healthy scratching, there is flexibility to free up some cap space and chase impactful options this season.