Karlsson scores OT winner, Leafs come up short again: Muzzy's Muzings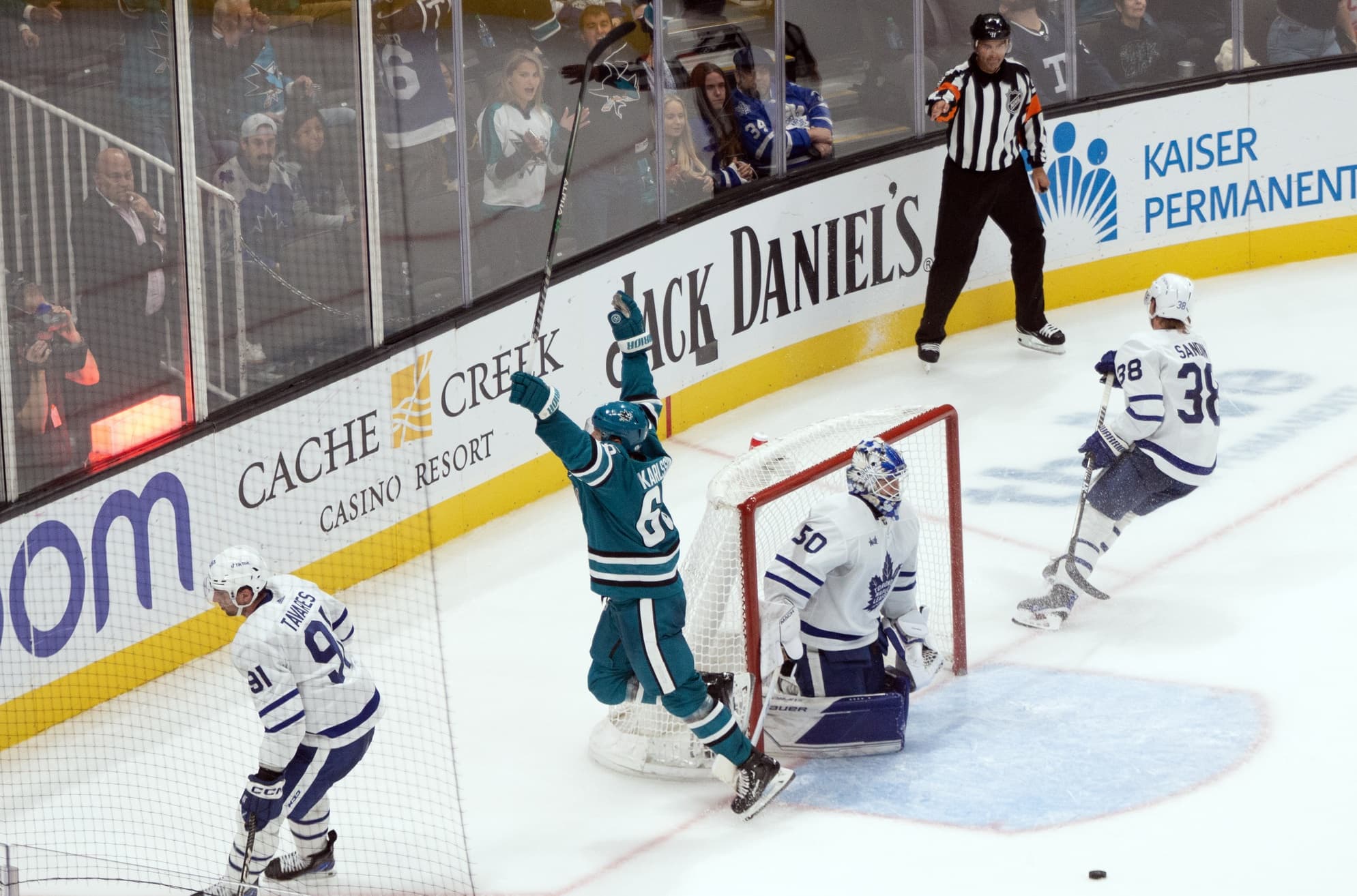 Photo credit:D. Ross Cameron-USA TODAY Sports
At least they got a point.
That's all I got.
If you're keeping score at home, the Leafs have now lost to Montreal, Arizona and San Jose this season. It's 8 games in.
Ouch.
Erik Karlsson potted the OT winner as San Jose outlasted Toronto 4-3. With the OT loss, the Leafs fell to 1-1-1 on their five-game road trip.
Logan Couture led the way for the Sharks with two goals and an assist while Karlsson notched a goal and two helpers. Meantime, Timo Meier finally potted his first of the season as San Jose improved to 3-7-0 on the campaign.
As for Toronto, they fell to 4-3-1. Mitch Marner had one and one while Auston Matthews ended a five-game goalless drought for his second of the year. Erik Kallgren made 27 saves; he fell to 0-2-0.
The Sharks have won 7 of the past 9 meetings with Toronto at SAP Center.
Muzzy's Muzings:
ANOTHER BAD START
Part of Toronto's growing list of problems in the early going is that they always seem to be chasing the game. And it happened again tonight when Logan Couture was able to stroll in and deposit the opening goal seconds into the game. Just for good measure, they allowed two goals in the first six minutes of period two as well. Meantime, as you're all aware by now, I've been tracking it closely: The Leafs have now surrendered the first goal in six straight outings. This is a recording.
ILL-ADVISED PENALTIES
When it rains, it pours —as evident by the matching minors handed out to T.J. Brodie and Pierre Engvall on the same play early in the second. San Jose proceeded to score two goals in 42 seconds. Furthermore, Justin Holl, who had another adventurous night, took a puck over glass penalty a couple minutes later. Bottom line, they're taking stupid penalties. Full credit to the Sharks, they made them pay.
MATTY MAGIC
Of course, the silver lining in this ugly loss was the fact that Matthews was able to get back on the board. He's been pressing, and unsurprisingly, the goal went straight to his legs. I'm looking forward to seeing what he can do against Los Angeles and Anaheim, respectively, this weekend.
CONFIDENT KALLGREN
Full credit to Kallgren, I think he was really solid in the third period specifically. To be totally honestly, I'm not sure he should be blamed for any of San Jose's four goals on the night. All in all, he didn't cost them the game, so that's a positive. Long story short, the turnovers and bad decisions continue to plague this team.
Highlight of the night:
CONFIRMED: Papi's back in business.
 What's next?:
The Leafs will be off on Friday before they visit the Los Angeles Kings on Saturday night for the penultimate outing of their five-game road trip. The two squads split their two-game season series in 2021-22 with the road side winning both times.
PSA: Don't forget to check out 'Leafs Morning Take' with yours truly and Jay Rosehill every Monday to Friday morning at 11 a.m. EDT on The Nation Network YouTube page.