Keeping Kerfoot and Holl a possibility, but not a likely one for the Leafs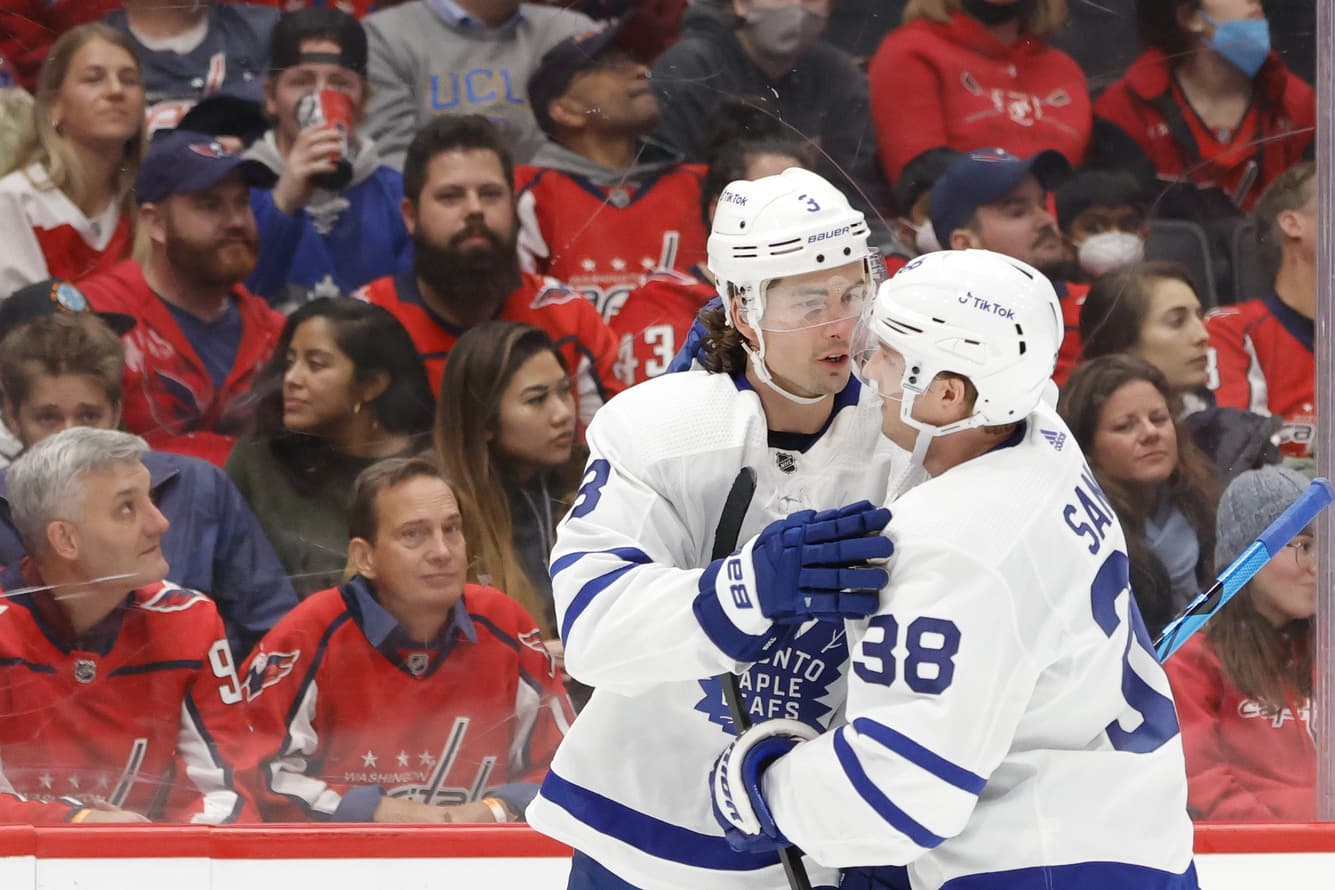 Photo credit:© Geoff Burke-USA TODAY Sports
As much as it's been fun having another summer of waiting for inevitable Alex Kerfoot and Justin Holl trades it's probably at the point where we need to revisit how things played out in the summer 2021. The most likely course of action is that both of these players are staying. It seems surprising given that there was supposedly a market for Alex Kerfoot, a player now owed only $775k for this season, and given the NHL's constant RD shortage there would be someone looking at taking on the manageable contract for Holl compared to bidding on garbage in free agency. But here they are.
The first thing we could takeaway from this is that there was never really a market for these players or that the Leafs would only receive trade offers treating them as salary dumps. A player like Kerfoot could be compared to Oliver Bjorkstrand who was traded away for a piddly 3rd and 4th round pick return. It's worth noting that Bjorkstrand's 57 points included 28 goals and that will have him held in higher regard than Kerfoot, but the low dollar, one year term on Kerfoot should have generated somewhat of a market. Now it's looking like even with the low dollars attached to Kerfoot, the cap hit probably makes him difficult to trade and with a ten team no trade list, Kerfoot could likely avoid the teams that would be in the market for his services like Winnipeg, Anaheim, Buffalo, Arizona, etc.
The lack of a market around Justin Holl is a bit easier to understand. There really hasn't been an aggressive market around defensemen this summer and aside from the head scratching contracts for Gudbranson and Chiarot, the NHL blueline decisions have been fairly conservative. Holl's $2M contract doesn't seem like the steal it was last summer when teams were throwing crazy money at average defensemen. There could be interest in Holl, but getting a return of any kind seems like a challenge.
The second takeaway from this is that the Leafs really want to keep these players and that fits with everything that Kyle Dubas has said and done so far. We might not agree with it, but walking his guys to free agency and letting them leave for nothing seems more of an intentional approach rather than a repeated error at this point. While others (myself included) might see this as losing players for nothing, Kyle Dubas likely sees this as the parties fulfilling their contracts to each other, and at the end of the deal if the money vs. potential performance evaluations don't make sense to try to bring the player back, he doesn't. It seems like two things we should know about Dubas at this point are that he's incredibly loyal to his players and he's more of a card counter than a gambler. He's not taking any risk that isn't calculated.
Looking at the state of the Leafs blueline, having Holl for depth isn't a bad thing. His role will be likely be reduced, but he's still a useful part of that group and we know injuries will occur. Having Holl draw in as the 7th defenseman is a better option than Jordie Benn or Victor Mete, and god forbid the Leafs depth gets tested beyond that. Holl sticking around makes sense.
As for Kerfoot, well…it's asking a lot to find a replacement for him this late in the summer. While Jarnkrok looked to be a potential Kerfoot replacement, it might make more sense to use him as a complementary player to Kerfoot instead.
As things sit right now, with a 20 player roster the Leafs are cap compliant. The Leafs could start the season without issue. Except for that one issue. Rasmus Sandin.
Rasmus Sandin really isn't an issue either. It would be great to have him as a Leaf and in training camp, but with the Leafs having a full roster at the moment they can afford to play hardball into the season if they want to.
There is also the fact that the preseason has been known to cause injuries as well. Should the Leafs rush themselves to cap compliance just to lose another player before day one? Planning for the worst has its benefits as well.
And in a worst case scenario, the Leafs can always waive Justin Holl. The blueliner being claimed and the Leafs getting nothing is the worst case scenario, but if successfully sent down he represents $1.15M in cap relief. In perhaps an ideal world situation the Leafs are also able to get Sandin back on a one year deal at that price to make the move easier.
Of course, all of this approach is based on the Leafs deciding to run a 20 player roster, which is a pretty flawed starting point. Throwing out roster flexibility on day one is committing to a challenging start to the year. Leaving enough room for at least one additional player in the lineup helps and the reality of that situation probably points to Kerfoot being moved ahead of Holl.
Relying on injuries to get the team out of cap trouble is also a dark way to build a roster and still leaves the team without flexibility unless there is a long term injury situation and there is the potential for games being played with 17 skaters before an emergency call-up is available.
The path forward still seems like it comes with another move, it just doesn't seem like there is any sense of urgency to it.