Kerfoot on the 2nd line, Brodie returning, Goaltenders AWOL: Leafs Practice Notes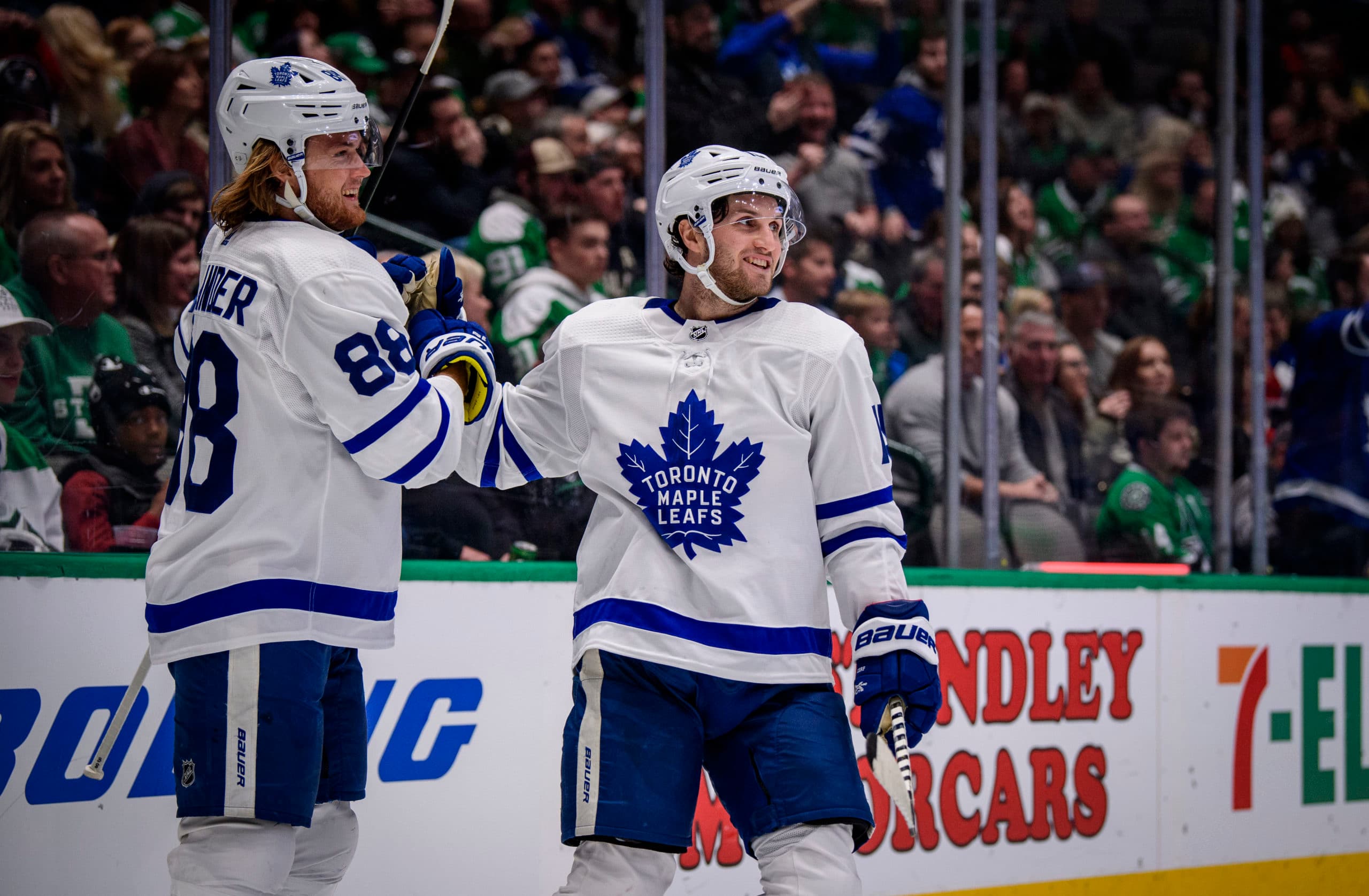 Photo credit:Jerome Miron-USA TODAY Sports
It's Practice Night in Canada as the Leafs have a rare Saturday off. As Leafs fans come to terms with the Murray and Matthews being out of the lineup, there is at least some hope that the blueline will be improved. Here are your Saturday notes.
After a 6-2 loss and a couple of injuries it makes sense to start with the good news and that's the return of TJ Brodie. There have been numerous issues creeping into the Leafs defensive game and they are often most evident with Morgan Rielly, Justin Holl, and Conor Timmins. Brodie's return gives Rielly his best support, pushes Holl down the lineup and moves Timmins to the press box. This is likely the optimal lineup on the blueline for the Leafs, assuming Brodie is as healthy as he can be.
Samsonov will get the start tomorrow night, and that's about the least surprising decision ever. It seems equally likely that he'll get the start against Boston as he'll get some rest over the All-Star break. The severity of Murray's ankle injury will likely determine the splits for Samsonov going forward, but having a more balanced workload post All-Star break would seemingly make a lot of sense, if he Samsonov is taking 2/3rds of the starts.
Much like with Matthews and Brodie, it's hard to imagine the Leafs will rush Murray back as Kallgren can get the job done and there is a lot of excitement to take a look at what Joseph Woll can do as well.
It's hard to imagine they'll keep Murray on the bench while they are uncertain if they can play him.
I don't think anyone is too excited about more of Kerfoot in the second line center role, but I get the sense that the Leafs want to take a full look at every option. Holmberg got his look last night, and it will probably be his last look for a while. The Leafs did okay with the Nylander experiment playing him with Engvall and Jarnkrok, but there might be some reluctance to move Engvall away from Kampf, as the separation tends to make Kampf less capable. There is always Jarnkrok and moving someone else up to the second line, but for now Kerfoot is the somewhat obvious choice. This is why someone who can play center might need to be part of the trade deadline plans.
In addition to the Kerfoot change, we see Wayne Simmonds find his way into the lineup. Is it so he can be a deterrent to Tom Wilson, maybe? It seems like a reach, but McMann gets the scratch. This is also Joey Anderson's last game he can play before he'd require waivers again, so Toronto might take one last look at him before sending him to the Marlies, and McMann will get in against Boston.
Brodie playing Rielly makes the most sense, as it seems like Rielly could really use the partner that has worked the best for him over the past couple of seasons, and Holl back with Giordano is also somewhat comforting.
Like I said above, this is as close to optimal pairings as the Leafs have and if they get a few games of running with this it will determine the extent of the blueline focus at the trade deadline for the Leafs.
The Leafs have a rare Saturday off and have an even rarer early start on Sunday with their game at 5pm ET against the Capitals. It seems unlikely that we'll be kept waiting long to find out who will be backing up Ilya Samsonov.