Kerfoot tips momentum in Leafs' favour with Game 4 winner: Muzzy's Muzings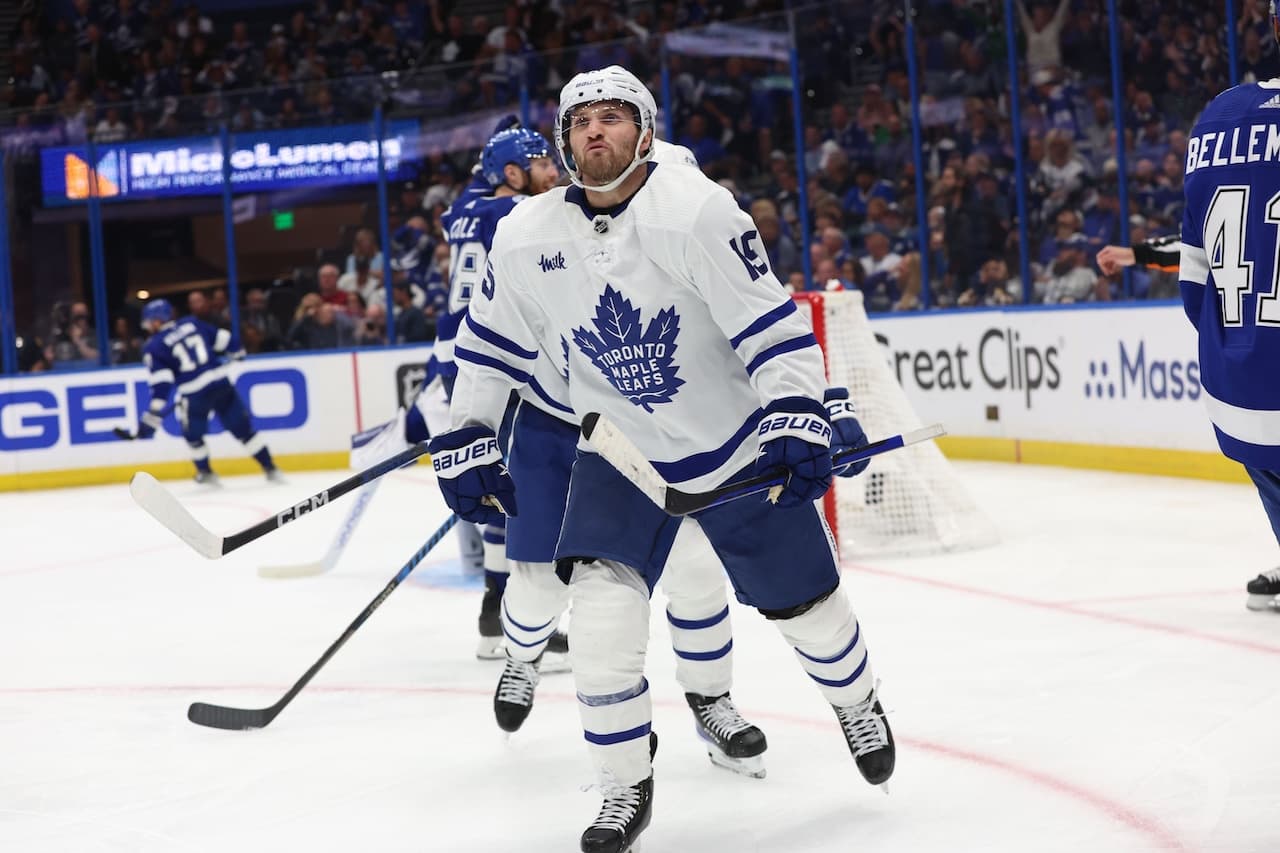 Photo credit:Kim Klement-USA TODAY Sports
Alex puckin' Kerfoot.
It was 4-1.
But this time, the Leafs flipped the script.
4:14 into the first OT, Alex Kerfoot tipped home the game winner on the PP as the Leafs pulled out an unlikely 5-4 victory in Game 4 to grab a commanding 3-1 series lead on Monday night.
I say unlikely because believe it or not, the Leafs trailed by three goals with just over 10 minutes remaining in regulation. In the span of 6:22, 4-1 went to 4-4 real quick. Auston Matthews scored twice, Morgan Rielly tied it up at the 16:04 mark of the third.
In total, five different Leafs notched multi-point efforts; William Nylander led the way with three apples.
Ilya Samsonov made 27 stops as the Leafs won for the second straight game in overtime.
Toronto went 2-for-4 on the power play, Tampa went 1-for-3.
MUZZY'S MUZINGS:
ANOTHER TERRIBLE START
Personally, that first period reminded me a lot of Game 1. From the opening faceoff, the Leafs were a step slow to every puck. Honestly, Tampa skated circles around them. If it weren't for Ilya Samsonov, the two-goal deficit at the intermission could've easily been three or four. Not the best.
And it was in all facets of the game, too. They lacked some big-time urgency. Normally, a power play should act as a momentum booster —not in this case. That said, kudos to Ilya Samsonov for the monster stop on the Brandon Hagel penalty shot. The opening Leafs PP was a trainwreck. As fate would have it, Tampa kicked off the scoring on an Alex Killorn PP tally following a terrible William Nylander o-zone penalty. By far, that was Nylander's worst period of the series.
VERY KNIES
By a country mile, for the majority of the night, 20-year-old Matthew Knies was Toronto's best forward in Game 4. Furthermore, the Leafs improved to 6-0-0 with the phenom in the lineup. Yeah, he isn't going anywhere anytime soon. Also, in retrospect, how big was this?
Incredible!
THE FACTOR
 What more can I say about Ryan O'Reilly? The dude just plays winning hockey. He's so good. After his monster outing in Game 3, it was his strong defensive stick lift that led to Noel Acciari's 2-1 goal. Additionally, the former Blues captain won the draw that led to Morgan Rielly's game tying goal late in regulation. Simply put, O'Reilly's just made different. He's come as advertised so far, that's for sure.
PP DYSFUNCTION
 It's funny: For as bad as they looked, it was Toronto's power play that ultimately put them over the top in this game. And full credit to them for sticking with the program. Tampa's PK was dialled in, yet still, the Leafs found a way to get the job done when it mattered most. So clutch. You love to see it. On top that, it was PP2 who did the trick, which is always a welcome sight, too.
UNLIKELY HERO
That's what the Stanley Cup Playoffs are all about. Admittedly, I correctly picked Kerfoot to score the OT winner. We've been talking about it all season long on Leafs Morning Take. Sometimes, you need depth players to step up. And boy oh boy did Kerfoot ever come up large. What a gigantic goal for this organization. The job's far from done, but without question, this puts Toronto in a favourable situation. One more to get, folks. 
HIGHLIGHT OF THE NIGHT:
 WHAT'S NEXT?
Up 3-1 in the series, the Leafs will look for the kill shot on Thursday night at Scotiabank Arena in Game 5.
BUCKLE UP.