Knies showing what he's about at the World Juniors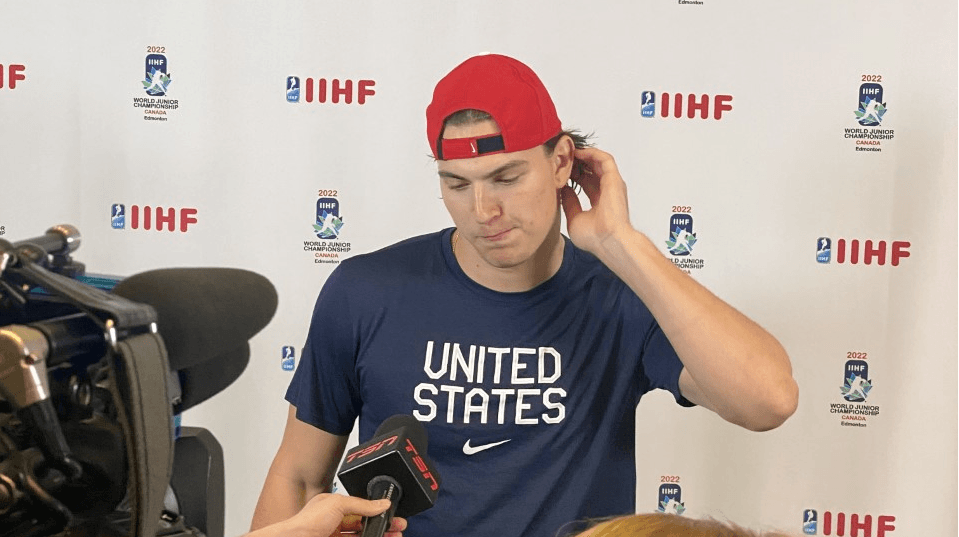 Photo credit:Jon Steitzer
It's been a bizarre week for me personally. Shortly after picking up my credentials for covering the World Juniors, I feel ill with a non-COVID illness and haven't been able to attend a single game. A big part of what I was hoping to do last week and this week as well is provide a detailed look at players like Roni Hirvonen, Topi Niemela, and Matthew Knies, not just with what they do when they are close to the puck and showing up on TV, but also capturing what they do away from the puck and getting a sense for who they are as a full player. Today's game of the United States vs. Austria is now my first chance to take a look at Knies. The downside is it's against Austria and there is only going to be so much that can be learned in a matchup like that.
The first period
Knies, along with his linemates of Logan Cooley (Arizona) and Matt Coronato (Calgary) were a big part of Team USA shutting this game down early. Their first shift had Matthew Knies setting up as an unmovable goaltender screen and that led to a Wyatt Kaiser goal from the point. While it looked like Knies could have tipped it, and he was originally credited with an assist, he would end the shift just being an essential contributor to the play happening, but not finding his way onto the scoresheet.
Knies' next shift would be when he'd finally register on the scoresheet for the first time in the tournament picking up a secondary assist on Matthew Coronato's goal. At this point the line looked unstoppable.
Following the early lead the Knies line took their feet off the gas the rest of the way, but gave a bit of an opportunity to look at what Knies does right and wrong away from the puck and when he's not driving towards the net.
Knies has been an effective F1 attacker throughout the period, causing the Austrians to cough up the puck behind their own net, and along the boards. There weren't any thunderous hits, but steady overpowering play that you'd want to see in a power forward.
Knies also sets up in a smart low outlet position in his own zone, and is capable at carrying the puck out himself. His best sole opportunity came from this situation when he skated the length of the rink and drove the net before running out of space to make a move.
On the other side of things, Knies overcommitted to positional play at times, ignoring opportunities to create opportunities to instead get back to his side of the ice. Playing a bit more conservatively when you are already blowing out your opponent makes sense, but it will be interesting to see if this trend continues when he faces Sweden on Sunday night.
Knies also seemed to be tripping over the blueline and couldn't get out of his defenseman's way when attempting an offensive zone entry. These sloppy plays happen, but that combined with Knies' shifting to playing shallower in the offensive zone towards the end of the period makes me wonder if he needs to be playing a simple game.
The Second Period
Knies didn't see as much icetime in the second period, largely due to the volume of special teams situations. Of course, the powerplay that the Americans had was because Knies drew a cross checking penalty by being a difficult net presence to erase, so that's a feather in his cap and the powerplay led to an American goal.
We also saw a couple of substantial hits from Knies this period and he established that he is the big boy that was advertised. He also blocked a shot if you are looking to score gritty Bingo based on his play.
Knies also caused a turnover but wasn't able to capitalize on the opportunity. Frankly, his hands just don't seem to be there today and his shots have been telegraphed and he has struggled with handling the puck.
The good news is that when your team is up 6-0, there isn't a sense of urgency in getting those things done and nothing about Team USA in the second seemed like a team playing with a sense of urgency.
The Third Period
This was somewhat of a continuation of the second period. Team USA wasn't really interested in pressuring Austria in a 7-0 win, with a lopsided 56-15 shot count.
Knies had his offense ramp up in the third, as he had a couple of chances, but nothing materalized.
From Knies in the postgame:
On the line chemistry:
I think it's a little shaky right now, but I think it's gonna get there you know. It's our first time together so you just got to understand each other better.
On his play:
I mean, I haven't really been producing much. So I'm just trying to be physical. You know, those little things that help teams.
On deciding to return to college:
It was a pretty difficult decision. I took a lot of time on it. Thought about it for countless days and reached out to relatives and everyone who knew best and I think the advice they gave made me realize [what I'd do].

Just you know a national championship that's the goal at the end of the day. Take it all the way so I don't think we had finished that business yet.
Knies will be back on the ice Sunday night in Team USA's toughest round robin matchup against Sweden.