Leaflets: How good are the Leafs prospects, depth vs. waivers, and the Miles Wood arbitration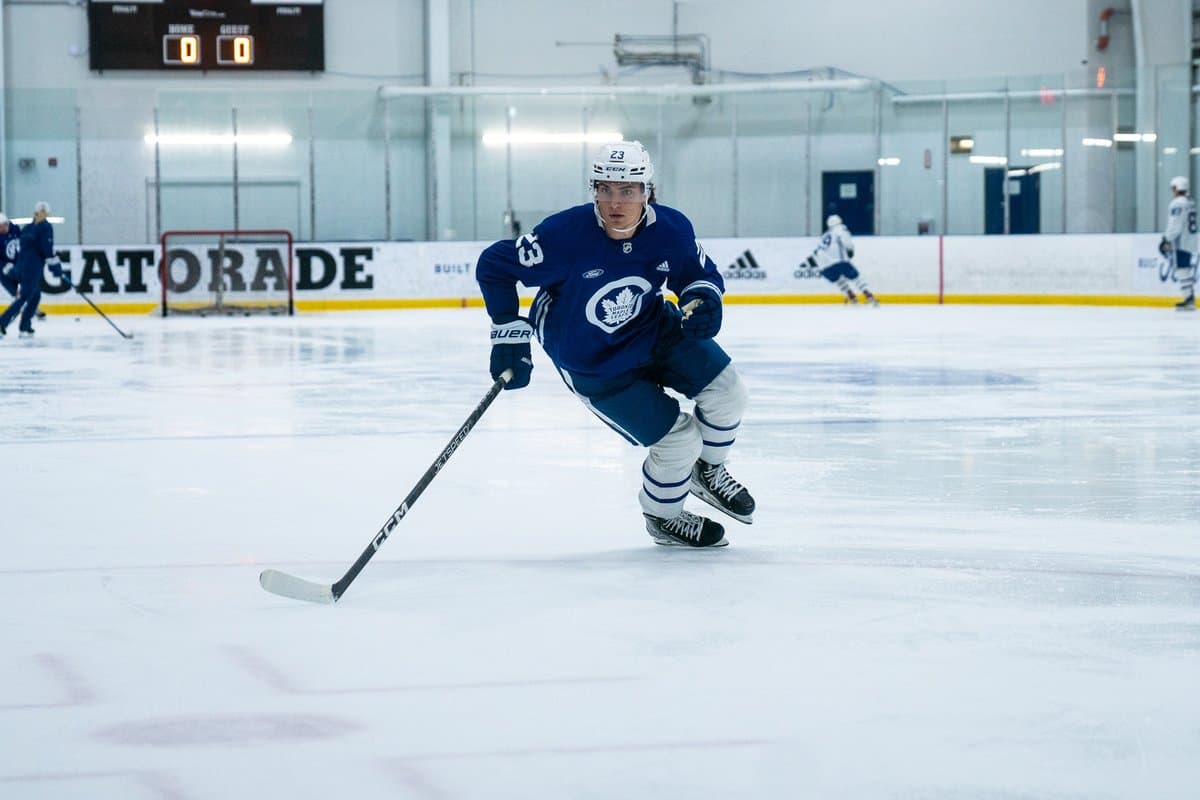 Photo credit:MapleLeafs.com
Welcome to the dead zone. The majority of free agents have been spoken for. Development camps are over, and presumably, every NHL GM is on vacation with some of them reemerging over the next couple of weeks for the World Junior tournament. It's quiet this week. (I hope I'm jinxing stuff into actually happening.)
In the spirit of nothing, happening, my weekly Leaflets post is a day late. I'm not sure if readers notice these Leaflets posts show up on Mondays, but they usually do. Sorry for making you wait an extra day for my fever dream-ish takes.
How good are the Leafs prospects, really?
When it comes to assessing Leafs prospects the following tweet constantly pops into my head:
It comes as little shock that everyone values their own prospects too much, and that Leafs fans are particularly prone to dreaming big with absolutely every player in the system, but given that today we are up to #14 on the TLN top prospect rankings, I figured I take a minute to consider where the Leafs actually fall in comparison to others.
Regarding top six talent, the Leafs have two solid talents with Matthew Knies and Nick Robertson. People are right to be excited about second round picks with upside, and when experts throw around redrafts these two players often end up in the "should have been first rounder" discussion. That's the Leafs doing really well considering the lack of first round picks they've had. When you also consider that Rodion Amirov has begun working out with his KHL team again, the Leafs have three potential offensive talents to be excited about.
The Leafs also hit on a potential winner with Topi Niemela who had an inspired season in the Finnish Liiga. A right shooting offensive defenseman is a find, and he's also worth being excited about.
So that's four players that certainly stand out in the pipeline, and if you consider that Roni Hirvonen looks to be a potential middle six player, and there have been reasons to be excited about a lot of the other Leafs players based on the odds that at least one of the boom or bust type players could pan out, and an improved depth pipeline, the Leafs have a talent pool better than you'd expect them to have.
The thing is when you start comparing the Leafs system to others it begins showing signs of needing work. The Leafs simply don't produce centers or goaltenders in their pipeline and those are two huge areas that need to be sorted out. The Leafs also have a very thinned out blueline pipeline and after Niemela, it's hard to determine who is the next guy to be excited about.
The Leafs have been doing less with more but it's still not enough to do more than fighting their way towards the middle of the pack and when you are team that is chronically spending to the salary cap limit and then some, having players on entry level contracts that will give you three years of playing beyond the means of their cap hit is a necessity for staying competitive.
The Leafs have done well when dipping into NCAA and European free agency, and with a seemingly limitless budget for player development and first class facilities, Toronto is doing more with less, so the concern might not be there, but it probably should be, at least a little.
In the maxed out, near flat cap world, ready to go prospects is the edge that takes a good team and makes them a great team.
Do the Leafs have depth or are they going to be waivers victims?
It seems like claiming Leafs depth off of waivers is a favourite past time of NHL GMs. We saw the NHL blow up the Leafs goaltending depth a few years back with the claims of Curtis McElhinney and Calvin Pickard. Last year we saw the Leafs center depth disappear with the claims of Michael Amadio and Adam Brooks, and this year we see the Leafs "loaded up on depth" again with players like Adam Gaudette, Denis Malgin, Kyle Clifford, Jordie Benn, Carl Dahlstrom, and Victor Mete and possibly the most difficult to sneak onto waivers, Joey Anderson.
To some extent this seems like Kyle Dubas acknowledging the trend and going into overkill on bubble players that could either be Marlies or Leafs. Clearly not every one of these players will get claimed and the Leafs can still sit pretty with a handful of callups and even potentially earn some SPCs back.
That said, players like Gaudette, Benn, Mete, and Anderson still seem like they could be targets, especially if they have good camps.
As it sits right now, the Leafs aren't going to have the cap space to keep extra players on their roster. And even if the players mentioned above have good training camps, it seems unlikely that camp will be so good they outplay someone already locked into the Leafs roster.
Now, the risk is also mitigated when you look at players like Alex Steeves, Nick Abruzzese, Nick Robertson, Pontus Holmberg, Curtis Douglas, and Bobby McMann when it comes to the forwards. On the defensive side of things, the Leafs really need to find a way of keeping their depth in place.
Back on my Miles Wood BS
One of the early surprises of the offseason was that the Devils gave a qualifying offer to Miles Wood. The decision made a little more sense when they turned around and immediately elected for arbitration with him. Club elected arbitration allowed the Devils to forgo a qualifying offer and also could offer Wood only 85% of his $3.5M 2021-22 salary + bonuses, which works out to $2.975M for a year. The number still seems steep, for a player who missed all but three games last year, and given that Wood can make a case based on a 17 goal in 55 game season in the preceding year, the deal could still come in closer to $3.5M than the Devils would like. The Devils would be required to accept any contract ruling below $4.53M.
Where I find all of this interesting is that Miles Wood is still very much a player that I was interested in for the Leafs and feel he has a lot of complimenting qualities to John Tavares that would make him a fit in the top six. If the Wood arbitration doesn't go in a direction that New Jersey thinks is ideal, I wonder if there can be a market for Wood, possibly with some salary retention on the New Jersey side of things.
Would someone like Alex Kerfoot hold interest based on his healthy season last year, and his minimal salary owed, be an enticing exchange?
I probably just need to seek help, but Miles Wood for a couple of years now has felt like a good fit for Toronto, and it's something I've had a hard time letting go of. Until his arbitration hearing on the 6th and the decision that follows shortly after, Wood is a player I'll be curious about.